Our Personalities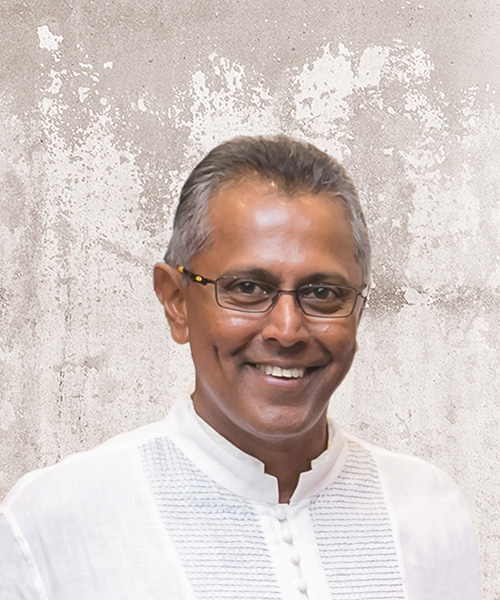 HIRAN COORAY
Chairman
The casual visitor to Jetwing House may see the tall, informally dressed figure pass by,offering a warm smile and a soft spoken 'ayubowan' of welcome, and never guess that he is one of the most respected and pivotal figures that drive the tourism industry in Sri Lanka today. Hiran Cooray – Chairman of Jetwing and the only son of the company's founder Herbert Cooray is living proof that a father's vision can blossom and grow through his children: a dream fulfilled beyond expectations, and evolving still.
Carrying forward the legacy of his father and a 40 year history of continuous success is by no means a small responsibility, but to Hiran it is a mantle he carries with pride. His father's guiding tenets of passion, honesty, integrity and tenacity are also his own.
The calm, quiet presence of stability and strength being characteristics as much inherited as the determination and drive to achieve despite obstacles. And his achievements are numerous and much acclaimed. Educated at St. Joseph's College, Colombo, Hiran graduated from the University of North Carolina, USA and also followed a General Managers course at Cornell University.Taking his motherland to the world in more ways than one, Hiran has represented Sri Lanka on the Board of Directors of the Pacific Asia Travel Association (PATA) as well as being the past Chairman of the organization (2010/12). He was the Chairman of PATA Sri Lanka Chapter (2003/4) and President of the Tourist Hotels Association of Sri Lanka (2005/8); and was appointed an Alternate Member of the UNWTO – World Committee on Tourism Ethics for 2013-2017. A dynamic presence in promoting Sri Lanka tourism, Hiran is currently serving a second term as President of Tourist Hotels Association of Sri Lanka 2014-2016 and sits on the Board of the Sri Lanka Tourist Development Authority. In addition to these responsibilities, he holds over 50 directorships in various hotels and related companies. A fierce advocator of youth development and education, Hiran is a much sought after speaker and panellist at tourism related forums both locally and overseas.
Much like his father, Hiran too has a clear vision for Jetwing: "…to be the most respected company. To be a company that is honest, deliver what it says to the employees as well as customers; a company that respects the environment, local communities – for me those are very, very important factors. Financial success is well and fine, but it is not the only factor. The 3Ps are equally important, people, planet & profits. You cannot isolate any of these. So we are a company focused on all three areas and we continue to grow that way…"
Hiran is a devout Catholic, he is also deeply family oriented: his wife Dharshini, and sons Dmitri, Hashan and Harin are his world. Keeping the family tradition, Hiran's son, Dmitri too has joined Jetwing helping to continue the vision to the next generation.
Jerome Auvity


Director Operations, Jetwing Hotels

"… I just wanted to travel, see the world, learn languages, meet people – work with people, and I am very lucky to have found a career that combines all that – it has been a great journey, so far…"

Bursting with effusive charm, he 'gets you', as it were, from the first 'allo' – and you are soon swept away by the vibrant energy that surrounds him like an aura; a warm glow that makes an instant fan of 'Jerome Auvity' out of you: a characteristic that has proved to be a great asset in life and profession.

From his childhood days, growing up in Paris, Jerome was keen to explore the world and seek new adventures. "…my Father advised me that maybe joining the hospitality industry was a good way to do all the things I wanted to do, at the same time…". With the intent of getting a firm grounding in the hospitality industry, Jerome entered hotel school in Switzerland. And, heeding the call of distant lands, he began his long and certainly illustrious career, in the Far East – "… I was a cook in a pub in Taiwan…" he recalls with a laugh at his early days.

Taking up an opportunity at the Hilton in Taipei was a pivotal point that initiated a highly successful, 21 year career in the Hilton Group, spanning over 7 countries including Taiwan, Japan, Philippines, Singapore, Korea, Vietnam and Australia earning many landmark achievements to his name. Having been highly impressed by Sri Lanka and its people on a short visit, he was more than willing to rise to the challenge of steering Hilton Colombo forward as its General Manager "…when I was in Australia, I heard that Hilton Colombo was free and I said yes, Sri Lanka, this is the place I've always wanted to be…" Over the next three years there, Jerome's passion for inspiring people and firm belief in leading by example singled him out as one of the most dynamic and distinct personalities in Sri Lanka's hotel industry.

Jerome joined the Jetwing family in 2012 as Director Operations - Negombo Hotels, and now holds responsibility for the overall operations of all Jetwing hotels. Thriving in a role full of challenges and opportunities that he thoroughly enjoys, his enthusiasm and commitment helps Jetwing Hotels to constantly generate new ideas, explore innovative avenues of growing the business, and meet objectives – financial and otherwise.

A firm believer of fairness as a value he holds high – both professionally and personally, Jerome is devoted to his family, spending as much quality time as he can with them - especially his two children, aged 12 and 16. Very much an advocate of the active life, Jerome continues his passion for Tennis with regular time on the court, and when company with fellow compatriots permits, plays 'Petanque' – a distinctively French pastime.

Kanchana Nanayakkara


Head of HR

"I believe in sustainable development, especially of people. And that a process approach delivers better results overall".

Kanchana's childhood was spent in Galle and Colombo with his supportive and somewhat strict family. Constantly a source of encouragement to him to excelled in his studies as well as in sports and he attributes his success to this firm and fair upbringing.

Moving to the capital city of Colombo as a child, Kanchana finished his secondary education and developed a deep desire to join the then blossoming hospitality industry. He wanted the opportunity to meet people, and moreover, take on the challenges of an industry which was not understood by many at that time. Taking up every such challenge, Kanchana was motivated to achieving his goals. A career in the hospitality industry means hard work, long hours and commitment, and Kanchana was able to take it all in his stride.

Looking back at his 25 year career, Kanchana is proud to have worked both overseas and in Sri Lanka in different capacities. After graduating from The Ceylon Hotel School in 1995, he immersed himself heavily in food and beverage operations, until joining Jetwing Hotels in 2002 as a Training Manager. After a stint overseas, Kanchana rejoined the Jetwing group in 2009 to overlook Training and Operations. From there on his career has been on a steady climb and Kanchana is now the Head of Human Resources at Jetwing Hotels. His role assures the smooth functioning of all HR and Training related operations at all the hotels and at Jetwing House - the HQ of the Jetwing Group.

With many responsibilities and challenges to face, Kanchana firmly believes in achieving a correct balance of work and leisure, and delights in spending time with his family. In addition, his hobbies of reading and listening to music, particularly the contemporary selections occupy his spare time.

Kanchana has a clear vision for the future: "…my plan is to develop the internal strengths and competencies of Jetwing Hotels, ensuring sustainable development of the organization, meaning that we are internally geared to face the challenges that are faced within a fast growing industry".