Our Personalities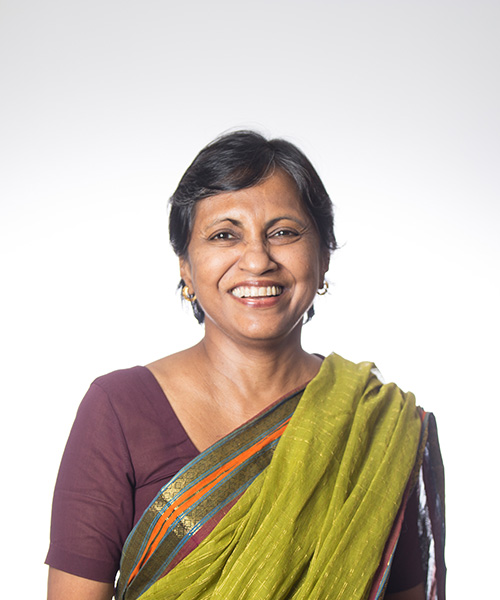 Shiromal Cooray

Chairman, Jetwing Hotels Ltd
The warmth of her wide smile and her utter unaffected nature distract all who meet Shiromal Cooray as to what she really is: a leading figure in the travel industry who is prominently placed amongst the 50 most powerful women of business in Sri Lanka, and the highly efficient and effective Managing Director of Jetwing Travels: the main in-bound tour operator arm of Jetwing.
As the daughter of Herbert Cooray – the founder and late Chairman of Jetwing, Shiromal was in essence an heir to his legacy – but ever independent of spirit, she had no wish to be a part of the family business and veered away from the leisure industry altogether to gain qualifications in finance. Subsequently, she joined the vibrant world of advertising – as an accountant at JWT, one of the leading ad agencies in Sri Lanka. Thriving in the fast paced, exciting atmosphere, she handled both accounts and media, rising quickly to become the Finance Director. When the opportunity arose to take up a similar post at JWT Hong Kong, she was glad to broaden her career prospects in the region, gaining valuable experience.
Leaving advertising after 7 years, she returned to Sri Lanka and to the Jetwing family to reinvent the travel division. The sector was increasing in scope in the early 90s and she entered the challenge of growing the business with her usual resoluteness and foresight;inspired and guided by her mentor and father. Over the years, Shiromal has steered the company's progress to the success it enjoys today, but in her unassuming manner regards achievements as the norm, passing the credit on to the unstinted support of her team.
Deeply family oriented, Shiromal considers motherhood as possibly her greatest achievement. While travel is her line of business, it is also a pastime she enjoys – especially voyages of discovery to places that are off the everyday map. She loves to read – when time permits, and has a passionate interest in nature and the great outdoors.
An Associate Member of the Chartered Institute of Management Accountants (UK), Shiromal also has an MBA from (the University of Colombo). A dynamic presence in the corporate arena, she is the former Vice-President of the Travel Agents Association of Sri Lanka (TAASL) and the former President of the Sri Lanka Association of Inbound Tour Operators (SLAITO) – the foremost representative body for tour operators in Sri Lanka. She was also elected recently as the Chairperson of the Sri Lanka Institute of Directors (SLID).
As a director on the Board of Jetwing, she lends her invaluable support and insight to the day to day operations of the group, but also extends her expertise to all Jetwing interests that fall under the wing of travel. Shiromal is also a director at the advertising agency Leo Burnett and the investment bank Capital Alliance and commodity broker Ceylon Tea Brokers.