Our Personalities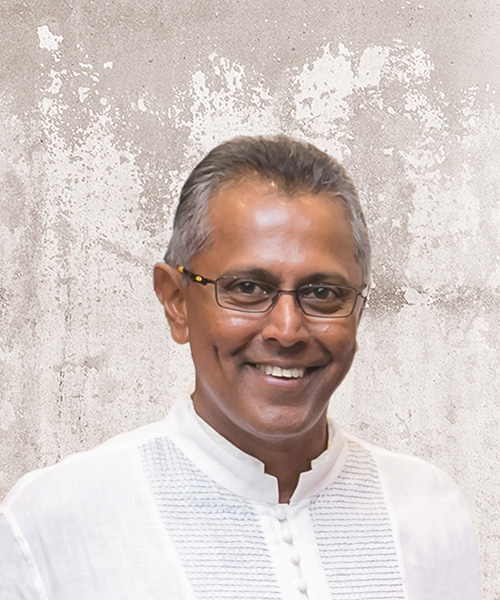 HIRAN COORAY
Chairman
The casual visitor to Jetwing House may see the tall, informally dressed figure pass by,offering a warm smile and a soft spoken 'ayubowan' of welcome, and never guess that he is one of the most respected and pivotal figures that drive the tourism industry in Sri Lanka today. Hiran Cooray – Chairman of Jetwing and the only son of the company's founder Herbert Cooray is living proof that a father's vision can blossom and grow through his children: a dream fulfilled beyond expectations, and evolving still.
Carrying forward the legacy of his father and a 40 year history of continuous success is by no means a small responsibility, but to Hiran it is a mantle he carries with pride. His father's guiding tenets of passion, honesty, integrity and tenacity are also his own.
The calm, quiet presence of stability and strength being characteristics as much inherited as the determination and drive to achieve despite obstacles. And his achievements are numerous and much acclaimed. Educated at St. Joseph's College, Colombo, Hiran graduated from the University of North Carolina, USA and also followed a General Managers course at Cornell University.Taking his motherland to the world in more ways than one, Hiran has represented Sri Lanka on the Board of Directors of the Pacific Asia Travel Association (PATA) as well as being the past Chairman of the organization (2010/12). He was the Chairman of PATA Sri Lanka Chapter (2003/4) and President of the Tourist Hotels Association of Sri Lanka (2005/8); and was appointed an Alternate Member of the UNWTO – World Committee on Tourism Ethics for 2013-2017. A dynamic presence in promoting Sri Lanka tourism, Hiran is currently serving a second term as President of Tourist Hotels Association of Sri Lanka 2014-2016 and sits on the Board of the Sri Lanka Tourist Development Authority. In addition to these responsibilities, he holds over 50 directorships in various hotels and related companies. A fierce advocator of youth development and education, Hiran is a much sought after speaker and panellist at tourism related forums both locally and overseas.
Much like his father, Hiran too has a clear vision for Jetwing: "…to be the most respected company. To be a company that is honest, deliver what it says to the employees as well as customers; a company that respects the environment, local communities – for me those are very, very important factors. Financial success is well and fine, but it is not the only factor. The 3Ps are equally important, people, planet & profits. You cannot isolate any of these. So we are a company focused on all three areas and we continue to grow that way…"
Hiran is a devout Catholic, he is also deeply family oriented: his wife Dharshini, and sons Dmitri, Hashan and Harin are his world. Keeping the family tradition, Hiran's son, Dmitri too has joined Jetwing helping to continue the vision to the next generation.