Ground-breaking Sri Lankan Forum Provides New Perspectives on How Travel & Tourism Can Meet the UN SDGs
GROUND-BREAKING SRI LANKAN FORUM PROVIDES NEW PERSPECTIVES ON HOW TRAVEL & TOURISM CAN MEET THE UN SDGS
Colombo — Over 100 senior executives from the Sri Lankan travel & tourism industry and beyond attended an insightful forum on Oct 11 designed to set new directions for the industry and align it comprehensively with the UN Sustainable Development Goals.
Jointly organized by Jetwing Hotels and the Bangkok-based online publication Travel Impact Newswire (TIN), the forum was the first of its kind in Asia. It featured a detailed presentation on global social, economic and geopolitical trends by Imtiaz Muqbil, Executive Editor of TIN, followed by a discussion on how each of the 17 UN SDGs can be applied to make travel & tourism a part of the solution.
In his opening remarks, Hiran Cooray, Chairman, Jetwing Symphony PLC said, "The global travel & tourism industry is entering a new era in which it is unfortunately seen as being a part of the problem due to its environmental impact. This presents a golden opportunity for Sri Lankan travel & tourism to adopt the UN SDGs as a new business model for future growth, and hence become an intrinsic part of the solution."
He added, "Jetwing has contributed significantly over the years to the advancement of Sri Lankan tourism through job-creation, income distribution, environmental conservation and the promotion of gender equality. This forum is designed to bring the entire Sri Lankan travel & tourism industry on board and put all hands-on deck."
In his presentation, Imtiaz noted that as one of the Asia-Pacific region's longest-serving travel trade journalists, with extensive experience in covering the regional offices of nearly all the UN agencies based in Bangkok, he has seen travel & tourism being hit by numerous internal and external factors as well as "Acts of God" and man-made crises.
He said, "With a few exceptions such as Bhutan, no Asian country can claim to have crafted a tourism development model that balances the benefits of travel & tourism and mitigates its negative consequences. As a country that has now embarked upon national rebuilding after 25 years of internal conflict, Sri Lanka has a unique "last-mover advantage" to learn from the successes and failures of other Asian countries and "get it right" in developing a future model for its travel & tourism sector."
Imtiaz gave a comprehensive and realistic wrap-up of global social, economic and geopolitical challenges and their impact on travel & tourism. Offering an alternative perspective on how civil society groups, which represent the lower-income population groups, feel about issues like climate change and its root causes, he also discussed the consequences of other money-draining challenges such as tax evasion, alcoholism and militarism.
He commented, "The fact that this forum was organized entirely by the private sector, free of any involvement by government agencies or international travel associations, made it possible to have a forthright and frank discussion in which nothing was off the table. That is what made this forum a real game-changer compared to others which prefer to stay within the traditional comfort-zone topics.
"It also reflected the maturity of private sector groups such as Jetwing which are genuinely serious about fulfilling all 17 UN SDGs comprehensively and holistically, not just selectively."
The forum saw some creative ideas being raised to help Sri Lanka more strongly link its travel & tourism growth model with the UN SDGs. These were further refined in a panel discussion with Dilhan C. Fernando (CEO, Dilmah), Ranjith Pandithage (Chairman/Managing Director, DIMO), Sharika Senanayake (Director-Environmental Sustainability, MAS Holdings) and Tharuka Dissanaike (Policy and Design Specialist-Environment, UNDP). The discussion was moderated by Feizal Samath (Consultant-Business Editor, Sunday Times).
Hiran Cooray also added, "This forum could not have come at a more opportune time as we in Sri Lanka strive to expand our tourism offering after almost a decade of peace and stability. Imtiaz Muqbil's approach was sensible and doable, and it is now up to us to provide the leadership to put Sri Lankan tourism at the forefront of embracing all 17 SDGs and show the world that it can be done."
He also acknowledged with thanks the support of Sri Lankan Airlines in making this forum a success.
Imtiaz is delivering these presentations free of charge to any interested parties. He also publishes The Olive Tree, the first and only publication launched in 2016 to link travel & tourism with the UNSDGs. The publication is supported by Jetwing Hotels.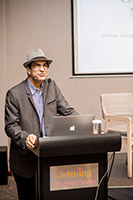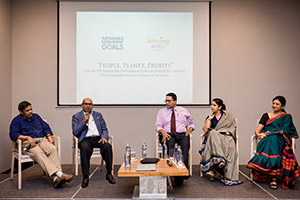 Media Relations – Jetwing Hotels
For any queries regarding this press release please contact us:
Hashan Cooray (Manager – Marketing) – hashan@jetwinghotels.com
Sanduni Kulatunga (Senior Executive- PR & Media)- sanduni.n@jetwinghotels.com