Jetwing Triumphs at Presidential Environment Awards 2019
Jetwing Hotels was awarded the Gold and Silver Trophy of Commendation in the Hotel category at The Presidential Environment Awards 2019 for their contribution towards sustainability and environmental conservation.
Jetwing Lake received the Gold trophy for their effective conservation of energy and renewable energy utilization. Solar energy plays an essential role in their daily operations at the hotel, with 300kW grid-tied solar PV system providing 40% of the hotel's daily electricity requirement. Not only does the resort generate all its hot water via renewable energy, Jetwing Lake also houses a biomass boiler which produces 2000 kilograms of steam per hour, sustainably driving the operation of a Vapour Absorption Chiller, which facilitates air conditioning across the premises.
Jetwing Kaduruketha was awarded the Silver Trophy of Commendation for their involvement with local communities and their effort to highlight the agriculture and farming in the region. Jetwing Kaduruketha provides local farming families in Wellawaya with financial support for cultivation expenses. The harvest is then shared equally between the farmer and the hotel, where the hotel's portion is distributed amongst all Jetwing hotels.
The Presidential Environmental Awards 2019 was held at the Nelum Pokuna Theater in Colombo, under the patronage of President Maithripala Sirisena, to reward the individuals, institutions, Organizations, Environmental Journalists and Industrial activities which have contributed to the field of environmental conservation and protection.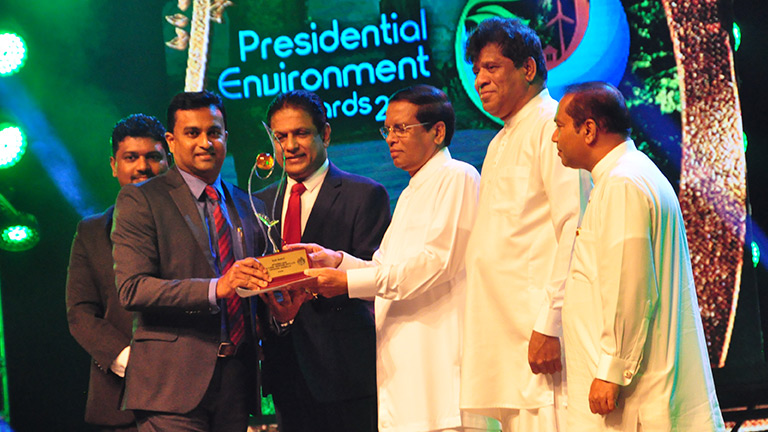 Family owned and in the tourism industry for the past 45 years, Jetwing Hotels has surpassed expectation at every aspect. Building on their foundation of being passionate, as well as the experience of true, traditional Sri Lankan hospitality, constantly pioneering discoveries captures the essence of the brand. Such a strong statement and direction have enabled Jetwing Hotels to imagine, create and manage marvels and masterpieces, where distinctive design and elegant comfort complement each other and the environment. In line with the Jetwing Hotels Sustainable Strategy, across all properties sustainable and responsible practices are given precedence with resource efficiency, community upliftment and education, and awareness being some of our key focus areas.

Media Relations – Jetwing Hotels
For any queries regarding this press release, please contact us:
Hashan Cooray (Manager – Marketing) – hashan@jetwinghotels.com
Upashama Talgaswatte (Assistant Manager – Marketing) – upashama@jetwinghotels.com
Anisha Ariyaratne (Executive- PR & Media) – anisha@jetwinghotels.com