Dining
Highland Dining With Our Family
Although catered for a cottage-style bed and breakfast experience, our artful Dining Room and kitchen facilities have been designed to serve you homely meals, reminiscent of a charming restaurant. In Nuwara Eliya, dining amidst our cool island mountains is a natural invitation for warmth – a specialty that our hospitality is delighted to treat you with.
The contemporary Dining Room features a stately wooden table for eight, and is the ideal space to enjoy an upcountry meal with friends and family. Our resident chef will be delighted to serve you with a range of culinary specialties from Sri Lanka or the rest of world – including our traditional milk rice, accompanied by authentic curries, or even a more continental alternative such as hot pancakes to indulge in amidst the wispy climes of our central highlands. As a specialty of our mountains, fresh fruit is also provided from regional farms that provide us with some of the greatest produce in Sri Lanka. Should you wish to try your hand at preparing a meal with these exotic foodstuffs, you are welcome to use our well-equipped kitchen at The Cottage by Jetwing. Our associates will be happy to share their tips for a wonderful Sri Lankan meal!
On special request, you may also choose to have your meals prepared by our family at the nearby Jetwing St. Andrew's. A take-away meal can be arranged for your upcountry excursions, or you can indulge in a leisurely meal at the hotel itself. For fine dining, the Old Course Restaurant is an exquisite space, complete with a show kitchen and walk-in wine cellar, while the Road Hole Bar is a quaint watering hole styled as a traditional British Pub. As an added pleasure, we can also arrange for a lavish High Tea on the terrace or at the lobby, as we pamper you with highland pleasures from our homes of Sri Lankan hospitality.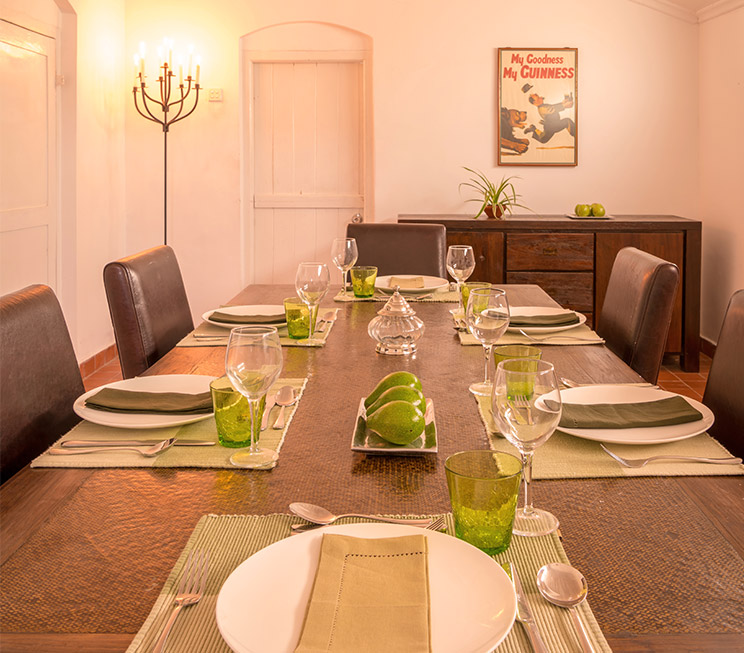 Sit around the table, at your home in the hills.
Visit our family nearby for fine dining and a traditional British pub.