Dining
Fine Dining In Our Capital City
Time has blessed Jetwing Colombo Seven with the fortune of an intrinsic fine dining atmosphere. From its neighbourhood gardens of yore, the greatest cinnamon was yearned by the world. And from its familial residence, home-cooked meals left behind an eternal sense of comfort. Now as an icon of Colombo, we draw inspiration from our culinary heritage in two signature dining experiences unlike any other.
Jetwing Colombo Seven features two distinct dining experiences for your culinary pleasures at our home of Sri Lankan hospitality. On the ground floor, our main restaurant, 57 is named after our address in the upscale neighbourhood of Cinnamon Gardens. The food we serve you is no different – peerless, mouthwatering, and arguably some of the most exquisite dishes in the city of Colombo are plated here. From globally inspired favourites, to traditional local specialties, our chefs are well versed in the language of world cuisine, and look forward to starting a conversation with you from the tables of 57.
High above the city, our rooftop restobar, Ward7, is named after our plush locale of Ward Place, and looks over the rising skyline of Colombo. Boasting some of the finest sunset views in the city, the magnificent hues of pink, blue, and orange treat you to a colourful sky befitting of the cocktail you enjoy beneath it. Tastefully located next to the stunning rooftop infinity pool, Ward7 continues to impress with a diverse selection of sharing platters and delicious tapas to complement your beverage. A number of cured meats, cheeses, and various finger foods grace our unique menu, and are best enjoyed with a drink recommended from our friendly bartender behind the counter. From juices and soft drinks to mocktails and cocktails, our liquid pleasures are bound to keep you in high spirits – that too, with a pun intended!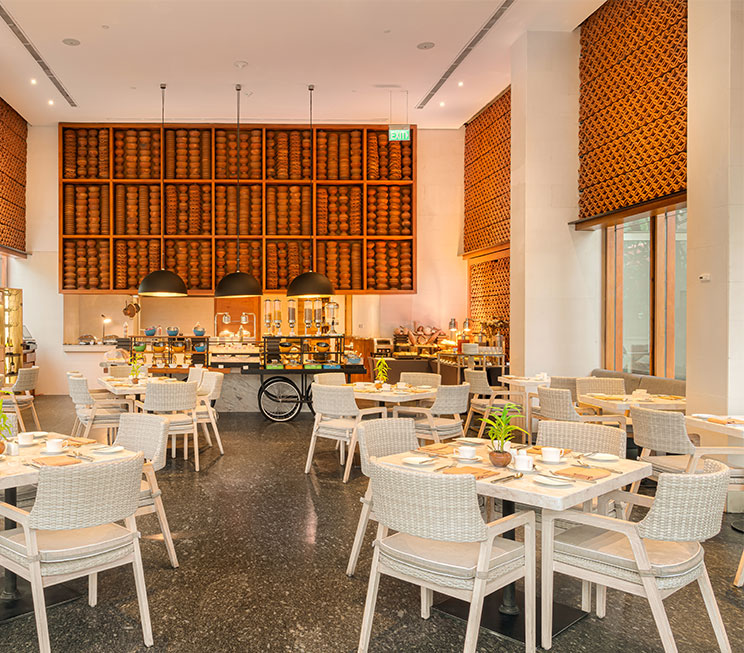 Signature world fusion delectables, from the world-class chef of our main restaurant.
Laze or gaze from our rooftop restobar, at the sunset skies or over the moonlit metropolis.