Dining
Wine and Dine by our Eastern Seas
Perhaps the finest of dining options across hotels in Arugam Bay, Jetwing Surf features three culinary experiences across our eastern home of Sri Lankan hospitality – our main restaurant – Rella, which features a bar with a wine cellar, our Pool Bar, which specalises in snacks and drinks, and four Signature Dining options – a Jetwing specialty that should not be missed.
Overlooking the Indian Ocean, Rella at Jetwing Surf is a breezy space set under a large thatched roof. Designed as an environmentally responsible, open-air setting, the restaurant features both indoor and outdoor seating areas for you to savour your meals from – either à la carte, or from our curated set menus. Our chefs are both well versed in world cuisines to serve you a selection of global favourites, and inherently adept at preparing local specialties, including an array of exceptional seafood from our eastern waters.
While Rella also features its own bar with a rustic wine cellar, the relaxed Pool Bar is an alternative respite for unwinding under the Pottuvil sun. Enjoy sipping on a range of exotic cocktails that not only provide a welcoming sense of refreshment, but also a splash of tropical colour to your holiday food photographs!
Finally, as a specialty of our hospitality across the island, Jetwing Surf also offers four Signature Dining experiences at various locations around our home. Choose to dine by the inviting waters of our pool, on the white sands of our private beach, with a feast in the form of a BBQ, or simply from the comfort of your own cabana.
Our open-air restaurant under thatched roof, with a bar and wine cellar by the ocean.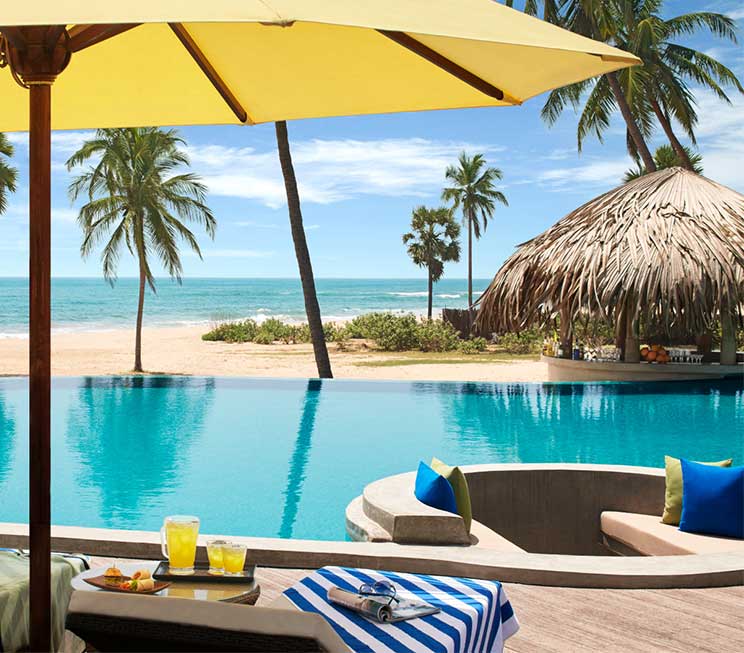 A relaxed watering hole in every sense.
Four unique dining experiences across our eastern home of Sri Lankan hospitality.