Dining
Ayurvedic Cuisine At Our Home Of Sri Lankan Hospitality
Designed to complement your selection of treatments at Jetwing Ayurveda Pavilions, all meals at our home of Sri Lankan hospitality are designed in consultation with our Ayurvedic doctors in order to ensure you enjoy the most beneficial dishes for your wellbeing.
Jetwing Ayurveda Pavilions features two distinct dining options that deliver Sri Lankan herbal cuisine, namely Koththamalli by Rohan, along with three Signature Dining experiences that are a pleasure of our legendary hospitality. As the first hotel in Sri Lanka to be certified by Veggie Hotels, Jetwing Ayurveda Pavilions is also a haven for vegan and vegetarian meals.
Koththamalli by Rohan is an intimate corner of our home in Negombo, and also featured an air-conditioned section facing the road, open for any casual visitor to enjoy breakfast or dinner. The indoor section for guests overlooks our pool and verdant gardens with healthy vegan and vegetarian à la carte or set menus designed around the ancient healing practices of Ayurveda. Each recipe has been extensively researched in consultation with our Ayurvedic doctors in order to harness maximum nutritional benefits from every one of our locally sourced ingredients. For instance, the traditional Sri Lankan recipe for Sath Viyanjana includes the combination of seven distinct curries which form a luxuriously healthy meal for your pleasure.
The nourishing meals of Jetwing Ayurveda Pavilions extend to our Signature Dining experiences, which allow you to dine amidst a variety of settings across our property. While dinners can be enjoyed under romantic candlelight, your breakfast can be arranged by the side of our pool in the form of a picnic breakfast. Should you wish to indulge in our mouthwatering vegan and vegetarian cuisine from the comfort of your own room or pavilion, we are more than willing to oblige by serving you an Ayurvedic meal in the absolute privacy of your healthy home in Negombo.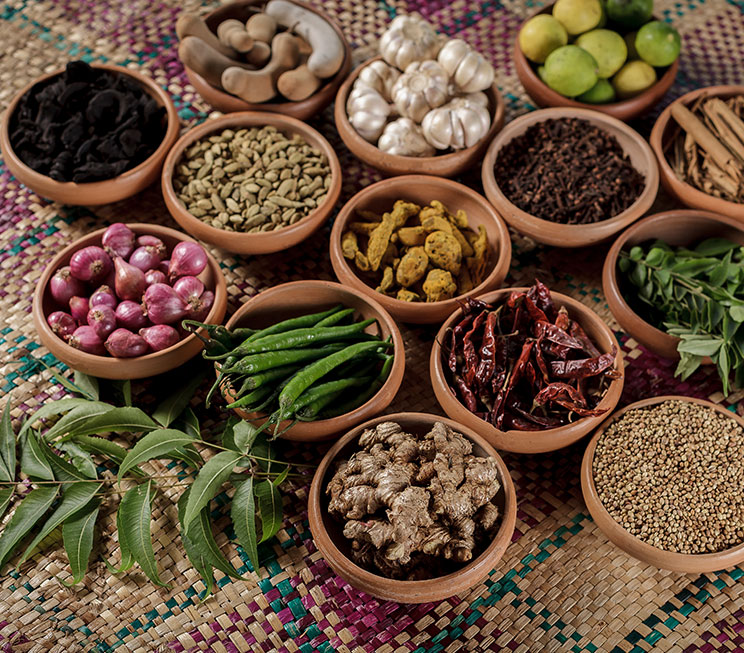 Delicious vegan and vegetarian cuisine inspired by age-old Ayurvedic recipes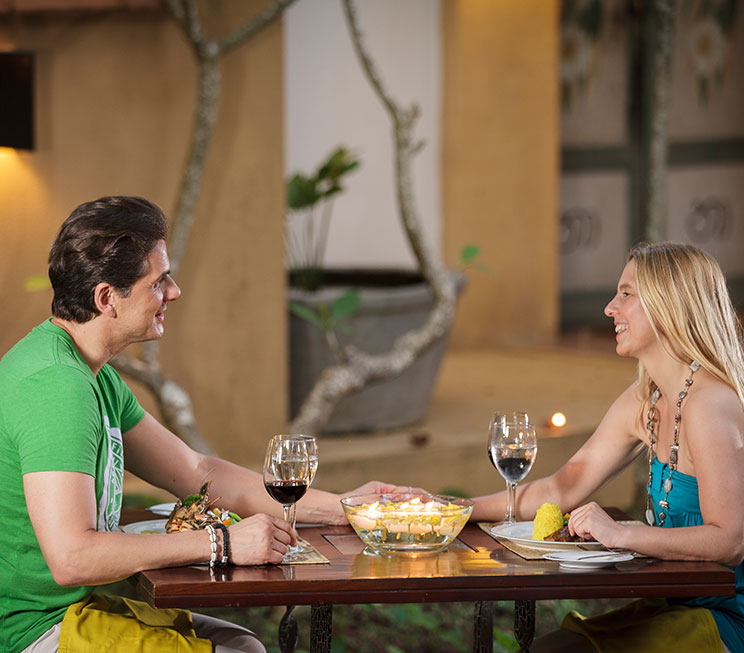 Three distinct Ayurvedic dining experiences as a pleasure of Jetwing hospitality