Weddings
A Sea Of Romance For You And Your Loved One
A luxurious getaway among wedding hotels in Sri Lanka, Jetwing Sea offers a variety of enchanting settings to host your special day on our tropical isle. Be it on our sunny beach, in our lawn, or within the elegance of the hotel interiors, our home of Sri Lankan hospitality is designed to help you celebrate in style.
Weddings at Jetwing Sea are memorable events that you will cherish for a lifetime. Complete with a host of island luxuries as pleasures of our legendary hospitality, your seaside ceremony not only hosts guests against the stunning backdrop of the Indian Ocean, but also treats everyone invited to a truly romantic experience by the blue seas of Negombo.
With a customisable selection of Silver, Gold, and Platinum Wedding Packages on offer, we have a range of options that cater to all tastes, while our dedicated team of planners will also be available to work closely with you and your significant other in designing an extraordinary experience that is personalized to your liking.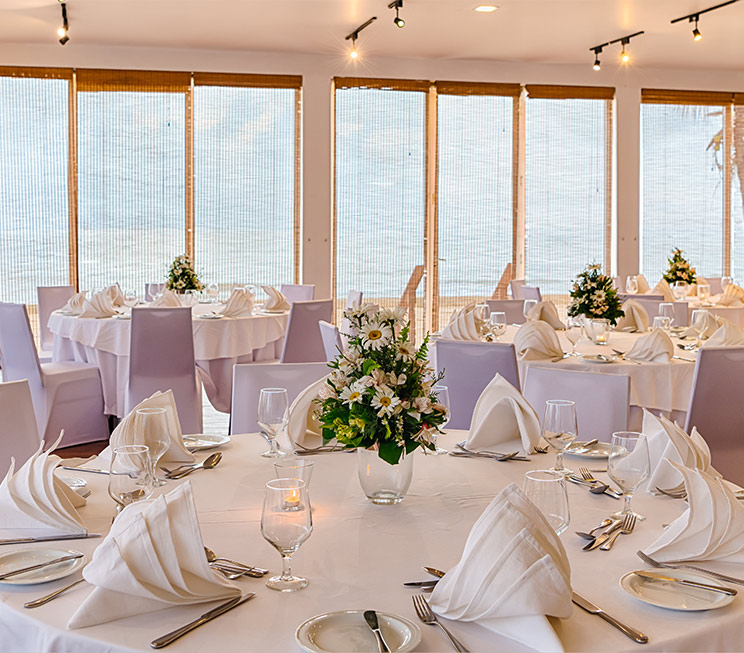 Silver Wedding Package (USD 1750 Per Couple)
Fees for registration
marriage certificate
translation of certificate
witness if required
decorated location with a poruwa
bride's hair dressing
bouquet and button hole
bottle of champagne
DVD of the ceremony
traditional Sri Lankan dancers and drummers
Jayamangalagatha (traditional blessings)
fruits, flowers and chocolates
wedding gift
wedding cake/milk rice with sweetmeats
photographs (24 printed, remainder in CD)
30-minute spa treatment
romantic candlelit dinner
cocktails for the bride and groom
floral bath
Gold Wedding Package (USD 2000 Per Couple)
Fees for registration
marriage certificate
translation of certificate
witness if required
decorated location with a poruwa
bride's hair dressing
bouquet and button hole
bottle of champagne
DVD of the ceremony
traditional Sri Lankan dancers and drummers
Jayamangalagatha (traditional blessings)
fruits, flowers and chocolates
wedding gift
wedding cake/milk rice with sweetmeats
photographs (36 printed, remainder in CD)
1 hour spa treatment
romantic candlelit dinner
cocktails for the bridge and groom
high tea
floral bath
Platinum Wedding Package (USD 2500 Per Couple)
Fees for registration
marriage certificate
translation of certificate
witness if required
decorated location with a poruwa
bride's hair dressing
bouquet and button hole
bottle of champagne
DVD of the ceremony
traditional Sri Lankan dancers and drummers
Jayamangalagatha (traditional blessings)
fruits, flowers and chocolates
wedding gift
wedding cake/milk rice with sweetmeats
photographs (50 printed, remainder in CD)
poster-sized photograph in a frame
2 hour spa treatment
romantic candlelit seafood dinner at a specialty dining location of your choice
cocktails for the bridge and groom
champagne breakfast
floral bath
room upgrading and butler service
traditional groom and bride attire
free canapes and soft drinks for a maximum of 10 persons
Optionals Available
Sri Lankan cultural show
live music (saxophonist, flutist, violinist, cellist)
freshwater boat ride
fireworks
1 hour yoga for couple (where applicable)
4-day spa package
Bridal Beauty Treatment Packages (Available at the Sky Spa)