Jetwing Hotels Welcomes MasterChef Australia's Dee Williams
Jetwing Colombo Seven is proud to welcome Dee Williams – MasterChef Australia's first Sri Lankan female contestant – to their kitchen! A fan favourite on MasterChef Australia 2019, Dee amazed all the judges with her authentic Sri Lankan cooking and bubbly personality.
On the 5th of October at Restaurant 57, you can join Dee's Masterclass and learn all the secrets to cooking the signature crab curry that won her the white apron in the competition.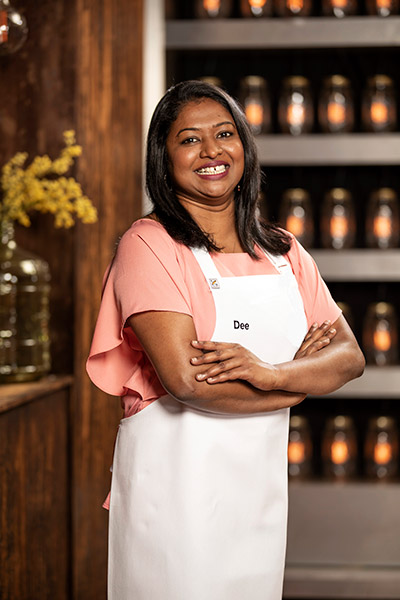 At the Masterclass, priced at Rs. 2,500, participants will not only learn the tricks of the trade but can also indulge in the dishes prepared by Dee. In the evening, guests can bask in flavours that had George, Matt and Gary licking their fingers at the "Pop Up Dinner with Dee" which will feature her own delicious Asian inspired dishes in a menu perfectly curated by the chef herself. Tickets for the Pop Up Dinner will be priced at Rs. 5,000 for non-vegetarians and Rs. 4,000 for vegetarian guests. This five-course menu will offer attendees mouth-watering dishes such as Beetroot Vadai, Smoked Eggplant and Grilled Turmeric Chicken.
"I'm so excited to be partnering with Jetwing to show guests the tips and tricks I picked up on the show, and to showcase my own version of the cuisine we love so much," said Dee Williams who made it into Top 24 contestants on Season 11 this year.
Hailing from Kandy, Dee's family lived on a tea plantation before her move to Australia to complete her Bachelor's degree in Hotel Management. Her inspiration for cooking stems from the diverse cuisines and cultures in Australia and of course, her mother. She cites South and East Asian cuisine as her strength in the kitchen.
Family owned and in the tourism industry for the past 45 years, Jetwing Hotels has surpassed expectation at every aspect. Building on their foundation of being passionate, as well as the experience of true, traditional Sri Lankan hospitality, constantly pioneering discoveries captures the essence of the brand. Such a strong statement and direction have enabled Jetwing Hotels to imagine, create and manage marvels and masterpieces, where distinctive design and elegant comfort complement each other and the environment. In line with the Jetwing Hotels Sustainable Strategy, across all properties sustainable and responsible practices are given precedence with resource efficiency, community upliftment and education, and awareness being some of our key focus areas.
Media Relations – Jetwing Hotels
For any queries regarding this press release, please contact us
Hashan Cooray (Manager – Marketing) – hashan@jetwinghotels.com
Upashama Talgaswatte (Assistant Manager – Marketing) – upashama@jetwinghotels.com
Anisha Ariyaratne (Executive- PR & Media) – anisha@jetwinghotels.com