Our Personalities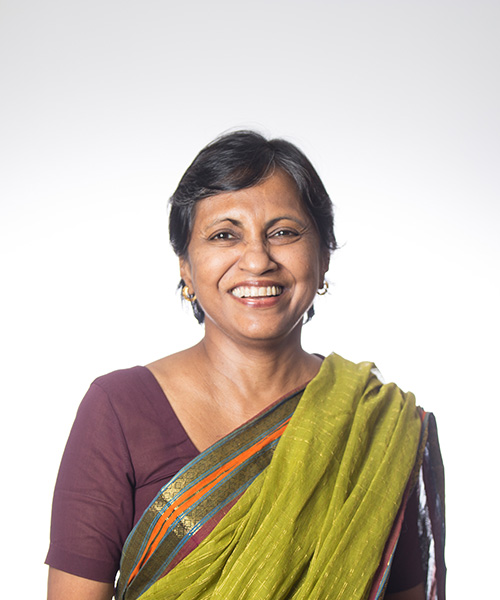 Shiromal Cooray

Chairman, Jetwing Hotels Ltd
The warmth of her wide smile and her utter unaffected nature distract all who meet Shiromal Cooray as to what she really is: a leading figure in the travel industry who is prominently placed amongst the 50 most powerful women of business in Sri Lanka, and the highly efficient and effective Managing Director of Jetwing Travels: the main in-bound tour operator arm of Jetwing.
As the daughter of Herbert Cooray – the founder and late Chairman of Jetwing, Shiromal was in essence an heir to his legacy – but ever independent of spirit, she had no wish to be a part of the family business and veered away from the leisure industry altogether to gain qualifications in finance. Subsequently, she joined the vibrant world of advertising – as an accountant at JWT, one of the leading ad agencies in Sri Lanka. Thriving in the fast paced, exciting atmosphere, she handled both accounts and media, rising quickly to become the Finance Director. When the opportunity arose to take up a similar post at JWT Hong Kong, she was glad to broaden her career prospects in the region, gaining valuable experience.
Leaving advertising after 7 years, she returned to Sri Lanka and to the Jetwing family to reinvent the travel division. The sector was increasing in scope in the early 90s and she entered the challenge of growing the business with her usual resoluteness and foresight;inspired and guided by her mentor and father. Over the years, Shiromal has steered the company's progress to the success it enjoys today, but in her unassuming manner regards achievements as the norm, passing the credit on to the unstinted support of her team.
Deeply family oriented, Shiromal considers motherhood as possibly her greatest achievement. While travel is her line of business, it is also a pastime she enjoys – especially voyages of discovery to places that are off the everyday map. She loves to read – when time permits, and has a passionate interest in nature and the great outdoors.
An Associate Member of the Chartered Institute of Management Accountants (UK), Shiromal also has an MBA from (the University of Colombo). A dynamic presence in the corporate arena, she is the former Vice-President of the Travel Agents Association of Sri Lanka (TAASL) and the former President of the Sri Lanka Association of Inbound Tour Operators (SLAITO) – the foremost representative body for tour operators in Sri Lanka. She was also elected recently as the Chairperson of the Sri Lanka Institute of Directors (SLID).
As a director on the Board of Jetwing, she lends her invaluable support and insight to the day to day operations of the group, but also extends her expertise to all Jetwing interests that fall under the wing of travel. Shiromal is also a director at the advertising agency Leo Burnett and the investment bank Capital Alliance and commodity broker Ceylon Tea Brokers.
Lahiru U. Munasinghe


Head of Engineering

"I never knew there were opportunities for a qualified engineer to work in the hospitality industry and grow as a manager. But this changed once I joined Jetwing."For Lahiru, bridging the gap between engineering and hospitality was unplanned. Inheriting an interest in the subject from his father, whom he calls his mentor, Lahiru went on to study at the University of Moratuwa where he earned both a BSc. (Hons) in Engineering and an MSc in Sustainable Process Development through an affiliated programme with Telemark University in Norway. His memberships and accreditations thereafter read as they would for any engineer of his caliber, but Lahiru's talents shone through when he joined our family as a Management Trainee, and has gone on to represent Jetwing at many local and international forums on sustainability and renewable energy since.

Described as soft spoken but also known as a careful analyst, Lahiru is no stranger to busy days at Jetwing. When he isn't on site visits at one of our properties, one can find Lahiru working meticulously with our Operations team at Jetwing House in Colombo. Lahiru's gradual growth into a managerial position from a qualified engineer is also one of the many accomplishments he is proud of. Aside from an expanded scope of responsibilities, he attributes the success of this advancement to knowledge and experience – both of which are two key pillars he believes in building upon to move forward.And as he progresses, Lahiru's desire for exploration will be fueled by his curiosity - whether its fulfilling his passion for technology and evolution, travelling to unheard destinations around Sri Lanka with friends and family, or even helping his wife build her spectacular collection of over 2000 books.

Experiences & Sustainability

Wijaya Bandara


Agriculture Manager, Jetwing Kandy Gallery

"Observing animal behavior is enthralling! It's absolutely mesmerizing to identify and learn about their every movement. Why they act the way they do is like a puzzle ready to be solved."

A vault of knowledge indeed, Bandara, Resident Naturalist at Jetwing Kandy Gallery, has an unstoppable need to learn about bio-diversity when not being amidst it. To him every minute aspect in the environment screams out its circle of life instilling in him a passion to learn and inform others of the beauty of nature.

His inquisitive nature came about at a very young age when he had the knack for running after every insect and animal in his birth village in Kandy. This interest continued on to his school days at Dharmaraja College where he went on to play his part in Environmental Societies, Art Competitions, and Essay Competitions all in relation to nature and science. Following the same stream he successfully completed his examinations in school to obtain a Bachelor of Science degree from the Open University of Sri Lanka where he studied botany, zoology, and physics in detail. He didn't stop there, Bandara was determined to obtain a Masters Degree in Environment Forestry and so he did from the Postgraduate Institute of Peradeniya.

Deviating from his interests Bandara first joined the advertising field before he soon took up the role of research assistant at the Sinharaja Rain Forest in keeping to his love for the natural world and then went on to be a research student experimenting simple cost effectiveness propagation and growing techniques both with the Botany Department of the University of Peradeniya.

In 2004 Bandara was absorbed into the Jetwing Family where he took up the role of naturalist at Jetwing Eco Holidays. Giving room to strengthen his passion and to make use of his talents, Bandara joined Yala Safari Game Lodge (former Jetwing Yala) as a resident naturalist where he was proven valuable in both tusker and leopard identification research projects. He also initiated the model organic farm to supply fresh vegetables making use of the manure recycled from wet garbage and use of treated water from the sewage treatment plant. Bandara is a survivor of the tragic tsunami that completely destroyed the property in 2004. Determined to further his experience and knowledge, Bandara joined Hunas Falls managed by Jetwing at the time as naturalist where he imitated waste management and herb garden. During this time he managed to reinforce 40 acres of reforestation in the hotel premises under the Jetwing Eternal Earth Program. During this time he had the rare opportunity to record the first Shaheen Falcon's (Falco peregrinus peregrinator) nesting site in Sri Lanka. Hunas Falls Hotel was awarded as a HACCP Hotel, PATA Gold Award, and Best Green Hotel Award by Switch Asia among many other water and waste management awards. Also a weather station was introduced here to provide information to guests, Jetwing Eco Holidays and government –it was also the very first time that a weather station was introduced in the hotel industry. In 2019 Bandara joined Jetwing Kandy Gallery as a resident naturalist, where he continues to learn and impart knowledge on guests.

Bandara not only takes pictures of wildlife but also is a talented artist. During his free time he enjoys drawing and sketching wildlife.