Sustainability at Jetwing Hotels
Pioneering Sustainable Tourism With Sri Lankan Hospitality
For over 40 years, we have been committed to a harmonious relationship between community and environment. Long before the trend of sustainable tourism gathered pace around the world, our family drew inspiration from the magnificent landscapes of Sri Lanka to create fulfilling experiences that you will find only on our island home. With a contagious abundance of friendly smiles that never fail to greet you against the backdrop of natural splendour, our land possesses an enchantment that forms the very fabric of our dedication to sustainability in hospitality – designed for your absolute indulgence regardless of where you may find yourself with us in Sri Lanka.
Sustainability Strategy
Built upon the commitment outlined in our Sustainability Policy, our Sustainability Strategy focuses on six key categories designed to promote a holistic framework of initiatives that focus on the environment, economy and people both within and beyond our family. More often than not, our initiatives encompass more than one category – demonstrating the extent of our sustainability efforts which highlight key impact areas of our business, and remain in continuous development in order to meet the needs of our rapidly changing world.
The Bigger Picture
The impact of the sustainable initiatives at Jetwing Hotels is not simply limited to its scope of operations, instead helps achieve wider objectives by aligning with the United Nations' framework for sustainable development.
Our business actions and initiatives assure us that we are "almost there" when it comes to meeting the required targets for four of the goals; and we are "well on our way" towards meeting the targets of further eight goals. We recognise the importance of all sustainable development goals and believe that our continued commitment to improve our environmental and social performance will play an active part in its success.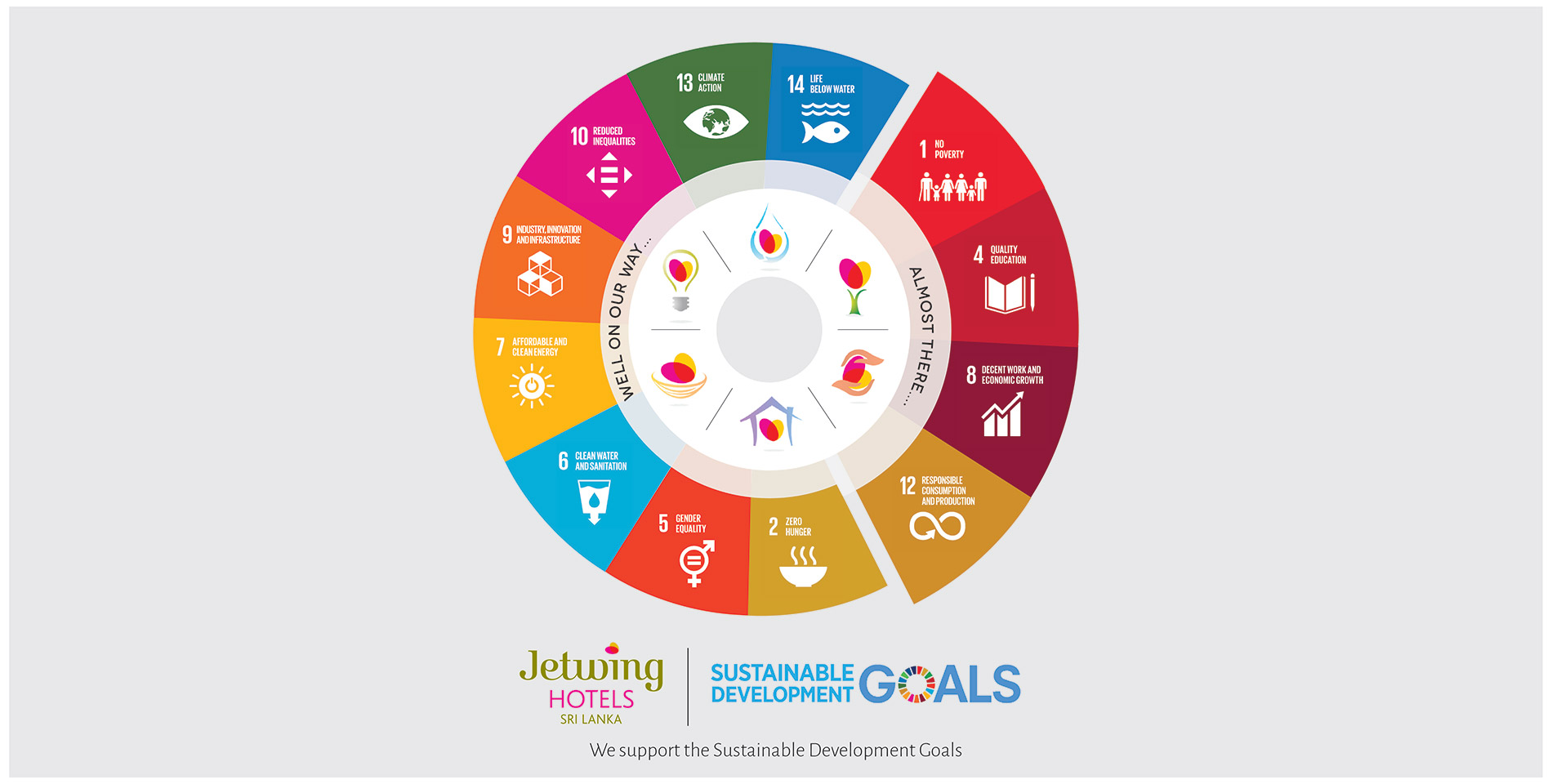 Sustainability Policies
In order to ensure compliance with industry standards in specific operational areas, we have also developed a number of policies that are based on the aims and outcomes of our overall Sustainability Strategy.