Our Story

Herbert Cooray
FOUNDER CHAIRMAN, JETWING HOTELS
…with a gentle swish another wave met the long sandy shoreline, welcoming another dawn. In the far distance, a solitary man stood gazing out to the brightening horizon. This was a beach he knew inside out, a stretch of coast he loved dearly. He had found his space; being naturally generous, he longed to share it – and so, he dreamed of what it could be, one day…                                       
It was another day on the Negombo beach in the early 1970s; he was Herbert Cooray – a visionary, a pioneer of tourism in Sri Lanka and the founding father of Jetwing. The homely villa he built and named Blue Oceanic of just six rooms may have been small, but the heartfelt warmth it offered was immense. It all began with a humble desire to share the experience of true hospitality of a Sri Lankan family with others. A simple dream which grew to an ever furthering vision that made us – the company he founded, what we are today – one of the largest, most respected, and recognized tourism organisations in Sri Lanka, and a family of hotels like no other.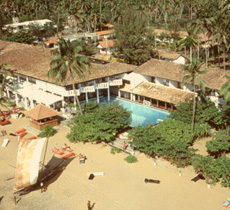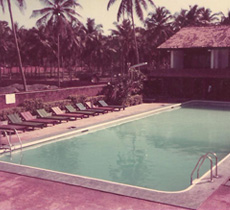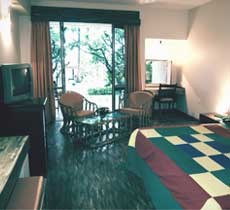 United at heart, we live by the 'family' values of passion, humility, integrity and tenacity – tenets that set us apart as a strong, family run business of distinction. Traits shared by all at Jetwing – a team of dedicated people who believe in the ethos of caring, and who strive to be better than their best. And together, we grow as one big family.
As a renowned specialist in travel and tourism, over the past 40 years and more we have nurtured a hospitality culture that is wholly Sri Lankan, striving to make it legendary. Ever opening new doors we continue to deliver novel experiences through innovative, niche products which embrace all who visit us with the aura of total comfort and peace – a sense of warmth that is unmistakably Jetwing. Staying true to our pioneering spirit, we stray from the well-trodden path, consistently creating new destinations on the map – expanding our horizons – and our visitors', while enriching the lives of local communities and bringing better prospects for all.
Distinct in identity and unique in personality, pioneering discoveries encompasses the very essence of our brand. With a wealth of knowledge gained over the years, we are specialists – experts in legendary Sri Lankan hospitality, so be assured that you are indeed, in very good hands. At the heart of our being is a deep rooted respect for all – people and nature; making us essentially family centred, culturally sensitive and environmentally conscious. Trust is a quality inherent in us, a value we abide by. Always ethical and fair we believe firmly in the importance of integrity. Proud of our origins, our inheritance and our culture, we are wholly Sri Lankan to the very core – staying true to our reputation as a trailblazer, an entrepreneur and a pioneering spirit that continues to lead the industry with ever-raising standards of excellence.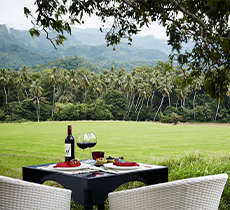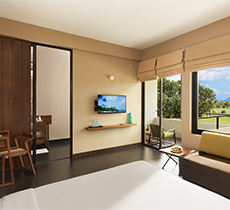 We take immense pleasure and great pride in sharing our home and showing our country to visitors from around the world. And you will discover the difference from the moment you arrive. To us, you are never, ever a room number. You will never just stay with us, but you will experience. You may arrive as a visitor, but you will always leave as friends – and return as family.
At every Jetwing home, you will find our values reflected in terms of spaces: open spaces reflect freedom in architecture and in attitude; our respect for nature is echoed in spaces that showcase the environment, promote synergy – bringing the inside out, inviting interaction. Every space, also tells a story: celebrating the culture and heritage of our country. Spaces – that invite you to make yourself at home – at our home.
Long years ago, we were born to create unique Sri Lankan spaces, and we continue today to help the world experience the best our country has to offer to all on a journey of discovery. Meet us and get to know more about us in person. Our doors are open – our home awaits you, come find your space.

Shiromal Cooray
Chairman, Jetwing Hotels
"…he wanted me to become a doctor, but I was not cut out for the medical profession and chose to become an accountant instead. However, he always encouraged us to do our best at whatever path we decided to take – and he continued to be my inspiration and my guiding light when I eventually returned to the fold, to become a part of Jetwing…"
Charmingly unpretentious and refreshingly down to earth, Shiromal is every inch her father's daughter – as those who knew Herbert Cooray, the founder of Jetwing will warmly reiterate. The essence of humility and simplicity he exuded has manifested itself in the offspring he groomed to eventually take his dream to fruition and carry it forward.
Defying expectations, and ever independent of spirit, Shiromal desired to stay away from the then established family business in the leisure industry and joined the fast paced arena of advertising – as an accountant at JWT, one of the leading ad agencies in Sri Lanka. It was a vibrant and exciting world and she thrived in it handling both accounts and media, rising quickly to become the Finance Director. Although her father did not quite wish her to be caught up in the world of business – as he felt it was not a suitable environment for a female to engage in, he was willing to rethink his somewhat conventional and protective stance and give her all the support she needed to spread her wings. And, when Hong Kong beckoned with broader career prospects, Shiromal took up the opportunity to do so.
Always her quiet source of strength "…my father never insisted or pushed us to do anything we did not want to do, but he was naturally happy when I returned to help the travel arm of the Jetwing business, we reinvented Jetwing Travels as a separate business entity…" Having full faith in her abilities, he gave Shiromal complete autonomy to steer and grow the business and explore its potential. "He gave his opinion, but he gave us, his kids, the choice to make our own decisions. He allowed us to be who we were. He encouraged us to excel – but in an environment of freedom" She reminisces.
Every aspect of her life, Shiromal says, was inspired by her father. A simple person who never sought luxury, he was completely down to earth and influenced his children – and indeed all around him, by example. "…he taught us that all human beings are equal, to respect everyone, he also instilled in us the value of education, how important it was – that education, was for life…" Treasuring her times with him – as her Chairman, and her father she is grateful to him for inculcating an attitude of positivity in her outlook, the ability to be self-motivated, and be strong – the maxim 'whatever happens, life goes on' being words to live by.
Proud of the success the business has achieved today, Shiromal is highly conscientious of her role at the helm of Jetwing Travels, and is determined not to rest on her laurels. "My father was an incredible person, a true visionary and I consider it an honour to have the opportunity to take his dream forward, it is a responsibility I hold very dear. Jetwing Travels has come a long way, and we will indeed continue to grow from strength to strength , providing a legendary service– something I am totally committed to."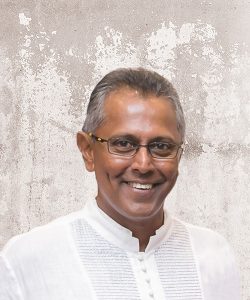 Hiran Cooray
Chairman, Jetwing Symphony PLC
"…he will always be my hero. Throughout his life, he remained the most influential force in our lives – not just as my father, to our family – but as a father to the entire Jetwing family. A family he loved and worked tirelessly to nurture. Now, with the honour of carrying his dream, I always remember his courage and resilience when I try to follow his footsteps day by day and try to inspire vision within Jetwing – the same way he did…"
The epitome of simplicity and humble charm, Hiran is a son who continues to do his father – the founder and late chairman of Jetwing, Herbert Cooray, proud. From his childhood days, spending time with his family on their favourite seaside town of Negombo and on other holidays around the island was something Hiran treasured. Growing up, he held great respect for his father and was very impressed by the business that was growing from success to success. "…he had such incredible vision – for us as his own family, for the company he created, and also for his country. He began Jetwing when tourism was not even thought of as a viable concept, but he had such faith in the potential of the hospitality industry in Sri Lanka as a destination of incredible diversity that would hold great appeal. And over time, he never gave up on that vision, despite the war years, and all the disadvantages. Sadly, my father did not live long enough to see his profound wish for his nation begin to take shape. But everything he predicted and worked towards, is now very much a reality…"
Inspired by his father, Hiran joined the Jetwing fold as soon as he completed his education graduating from the University of North Carolina, USA; prior to which he studied at St. Joseph's in Colombo. Hiran also continued his studies following a General Mangers course at Cornell University, USA. Following family tradition seems to be – a family tradition. Just like Hiran (and his sister Shiromal) took up their father's legacy, at 29 years of age, Herbert Cooray too, left his insurance job to join the family business, N. J. Cooray Builders – a building construction company which was founded by Herbert's father, Jeremias. "…it was the turning point for my father…"says Hiran "…an irreversible path of discovery, passion, vision and triumph, that has lead us to where we are today."
Recapping how the concept of the Jetwing group was born, Hiran recalls "…taking over the business, my father developed N. J. Cooray Builders and the company soon grew to be one of the most reputed in the field. This period, the 1970s also coincided with the country's early explorations and forays into the tourism industry, and as the building contractor for G. E. B. Milhuisen – a pioneering resort hotelier in Sri Lanka, the company was certainly very well positioned. When Milhuisen brokered a deal with Vingresor, a Swedish tour operator to build a hotel in Negombo, he challenged my father to construct the 40 room Sea Shells Hotel (now Jetwing Sea) in a matter of just months – an unthinkable proposition in Sri Lanka at the time given its meagre levels of building technology and resources. But my father never gave up on a challenge – and completed the task on time, and his client, who was very pleasantly surprised, suggested that instead of constructing hotels for others perhaps he should consider doing the same for himself!And, that is precisely what he did; building the Blue Oceanic hotel on his favourite coast of Negombo…"
The founding principles his father inculcated in Hiran and the family have today become the very pillars that Jetwing group operates on: "…passion, honesty, integrity and tenacity – these were the values my father instilled in us, throughout our lives, and they continue to be the Jetwing family philosophy. It is the secret of our success. I have the incredible honour and the responsibility now to do justice to his legacy, and I know his spirit lives on with us, every day, guiding our steps – he shares all our successes and I know for certain, we have made him proud – we will continue to do so, always…"

Ruan Samarasinghe 
Managing Director, Jetwing Hotels
"…he saw the potential in me that I myself never realised I had. I was very young, fresh out of school – a little rebellious, but he entrusted me with a lot of responsibility and let me handle it without ever expecting the unreasonable. He was very approachable, always understanding and empathic. Mr.Cooray was more like a father to me, and I became a part of the Jetwing family – and I still am, more than 40 years later, living his legacy and helping to see his dreams through to the next generation…" 
Behind the outward reserve and the seemingly quiet persona lies a youthful streak of mischief that still sparks a twinkle in his eyes as Ruan takes a trip down memory lane to the humble beginnings of his career and the visionary who guided his steps – the founder, and late Chairman Mr. Herbert Cooray. Reminiscing with heartfelt warmth about his much loved and respected mentor, the stories flow – and the bygone era when Jetwing was born, is brought to life again by someone who has been a part of the journey from the outset, every step of the way. Ruan recalls a particular escapade: "…right at the start, when the hotel bought its first car, I took off in it, and crashed. Everyone wanted me fired, but Mr.Cooray chose to forgive me and gave another chance to prove myself. His faith in me was really a turning point, and from then on I grew up, took my responsibilities very seriously…" and with a disarming grin Ruan adds "…as Managing Director, I still do…"
In the early 1970s there was literally no interest in tourism as an industry in Sri Lanka. Not seen as profitable, its potential remained unexplored. Mr.Herbert Cooray, however, saw things differently, and choosing a beachfront he loved built a small 6 room guest house, with a part time chef – one of the talented 'appu' or plantation cooks who turned out meals, and Ruan who was enlisted to do anything and everything that needed to be done.
With the opening of the Blue Oceanic Hotel, Mr.Cooray's vision for Jetwing began to take shape, and Ruan's career in the tourism industry was born. "…his foresight was an inspiration; he always saw potential in things that others had given up as impossible. Back then, environmental concerns were not regarded as important or 'fashionable', but Mr.Cooray believed in conservation. He was deeply concerned that the Negombo beach he loved was being seriously damaged by erosion and he initiated a beach reclamation project. He was warned of the disadvantages of constructing on that coastal stretch, but he firmly believed that it could be saved, and that it could become one of the most sought after beaches in Sri Lanka, and he invested to make it happen – and, as it is evident today, he was right." Mr.Cooray was one of the true pioneers of eco-tourism in Sri Lanka, and his commitment to the environment and green issues is one that Ruan continues to uphold as a part of the Jetwing ethos.
Mr Cooray's influence extended beyond business to mould Ruan's life as his guide and over the years as his trusted friend. "…a simple person, who lived a simple life – never seeking luxury, he taught us to be the same – by being an example that we followed. He taught me modesty and humility; he nurtured my ability to build good relationships with people based on trust – lessons that have proved very valuable to me in life and in business. He instilled in me the belief that one must live within ones means, it is a principle I uphold – at work, and in my life too."
Having committed his entire career – and most of his life to Jetwing, Ruan considers it an honour to be directing the vision of his Company's Founder. "…long ago, he shared his dream with me, gave me the responsibility to help him make it real – and all my life, I have stood by that dream, because it became mine too. Today, although he is no longer with us, we continue to carry it forward. The Jetwing family is now a large one, and I am happy to have been a part of it from the beginning. It is an incredible privilege to lead the Jetwing journey to greater heights – I hope I have made him proud."