For years Colombo has been something of a Sri Lankan conundrum. A dynamic, historic, ocean-side capital city on the island's ever-popular west coast it certainly has plenty on paper to lure the traveler. However, many visitors still arrive on the island with the impression that it is little more than a hectic gateway, a sprawling financial and commercial metropolis that is best used as a stepping stone on the way to the 'real' Sri Lanka of serene, golden beaches, lush mountains and jaw-dropping cultural hotspots.
But it's high time to think again. Dive below the bustling surface and you find a bewildering and irrepressible city with an extraordinary wealth of things to explore and enjoy. It may not be apparent as you first hit its suburbs on the way from Bandaranaike International Airport, but Colombo has a pulse freshly energised by developments like the restoration of its city museum and the opening of the time capsule that is the Colombo Fort and its surrounding area, largely locked-down during the civil war.
Today, the city continues to bloom into a fast-paced, fascinating destination where eighteenth-century streets rub shoulders with bold, modern architecture. It is a place of contrasts and colour, of scents and senses, of mad, manic, open-air markets and vast, air-conditioned shopping malls, street food Meccas and candy-coloured temples. And the deeper you dive, the more it opens up. In fact, Colombo's wide and ever-evolving melting pot of cultures – Sinhalese, Tamil, Burgher, Muslim, old expatriates and, latterly, Chinese – means it is perhaps more deserving of being labeled the 'real' Sri Lanka than anywhere else. This is a city that is proud to be going places, while you are never more than a few footsteps from the many layers that make up its 2,500-year-old past.
With a little local insight, navigating its mix of historic trading port and thrusting modern harbour city not only provides a perspective on the rest of the country, but also reveals a charm, character and atmosphere you won't find anywhere else on the island. And it's one you definitely won't be in a hurry to leave.
DAY ONE AM
8:30am – Chances are you either flew in yesterday and are feeling a tad travel-weary, or you are on your return from adventuring elsewhere in the country. Either way, the new Jetwing Colombo Seven Hotel is the sort of place a tired mind craves. Light, modern and luxurious with huge rooms and comfy beds, it is a wonderful place to arrive, slap-bang in Colombo's most desirable district: '07'. So it would be crazy to hurry out of the door. Have a lie-in and a late breakfast – the egg hoppers are fantastic – in the calm of the roomy restaurant, before heading to the roof for a morning swim in an infinity pool that has the best views you'll find in the city. A great way to get feel for Colombo's array of different districts spreading out before you.
If you're a golfer, you might want to iron out the creases at The Royal Colombo Golf Course, a historic oasis of green dating back to 1879 only ten-minutes drive from the hotel. The second oldest golf club to gain the 'royal' status outside of Britain, Colombo is open to non-members, but a stickler for rules. With its smart clubhouse, bedecked with historic colonial photos, and rolling, manicured greens, it's a place that demands discipline from players. Dress accordingly and expect to pay green fees ($78 per day) and caddie fees, both of which are reduced if a visitor is a member of a reciprocal golf club. A few holes played in its extraordinary setting – complete with railway track running through – is a leisurely introduction to the city. Just don't be surprised if you find the odd land monitor or little egret in the bunkers.
10:00am – Housed in a spectacularly grand, white-painted old governor's building, the newly refurbished National Museum (Rs. 600 entry with Rs. 250 for camera license) provides a perfect 'core sample' history of the city and the country. Beginning with the first "historic" period (4th-5th century BC) of Sri Lanka, it leads you through the many layers of occupation on this island via a treasure trove of artifacts – from early farming shovels and rock sculpture to the ceremonial swords and the throne room finery of the last Kandyan kingdom. The revamp has done wonders in placing context around the country's different capitals through time: Anuradhapura, Polonnaruwa, Kandy, Colombo. Everything flows through its grand rooms to build a useful picture of how Sri Lanka's long history has been influenced and shaped by trade, religion, royalty and colonial occupation.
11:30am – Stroll the 600m down Independence Avenue for a potter around Independence Square with its open lawns, flowers and trees. Here, amid the calls of crows, couples stroll arm in arm and joggers, students and families take a break from Colombo's industrial hustle and bustle. At its heart is the monument built to mark Sri Lanka's freedom from colonial rule in 1948: the Independence Memorial Hall. This stone edifice is decorated with carved symbols of Sri Lanka's history with an open assembly hall on top, supported by 60 stone pillars and modeled on the 'Magul Maduwa' – the royal court of the King of Kandy and the last kingdom on the island before British rule began in 1815.
DAY ONE PM
12:00pm – Colombo Racecourse – 200m walk to the northwest – was originally built by the British in 1893 but has since been converted to a rugby stadium and a high-end shopping destination. Only the grandstand and name indicate it's previous purpose. Racing's loss is definitely the city's gain. 'Racecourse', as locals know this spot, is also home to The Good Market (every Saturday, 10am-6pm) Colombo's equivalent of Borough Market in London and home to the city's small producers, boutique fashion brands, food sellers and musicians, all of whom congregate under the massive Banyan tree. This is one of the coolest places to shop in the country and pick up refreshing treats like the 'Ceylon Punch' – a cold-pressed mix of lime, mint, salt and coconut water – from Kumbuk Kitchen in The Good Market's permanent home, a mini-market shop across the street. 
1:00pm – Swing back to Jetwing Colombo Seven Hotel via the formal architecture of Royal College, the biggest boys school in Asia, and its avenue of sculptural trees. Then lunch at Colombo Seven's restaurant 'Fifty7' where a superb menu features local ingredients and some of the finest cooking in the capital. If they're on, don't miss the seer fish smoked with Ceylon tea (Rs. 840), followed by twice-cooked pork belly with sweet potato, eggplant and pineapple sambol (Rs. 1200).
3:00pm – Fully refreshed, it's time to get deeper under the city's skin. And there's no better man to guide you through its alleyways, backstreets, ancient identities and colonial-era architecture than Mark Forbes, founder of 'Colombo City Walks'. Here is a man who's made it his life's mission to strip back the layers to reveal Colombo's hidden treasures to locals and tourists alike, and his conversational style is as infectious as it is illuminating.
Meet him at the Old Dutch Hospital at Colombo Fort to trace the city's story, from the Dutch early desire for cinnamon to the city's important place as a military stronghold, gateway to the eastern spice trade and shipping port en-route to Australia. His walk weaves through areas, many previously out of bounds during Sri Lanka's troubles, including the historic Clocktower and Lighthouse on Chatham Street, the post office, the beautifully re-built Central Point Building – with its old English-made bells from 1815, hoisted into place by elephant – and the 200-year-old presidential palace. The colonial past really leaps to life amid the nineteenth-century arcade frontage of the Cargills building, the first department store in Sri Lanka, and with a gin and tonic on the terrace of the 'Grand Oriental Hotel' overlooking the old port. Although a long way from its former glories, it was once so posh here guests had to submit written evidence to prove they had the means, and manners, to stay. Among the faded grandeur, looking out across the historic port and shiny new shipping cranes, you get a real sense of the city's past and its thrusting ambition.
Mark's tour also leads you into Colombo's historic, mad and must-see mercantile district, Pettah, as chaotic as it is absorbing. Flying carts, piled high with wares and pulled by porters, zip past a whisker away and rivers of gridlocked people and cars trickle between food stalls and shops, selling everything from household appliances to luxury textiles by the roll. Amid the chaos there are beautifully calm Hindu temples and Catholic churches to look at, as well as the Jami Ul-Alfar Mosque with its extraordinary red and white exterior.
5:30pm – For a sundowner and some awesome sea views, head to Galle Face Green, Colombo's ocean-lapped lawn promenade. Here kite fliers and food carts throng the front as couples watch the sunset sky erupt in a riot of peaches, purples and reds. At one end, underneath the historic Galle Face Hotel, the great little 'In…on the Green' pub does a superb Colombo gin and tonic, and pints of local favourite Lion beer on draft.
7:30pm – 'Hulftsdorp' – district 12 – is Colombo's (still relative secret) street food Mecca with the jewel in the crown found on the corner of Abdul Hameed street opposite the big, grey mosque. As darkness falls it gets really busy with locals hungry for cooking that'll blow your mind. Take a plastic chair next to the waving kids and chatty old men and try 'mani pittu' – flour pressed through a ricer – with 'babath', an exquisite tripe curry, all washed down with sweet ginger tea. The folded rotis – chicken and vegetable – are so good you may want to stick around until breakfast.
9:00pm – To keep the night going, head to RE.PUB.LK (or 'RePub' for short) for an upscale and oh-so-hip watering hole where Colombo's cool cram the two floors and get stuck into the drinks and dancing. Behind the 1920's façade big beats bounce around a gentrified décor that sees Edison bulbs, fire escape stairs and exposed brick walls, big leather sofas and a cocktail menu that delivers as much as it promises. Try the Arrack Sour (Rs. 600) for some local flavour.
DAY TWO AM
10:00am – Take another lie-in, a long breakfast and a rooftop swim. Then pack your spending money and head to Colombo's ritzy retail cathedral, Odel. It's founder started out selling stock from the back of her car but today you'll find everything in its enormous air-conditioned interior, from books, craft and homewares to leading fashion labels, perfume stores and designer footwear brands. Even those less inclined to wander its halls can take a break, have a drink in the bar or a foot spa.
11:00am – If you're after handicraft and collectibles, the fantastic Paradise Road close by on Dharmapala Mawatha. Imagine a mad cross between John Lewis, a sculpture gallery and an old curiosity shop. Housed in an old mansion, its interiors are a wonderful mash-up of antiques, original porcelain and homewares where you can barely move for the racks of clothes, craft, lighting, art, sculpture, stationary, toys, tea and soaps. The perfect place to pick up a present to take home.
DAY TWO PM
12:00pm – Cross the street and stretch your legs with a walk around Viharamahadevi Park. Previously 'Victoria Park', it used to have an international cricket pitch in the 1920s. Today it is known for its foliage and thousand flowering trees (of which there are over 80 varieties), particularly March to May. But Colombo's largest public green space is handsome at any time of the year and a welcome place to get some shade at midday. Follow the cycling and walking tracks, dodging the romantic couples and joggers, for views of the vast, white, colonial-era town hall, and then potter about its little lake with its picturesque suspension bridge.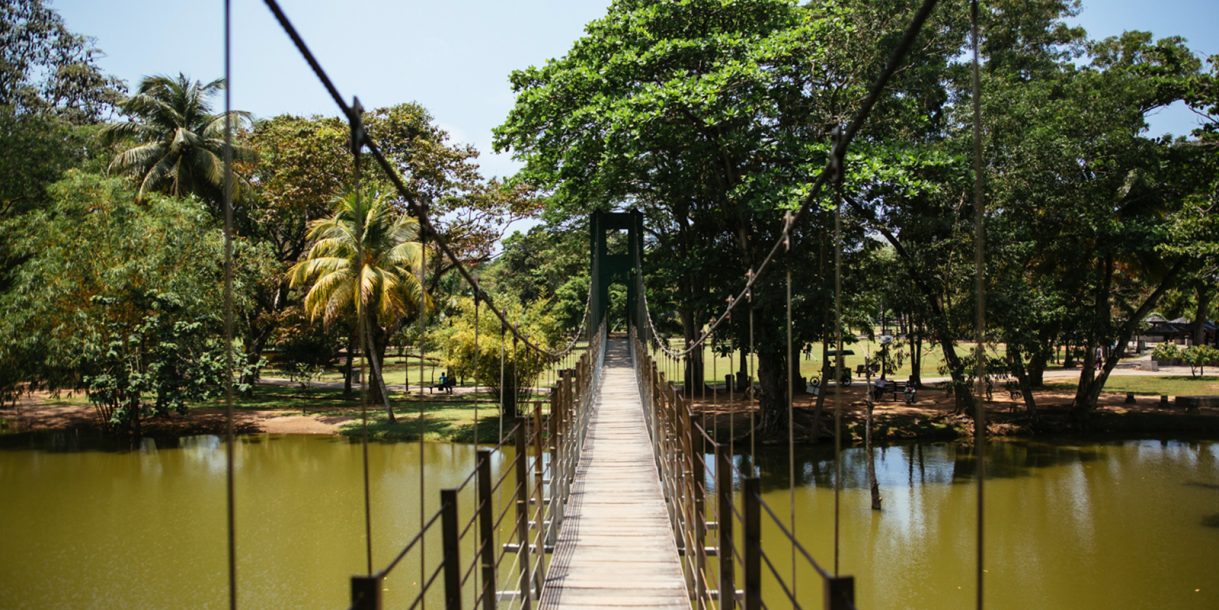 1:00pm – Freshen up back at Jetwing Colombo Seven Hotel and check out what's new on its daily lunchtime menu. Follow fresh king coconut juices with chargrilled sweet and sour ribs and mixed beets (Rs. 850) if they're on. Then try the incredible rice and fish curry, or the signature beef burger in squid ink brioche with fries and relish (Rs. 2000). You won't find a better burger anywhere in Sri Lanka.
3:00pm – Not just one of Colombo's but one of the country's most interesting places of worship, Gangarama Temple is a Buddhist beauty and a formidable set of structures that take you by surprise as you approach from the street. It is close to Colombo's Beira Lake, where one of the Gangarama's outbuildings still sits placidly surrounded by water. This mini-temple called 'Seema Malaka' is more a place of rest and meditation than a visitor attraction, but it's worth a look on the way to Gangarama proper, not least as it was the renowned architect Geoffrey Bawa who reconstructed it after the original nineteenth-century temple sank into the lake. The main temple complex is something else. A collection of diverse Buddhist architectural styles and fine decoration, the Chinese, Thai, Sri Lankan and Indian influences are blended in a colourful cluster of buildings. There are extraordinary hand-beaten metal panels and carved, painted figures; inside the temple buildings, giant golden and ornate Buddhas tower in theatrical scenes over devotees who travel from all over the world to be here. It's an amazing place, thick with incense and prayer, that demands reverence and peace.
3:45pm – Head back towards Galle Face Green and the sea via the Darley Road, famous for its secondhand bookstores, which line the street and sell absolutely everything from rare and dusty Dostoevsky hardbacks to old British Ikea catalogues from the nineties. When you get to the shore, check out the Presidential Palace on one side of the street and the Colombo Lighthouse on the other. This sturdy ship-saving tower that was one of the first constructions of the free Sri Lankan government in 1952 and it still gives great views of the sea and harbour.
4:30pm – One of Colombo's coolest places to hang out has to be Barefoot on the Galle Road. Founded by designer Barbara Sansoni and laid out in an old villa with a beautiful courtyard, Barefoot is part-shop, part-gallery, and part-bar and venue. Barbara's erudite and witty son, Dominic, is not only one of Sri Lanka's top photographers and characters but he playfully presides over his business with trademark charm and good humour, hosting exhibitions and theatre in the wider space and live jazz in the courtyard every Sunday. It's all relaxed with the feel of a free-form gig and it's all the more wonderful for it. No surprise that acts like Joss Stone come here to play exclusive little sets. But Barefoot still remains most famous for its stunning and colourful hand-loomed textiles, fashioned into shorts, dresses and all manner of over clothing and homewares. It's simple yet very stylish stuff, and you won't be able to leave with your hands empty.
6:00pm – Only one thing could drag you away from Barefoot and that's the sunset from Jetwing Colombo Seven's 13th floor rooftop. It's a must for any traveler here and the moment when this beautiful new building really shows off its design. But any sunset – of course – is best enjoyed from the water, so slip into the pool and float to the edge as the sun turns a blazing red and drops behind Colombo's skyline, and the lights prick the streets of the bijou Cinnamon Gardens area below.
7:00pm – You don't need to walk far to round off your 48-hours in Colombo. Beside the rooftop pool is Jetwing Colombo Seven's slick and modern 'Ward7', a glass and wood bar and dining space with outdoor sofas, temple flower trees and tables that really make the most of those breathtaking views. This is a burgeoning space where live music, bar dining and cocktails meet. The drinks are taken seriously though, as demonstrated by the gin menu and the Japanese ice mould, which compresses and freezes water into a perfect diamonds of ice. Plus there's a great wine list (from Rs. 500 a glass) that is as reasonable as it is wide-ranging.
Try a pre-dinner cosmopolitan (Rs. 1000) or a cold Lion then plump for some of the Ward7 platters at Rs. 3000. Forget bar food, this is closer to fine gourmet cooking; all the dishes come beautifully considered and presented, and are outstanding in taste. Definitely try the beef short ribs and the chicken hotdog with twice-cooked fries, made with proper, quality sausage crafted exclusively for the hotel.
Take a lounger and stay up as long as you want with a whisky and the cool night air sweeping in from the sea. Drink in the sight of this amazing city finally quietening and slowing down, for a few hours at least.
BOOK NOW