"I've known some impressive rocks in my time. From the vertiginous expanses of the Grand Canyon to the geometric grandeur of the Giant's Causeway; the scorched sandstone majesty of Uluru – or Ayers Rock – to perhaps that most famous rock of all: the dark and foreboding Alcatraz in San Francisco Bay. In fact, travellers are spoiled with fine examples of geology and history the world over, but then there's Sigiriya in Sri Lanka.
I spot it first from the jeep – an ancient volcanic outcrop, rising proudly from this island's central plains in the heart of what is known here as the 'Cultural Triangle'. This is a region with an embarrassment of religious and cultural riches, as well as staggering scenic beauty, making it an essential stop on most Sri Lanka travel itineraries. Helpfully, the close proximity of sites means it a boon for the time-stretched traveller. In just 48 hours you can take in some of the country's most unforgettable experiences.
Yet few people arrive prepared for Sigiriya or 'Lion Rock', the ancient rock fortress and perhaps Sri Lanka's most arresting sight. Standing at the edge of water gardens, which form the formal entrance to its foothills, its vertical sides soar up, filling my vision. From here I can see little of what lies on its summit, but the water gardens provide tantalising clues. Serene and landscaped they also hide some of this rock's secrets and engineering wonders in plain sight. As we walk past some old fountains, our guide from the local Jetwing Lake hotel – Bandara – drops an amazing fact: these were fed by underground pipework that ran from the very top of the rock to where we are standing, hundreds of meters in total. Even more impressive is that, in rainy season, they still work. This perfect union of form and function, of art and science, sums up much of what makes this place both so beguiling. Small wonder it is an official UNESCO World Heritage site and, albeit less officially, known as the 'Eighth Wonder of the World'.
Most of the visible ruins here actually date to the fifth century BC, but the eye can be fooled. These gardens are surprisingly well preserved. In fact, with their clean lines and neat lawns, they feel modernist, but make no mistake: this place feels ancient too. History hangs heavy on the mercifully cool morning breeze.
The origins of Sigiriya's human habitation are shrouded in myth and mystery, which is unsurprising when you discover that they stretch back more like 5000 years. What we see here today is a more recent legacy, if you can call it that, dating back a mere 2,500 years to the reign of King Kashyapa. Like all good kings Kashyapa comes with a dramatic story that wouldn't feel out of place in Shakespeare, or Eastenders. In the Cūḷavaṃsa, an ancient Sri Lankan royal history, Kashyapa is said to have murdered his father by imprisoning him alive. In the process, he stole the throne from his half-brother Moggallana who fled to India to – you guessed it – plot forceful and brutal revenge on the usurper. Fearing this scenario, Kashyapa sought refuge atop this mighty rock and set about building a fortress as ornate and visually staggering as it was heavily fortified.
The best way to explore the fruits of his labours is to take the somewhat challenging walk up to the top, moving the through the water gardens and onto the dizzying flights of stone steps, each cut from quartz so it would shine in the moonlight. By about step 10, Bandana cheerfully points out that there are 1200 steps in total, which already sounds like a lot. Thankfully there's much to admire. The first section is hewn straight from the volcanic rock itself and encased in a kind of stucco surround that looks almost like the polished concrete you might find in a trendy East London restaurant. Once again it turns out that there is nothing new under the sun, or in Wallpaper magazine; these designs are well over 1000 years old. Of a similar vintage is the primitive graffiti that adorns the walls that line this section of the ascent. Seeing scratched notes that could date back to 600AD is a humbling and uncanny experience.
watch the film
These sensations become only more powerful at the midpoint when we see perhaps the stars of the Sigiriya show: two gigantic lion's paws. These form the base of what was likely a whole lion created in stone and brick stretching from this mid-point plateau to the very top of the rock. If the paws alone are breathtaking, the whole thing must have been truly awe-inspiring. But this was surely the point, a warning to intruders like Kashyapa's blood-hungry but worthy adversary.
We climb through the paws, then up some slightly less impressive metal stairs. This final section takes its toll, but it's the view from the top that takes the last of our breath away. A 360-degree extravaganza with a particularly fine aspect on the 'Knuckles' mountain range and a sweeping view of the water gardens below. Bandara also assures me that we can see out hotel for tonight from here, Jetwing Vil Uyana, but those luxuries will have to wait. There's much to explore up here.
Much of the footprint of the ruined ancient palace is still visible, and revealing. And as well as being treacherous and murderous, it appears that Kashyapa was something of a playboy. His wives numbered in the hundreds and he spent much of his time in what is described to us as a 'nightclub' with a huge on-site swimming pool. Amazingly its glittering, watery surface still shimmers in the morning sun today.
The man certainly knew how to spend the years waiting for his inevitable demise, which came in the latter part of the fifth century thanks to Moggallana, who successfully smoked him out of his fortress with a siege, then beat him in battle.
One last look at the view and it's time trot down the steps at the other side to make our return, stopping for a look at the towering 'Cobra Rock' which certainly does bear a resemblance and is as close as I'd like to come to a real one this size. We're then ushered out of the park clutching our valuables by a cheeky pack of monkeys and on the road back to rest and recuperation.
Arriving at Jetwing Vil Uyana, it is immediately clear I'm entering somewhere truly special. The pagoda entrance at its perimeter sits amid a wall of greenery and tall, swaying grasses and there's no greater sight for someone with sore legs than the golf cart pulling up to whisk you and your bags into the heart of this breathtaking oasis of nature and luxury.
Floating amid reed beds, man-made lakes, ponds and paddy fields, alive with the calls of birds, this is a hotel experience with a difference. A unique and multi award winning eco-resort, Jetwing Vil Uyana consists of 36 beautiful, roomy individual dwellings or 'lodges' on stilts (some with their own plunge pools and open-air showers) and stylish, traditional hotel buildings that house a fine dining restaurant, pool and spa, all linked by walkways and set within a 24-acre nature reserve.
Although hard to comprehend today, fifteen years ago this now lush sweep of Sri Lanka's Dry Zone was barren agricultural wasteland. But inspired by the conservation success story of the Royal Society for the Protection of Birds at London's Wetland Centre, Jetwing's owners and dedicated naturalists had the vision and the desire to transform the area completely, creating a green jewel in the Cultural Triangle that is now a sanctuary for travellers and the natural world alike.
After picking up a fresh ice tea as I check-in, I down bags and head immediately for an outstanding rice and curry lunch in the restaurant, Aspara, much of which comes from the property's own organic farm. Seated on the second floor, I now have views of Sigiriya in the distance. It brings back some muscle memories and so, after a well-earned beer, I head for the spa along a raised wooden walkway.
Inside its cool, calming stone interiors, I take the massage table and let a super-talented Jetwing masseur work out the knots and creaks from Sigiriya's steps. Then it's swim-time. The pool is set above a lake, which has its own resident marsh crocodile and water monitors, which hove into view from time to time but – thankfully – never stray into the hotel's facilities. I turn a few laps as the sun begins to set and the scenery washes gold. I spot a kingfisher, a couple of egrets and a herons, part of a revolving cast of 50 bird species that can be seen here in the season. Then a white-bellied fish eagle drifts over, majestic against the colour-rich sky.
Perhaps Jetwing Vil Uyana's greatest biodiversity triumph is the colonisation of the Slender Loris. This rare and mystical nocturnal primate with its large bulging eyes and tiny limbs moves through the scrub forests after dusk to feed on insects and berries. At Jetwing Vil Uyana, you have a better chance of seeing these enchanting creatures in the wild than anywhere else in the world – hence with National Geographic and the BBC have both filmed here.
Nightly tours are run by resident naturalist and Loris expert Chaminda, but before we head out, there's time to sample Aspara's fine dining menu, including an astounding lobster salad. It's been a multi-sensory day to remember, and my head barely has to hit to pillow before its sweet dreams, drifting off to the sound of reeds rustling outside.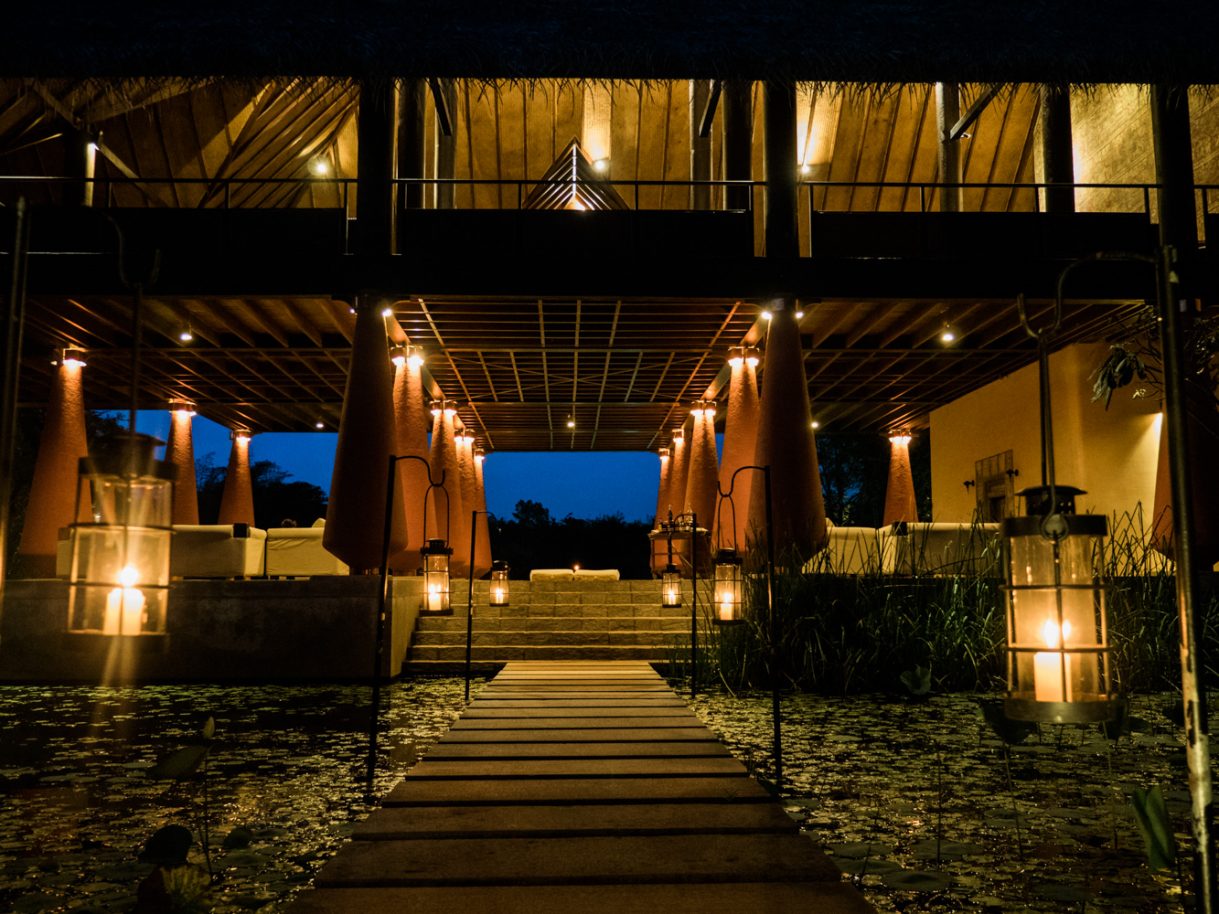 The next morning we're up and out again, after a quick break for traditional hoppers and a seriously refreshing fresh ginger juice, I wave a reluctant farewell to the birds, the grounds and the wonderful staff. Bandara and I reach Dambulla quickly and I'm immediately struck by an enormous golden Buddha statue that occupies the skyline. It's said to be the largest sitting or 'Dhamma Chakka' Buddha in the world and is truly striking.
Unlike much of what lies in store, the golden Buddha is also quite new, dating back to only 2001. We take a swoop round the museum, which houses Buddhist iconography and artifacts from across Asia, but are defeated by a lack of air conditioning on this scorcher of a day.
Relatively little respite from the heat is offered by the climb to the ancient Golden Temple as we have to walk barefoot up the granite steps to reach the ancient cave complex. The rewards are spectacular though. Cooling off inside we're greeted with a spectacular array of ancient murals covering 2100 square metres of the cave walls and over a hundred and fifty hand-carved stone statues of Buddha and Sri Lankan royalty.
Although dating back to the first century BC, this is still a working monastery and one of the best-preserved ancient monuments in the country. For that reason it also carries UNESCO World Heritage status.
After a couple of hours of this head-spinning stone sculpture and wall art, lunch is calling. We head across town to Jetwing Lake, one of the newest hotels on the island and a truly impressive piece of architecture. It's built in the Tropical Modernism style, made famous by Geoffrey Bawa and brought to life here by Vinod Jayasinghe, one of his students.
The sweeping concrete corridors and elegant lines conjure a mixture of 1950s Brutalism and Star Wars futurism, yet it all feels surprisingly perfect in these exotic surroundings overlooking the ancient Siyambalawewa reservoir. My elegantly appointed room has a view over the 72m swimming pool that looks straight out of Miami, but sorely tempted as I am to take a dip, my old friend Bandara has one last treat in store.
We hop on a set of the hotel's free bikes and ride out around the reservoir towards a spectacular volcanic plain. The lush forests teem with birdlife as we park up and hike a short distance to the top of a granite slope. The view back to the hotel and the mountains beyond is jaw-dropping. On the return we meet farmers drying their rice crop on large burlap sacks which, when strewn across the dark granite, look satisfyingly artistic. We can't resist snapping a few photos.
Back at the hotel it's a dip in that beautiful pool and a king-coconut juice, saline and fresh from the deep green husk. I shower and head up to the Canopy Bar with its spectacular concrete sky-bridge out in to the trees. The sun sets over the reservoir as I tuck into well-earned gin and tonics, made with spicy Sri Lankan Colombo gin. Above, an untroubled carpet of stars rolls out across the heavens. Yet more gems to marvel at in this triangle of treasures.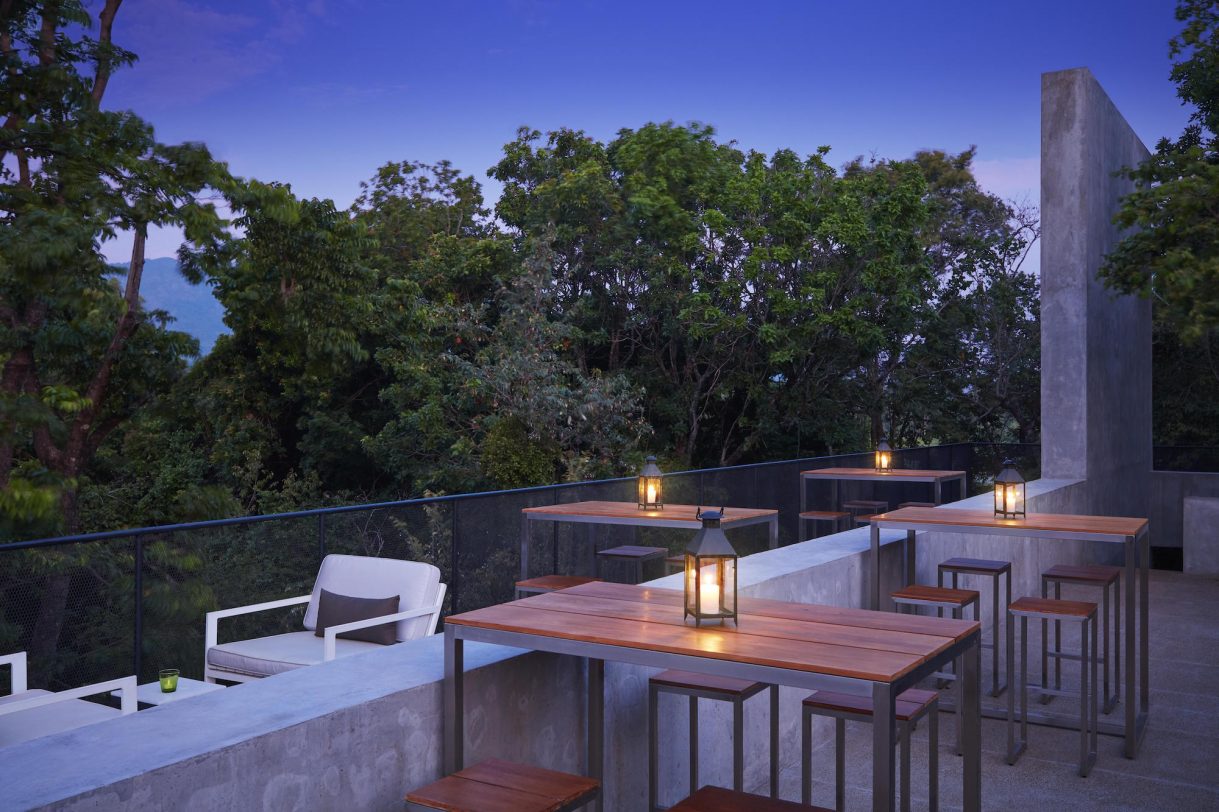 BOOK NOW