"It's not easy being green." Once upon a time Kermit's famous lament summed up the challenges around international travel for anyone with concerns about ecological and environmental impacts. For decades the steamroller of tourism, kick-started in the 1970s, had spared little in its path. As travellers flocked to exotic destinations, the damage to environments, ecosystems, human communities and wildlife seemed the least concern.
But times have changed. Responsible tourism has come a long way in a little time, proving wrong all those that sought to label it as a passing fad. Today it is recognised as the core imperative for a long-term, sustainable travel industry as well as a sustainable planet. In fact, the United Nations designated 2017 as the international year for sustainable tourism and development. Travellers have voted with their feet too. Eco credentials are an essential element to many people's holiday checklists as increasing numbers of us want to see the world without a guilty conscience. More than that though, we want to feel that a holiday might actually be helping nurture and protect the places and the peoples we're visiting.
The great news is that when it comes to travelling in Sri Lanka, there's a way to be absolutely sure. No hotel brand has done more in blazing the sustainable trail than Jetwing and its diverse range of properties dotted around the country. In fact, if you had to hold up one example of how to successfully blend green innovation, ecological sustainability and supporting local communities, Jetwing would top any list.
From solar panels and biomass boilers to desalinating seawater and bringing food production in-house, Jetwing has been at the forefront of pioneering green technology in its hotels for 40 years and today more than 50% of its energy requirements are met by renewables. As well as technological innovation, part of the philosophy is creating opportunities and supporting people through schemes like the Jetwing Youth Development Programme (JYDP). This was set up due to the lack of skilled labour in the hospitality industry and youth unemployment in rural areas in 2006 to give young people training in the hospitality industry, prepare them for work and supply the jobs they needed. The measure of its success is seen at Jetwing Hotels themselves where you encounter brilliant graduates realising their ambitions, beginning a personal and professional journey to a brighter future.
But travelling with a clean conscience needn't come at the price of luxury or breathtaking locations. On the contrary, in fact. We've stitched together the ultimate eco-tour of Sri Lanka that, in 7 days, combines some of this island's most indulgent spas, beautiful beaches, wildlife spectaculars and UNESCO world heritage sites with stunning hotels that are all doing amazing ecological, environmental and conservation work. So, prepare to have your mind blown and your conscience set at ease at the same time.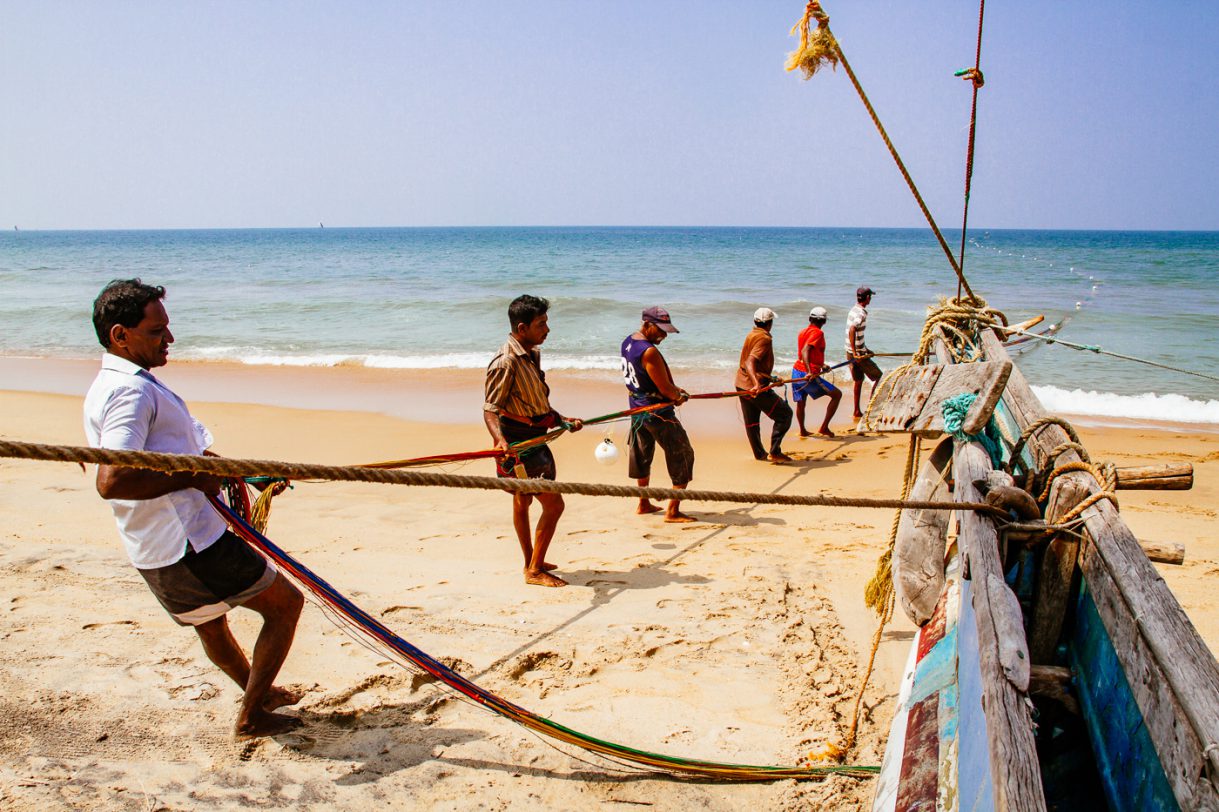 DAY 1 – Negombo
Stretched along the west coast, the beach town of Negombo is only a short dash from Bandaranaike International Airport and a gentle way to get your bearings when arriving in Sri Lanka. Famed for palm-tree fringed beaches, warm turquoise ocean and luxury hotels with indulgent spas, it is a favourite first stop for travelers looking to relax after a long flight. Jetwing Lagoon is a Negombo landmark; an iconic hotel on the shore of the town's famous lagoon – home to its local delicacy crab – it was originally built by master-architect Geoffrey Bawa and features a 100m pool and the best sunset views in town.
The hotel also gives a great grounding to the incredible (and often subtle) sustainability initiatives found across all Jetwing's hotels and properties. Many are so bound up in the design and daily function that they are invisible. Pollinator-friendly flowers and plants busy with butterflies and birds, re-use of wastewater (via an on-site water treatment works) for vegetable growing, watering and toilet-flushing, natural pesticides, biodegradable packaging, essential oil air fresheners, on-site composting for fertilizer – even the open design is about maximizing light and cooling air.
But there are many interesting higher-tech features being employed here too. Jetwing Lagoon was the first place in Sri Lanka to have a vapour absorption chiller. Run via steam generated from the Biomass boiler – itself fed from byproducts of the cinnamon industry – the chiller provides all the hotel's air conditioning requirements, drastically reducing the usage of grid electricity. Likewise, this was the first hotel to provide 100% lighting from LED bulbs and maximise use of solar power; all guest rooms in the hotel are illuminated using the power of the sun. When you down bags – and before hitting that lounger – you'll see the energy indicator showing usage in your room.
Even that amazing pool is helping reduce chemicals by using a cutting-edge salt water chlorination system. This uses electrolysis to break down salt; the resulting chemical reaction liberates the salt's chlorine ions to clean the water which is less expensive and less hazardous to the environment and human health. Have a long dip and then head for the spa for an Ayurvedic treatment or stroll into town to try your hand at some sustainable fishing with the locals. Finish with an outdoor crab curry at Jetwing Lagoon's restaurant before strolling over the road for sundowners on the beach.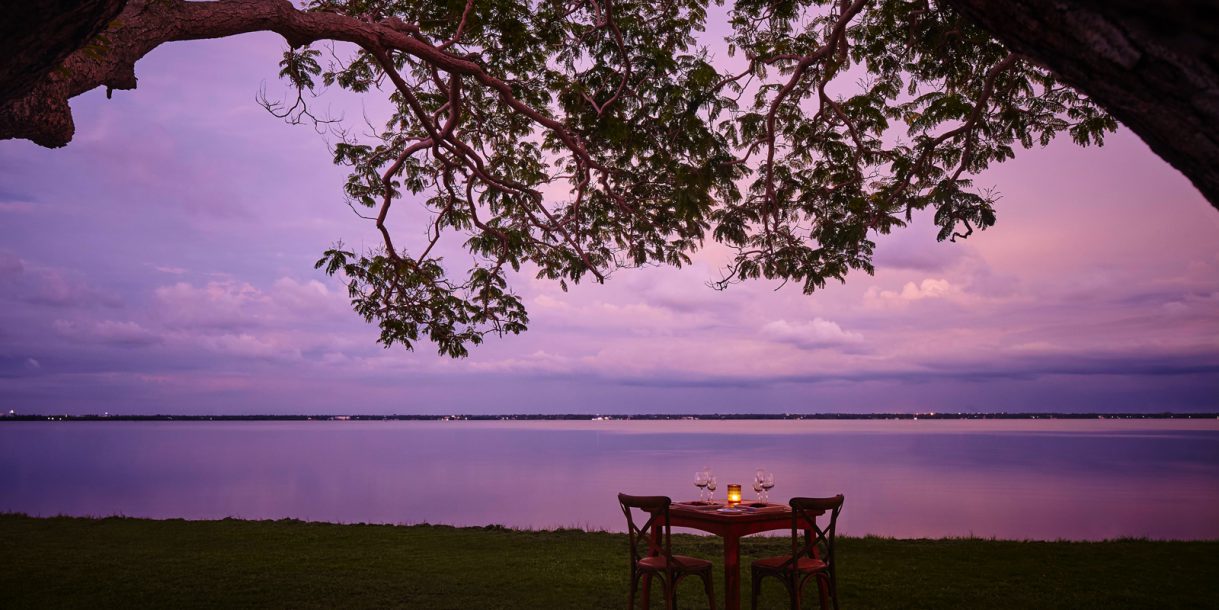 DAY 2&3 – THE CULTURAL TRIANGLE
Rise early for a breakfast of egg hoppers before driving three hours to this corner of paradise. It's not often you get to see how money spent at a hotel can directly benefit the amazing non-human world we share the planet with, but Jetwing Vil Uyana is a shining example of conservation success. A stone's throw from the ancient rock fortress of Sigiriya and the Dambulla Cave Temples – UNESCO world heritage sites – it is a jewel in Sri Lanka's environmental crown and an unbeatably located base in the heart of the Cultural Triangle.
Blending luxury and sustainability in a 28-acre private nature reserve, the thatched villas here have all been designed around preserving and enjoying the wildlife. From water policy to the design of the dwellings, everything is about harnessing natural resources and minimising waste and carbon usage. Villas are spread out across a bio-diverse, wildlife-rich spectrum of habitats that includes wetland, organic rice paddy, garden, lake and forest. Circling these is a web of interlinked paths connecting the communal spaces: a gym, spa, library, lounge and bar. There's an outdoor pool overlooking one of the lakes – and its resident crocodile – and a wonderful, two-storey fine dining restaurant, serving sustainable meats, fish and local vegetables and fruit.
Most remarkable of all is that 15 years ago, none of this existed. This spot was slash-and-burn agricultural land gone to seed, a world away from the lush landscape found here today. Then in 2002 Jetwing began to create a manmade wetland reserve in this region of Sri Lanka's Dry Zone, inspired by the London Wetland Centre. The water 'tanks' or reservoirs were hollowed out and over 95% of the tree cover was planted. Sure enough, endangered wildlife quickly began to move back in. Crocodiles colonised the waterways and many species of mammals, birds and butterflies were drawn to the newly thriving flora and fauna.
First stretch your legs by scaling the unmissable Sigiriya rock fortress then take a late lunch back at the hotel with produce grown on its grounds. Swim in the pool or take a stroll around the mix of habitats to appreciate the scale of the wildlife conservation undertaken here. This really comes to life around 6pm when resident naturalist, Chaminda, begins night walks to see Jetwing Vil Uyana's special guest: the slender loris.
About the size of a chipmunk with long, pencil-thin arms and legs, this shy, furry and impossibly cute nocturnal primate has suffered habitat loss, human persecution and the sometimes-troublesome legacies of farming – like electric fences – for decades. Thanks to pioneering conservationists like Chaminda, and the ecological foresight of Jetwing, it's safe here though. In fact, once it was known loris had taken up residence, a three-acre protection site with special conservation and education centre were created to promote awareness.
After a great night's sleep, wake up to yoga by the pool. Then head over to the amazing Cave Temples in Dambulla, before a 4.5-hour drive south – breaking halfway at Kandy with its mix of cultural sites and temples – to reach the rolling hills of Tea Country at dusk.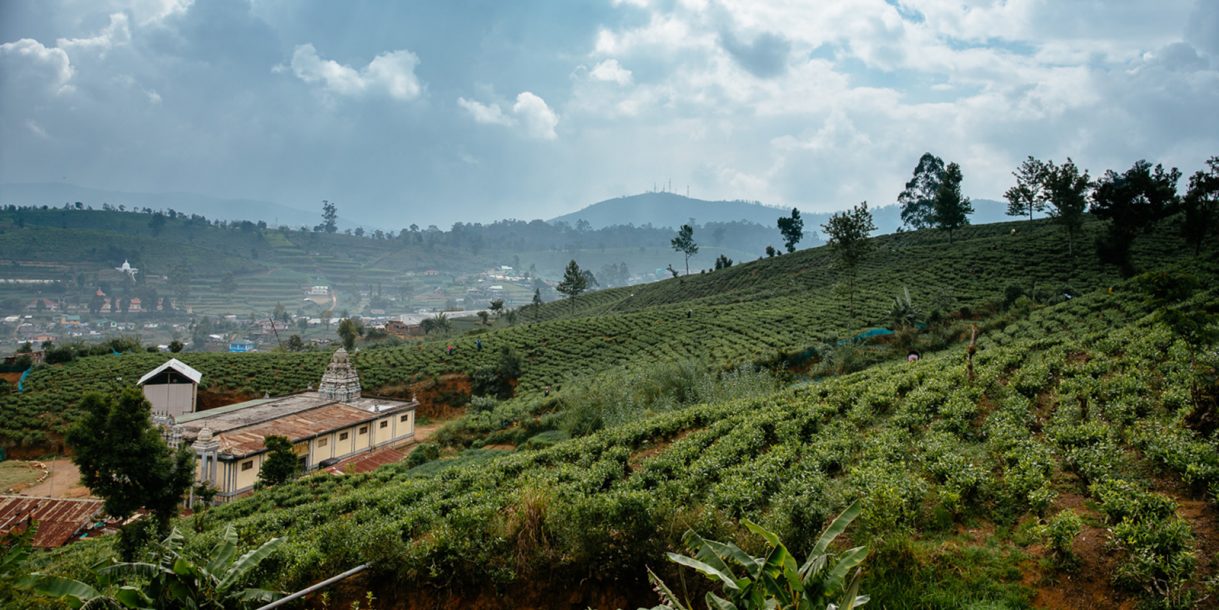 DAY 4 – TEA COUNTRY
Refresh with a cup of Nuwara Eliya's finest brew in hand while drinking in the calm, cool pine views of the mountains from the historic Scottish tea planter's club, Jetwing St Andrew's. Then dinner under the beaten copper ceiling of its restaurant, before billiards on the oldest table in Sri Lanka and a nightcap of small-batch single malt by the fire. Few hotels on the island can rival this place when it comes to atmosphere, but it's also leading the way in conservation and green tech, proving that you don't need to be a new building to be ecologically outstanding.
As well as progressive waste water schemes that see 90% of water re-used, composting to create fertilisers, carbon-saving through use of LED lights and a ban on non-natural pesticides and weedkillers, use of plastics has been dramatically reduced. As with the other Jetwing hotels that means no straws and no plastic utensils and packaging, but it also means ensuring packaging is sustainable all down the supply chain. Much of the fresh fruit and vegetables are grown here too, organically where possible.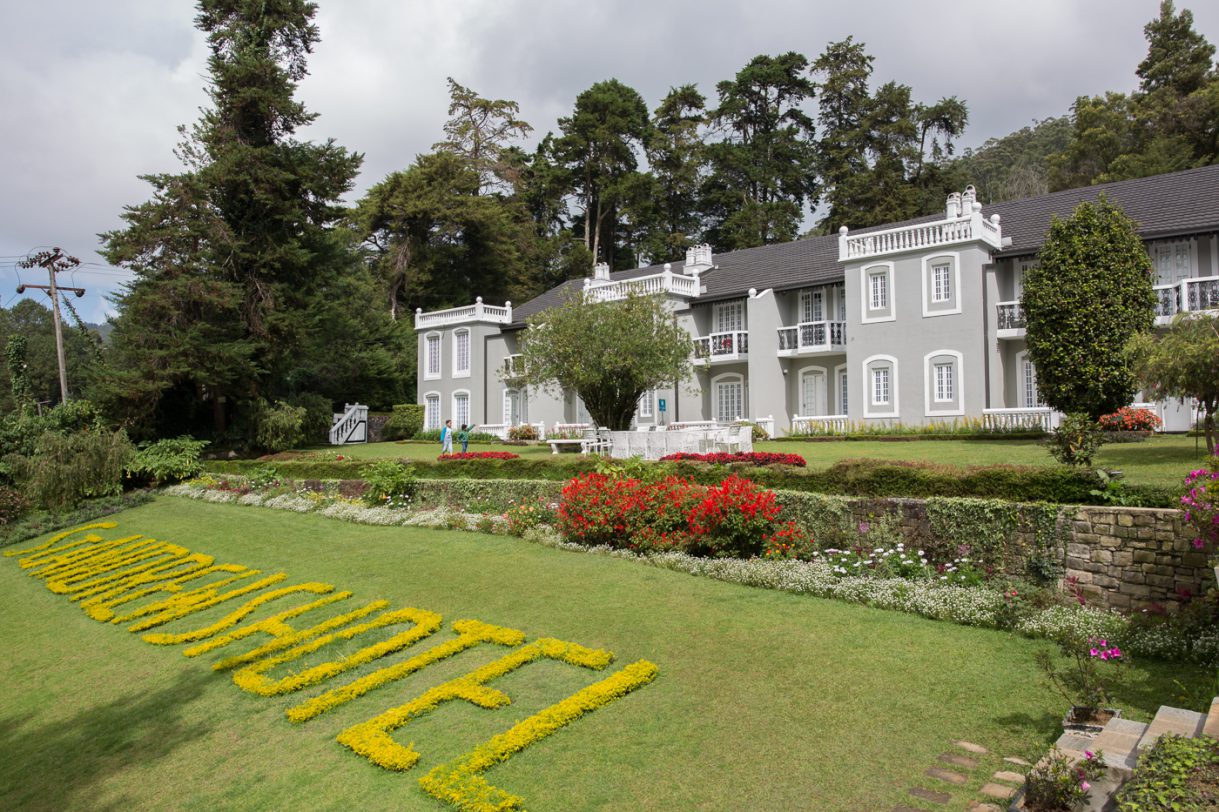 Nuwara Eliya needs a day of pottering to appreciate. The history of this town, known as "Little England" thanks to its position in the heart of colonial Tea Country, means there is much to see – and, for western travellers, much to remind you of home. Rise and check out the morning ride out at old nineteenth-century racecourse with its own stabling and horses; swing by the historic golf club for a round and stop at the town's red post office, looking like a transplant from the Scottish Highlands. Then it's time for a tea tour of a nearby single estate producer Lover's Leap.
After dinner, join resident Jetwing naturalist, Ishanda, for an evening frog-watching tour behind the vegetable gardens. Here the hotel's conservation credentials can truly be seen. As well as many species of birds, lizards and mammals – like the mountain-dwelling bear monkey – Ishanda's baby is a specially created wetland now home to a staggering array of rare and endemic frogs. It's a triumph of careful conservation and its heartwarming to see.
DAY 5 – WELLAWAYA
Breakfast on dhal and hoppers before heading to Nanu Oya station (8km away) and taking the train on the old British-built railway through the mountains, plantations, clouds and lush forests of Tea Country. Arriving at Ella three hours later, you can't fail to be amazed. Then it's a quick ride down the mountain with a driver to the eco-resort of Jetwing Kaduruketha.
An escapist's dream of a place at the foot of the Poonagala mountain range, 4km from Wellawaya village, this property has 25 smart, rustic lodges and a main 'house' space of restaurant, bar and pool set in 60-acres of emerald paddy fields and forest. Sustainability here is king – from the natural cooling system that avoids air-con to the progressive policies towards land and local farmers.
With shutters open, watch farmers tending rice and the team harvesting the organic kitchen garden as a wealth of wildlife – flying foxes, Sri Lanka hanging parrots and hornbills – goes about its business. As well as being a luxurious retreat, here you witness how tourism done well brings enormous benefits. Make no mistake, this is a 'feel good' place in every sense.
With Jetwing Hotel's pledge to restore and benefit any environment where it builds a hotel, Kaduruketha presented a new opportunity: the first agro-tourism offering in Sri Lanka. Rather than importing ingredients for its kitchens, Jetwing invested considerably in the local farming economy, creating a real sense of security. At Kaduruketha, there are 31 farming families working, cultivating 50 acres of paddy. Jetwing awards a grant of LKR 25,000 per acre for farming per season, and then shares the harvest fifty-fifty with the growers.
One of the unique experiences here is the chance to have lunch with these farmers and their families in their homes. As well as the local red and white rice, try chicken curry, a 'murunga' or chicken drumstick curry, a 'polos' – tender, young jackfruit – curry, a pumpkin curry, 'ela batu' – Thai aubergine – curry, 'wambatu' – aubergine – red curry and 'Japan batu', a kind of sweet leaf green salad. Work it all off with a guided walk, bike ride and wild waterfall swim with the hotel naturalist. Or just potter around the organic kitchen gardens before cooling off in the outdoor pool, eating fresh mango with unbeatable views of the mountains. Then it's another feast of locally grown food in the elevated restaurant as the sounds of the forest come alive with evening wildlife.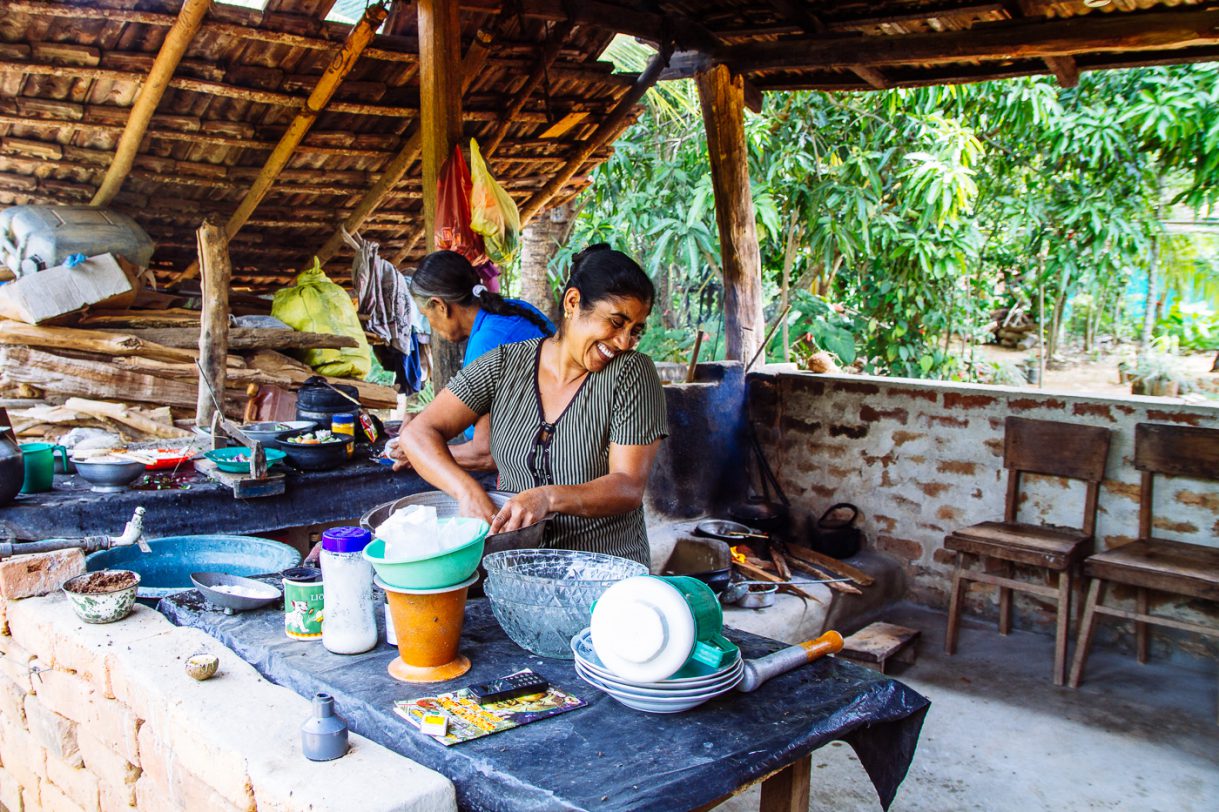 DAY 6&7 – YALA
Two hours south and you reach Sri Lanka's coast and Yala – the stretch of national park and beautiful beach that is veritable paradise for nature lovers. The most popular wildlife destination in Sri Lanka because of the high chance of encounter and variety of animals, Yala National Park's diversity of bird, mammal and reptile life is unrivalled in the country with particularly high densities of two keystone species: Asian elephant and leopard. Estimates suggest there are around 70 leopards and, as the apex predator in the park, they're top cat here, so less fearful than in countries like Africa where lions rule the roost. This means you're more likely to see wild leopards here than anywhere else in the world.
First relax in your room, drinking in the views. The finest of all the Yala hotels, Jetwing Yala is bold and beautiful. A single storey entrance cooled by sea air opens out to reveal a modernist space of perfect, minimalist geometric corridors and luxurious, spacious rooms. Being located on the rolling sand dunes of Yala coast, the vistas are incredible wherever you look, day or night. Expect to see monkeys and wild boar chasing around the trees that fringe the long swimming pool. Elephants too, if you're lucky.
Also impressive is the hotel's incredible green record. Steam from a biomass boiler (with a virtually neutral greenhouse gas emission profile) powers the air conditioning system, rice steamers and the laundry. Like Jetwing Lagoon, the boiler is fed with cinnamon wood, a sustainable fuel and by-product of the spice industry. There's 100% illumination via energy efficient LED bulbs and 40% of the hotel's entire electricity requirement is generated by the hotel's 300 kWp solar power system. Situated in the hotels grounds, this is actually the largest private solar farm in the country.
For those interested in pioneering green tech and inspiration to minimise their own home's eco-footprint, take an (electric, of course) buggy cart around the grounds with one of the staff to see how wastewater is separated and re-used for the hotel's own organic farm and further disinfected to be used in toilet cisterns. Yearly this saves over 14 million litres of freshwater, enough to fill five Olympic swimming pools.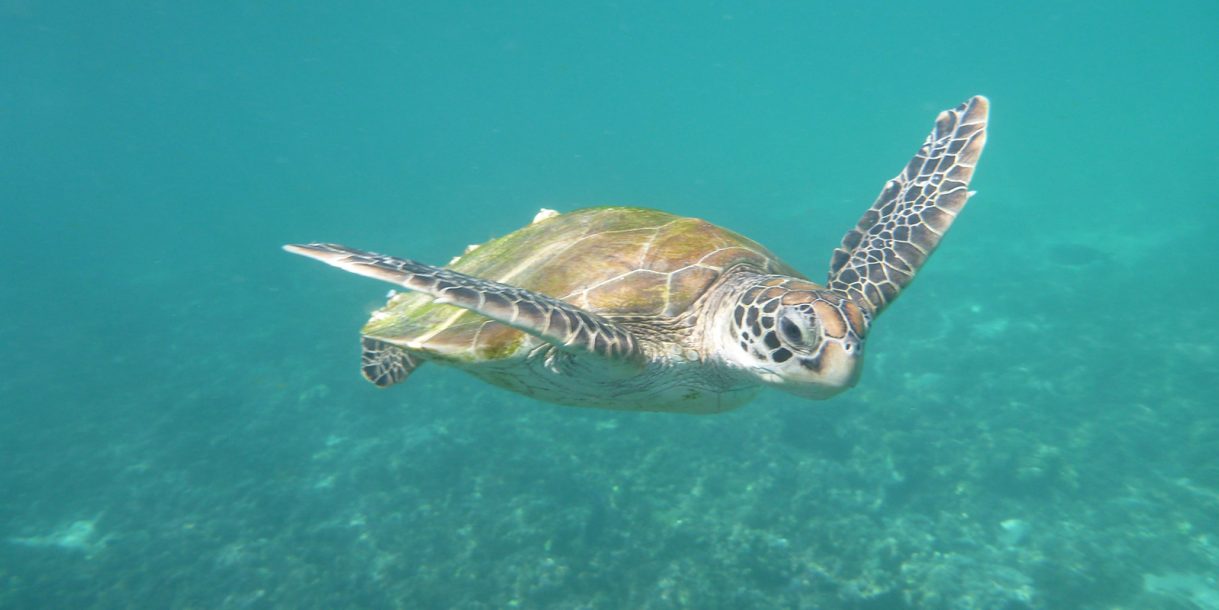 After lunch in the restaurant, try some jet-skiing, surfing or swimming on the hotel's breathtaking beach. Close by is the hotel's amazing reverse osmosis system, turning the seawater here into fresh, ensuring no strain on the scarce freshwater resources of this Dry Zone region.
But no trip to Yala is complete without a safari of the National Park. Chamara is the resident naturalist and through him you can ensure a responsible (and utterly fascinating) trip to encounter leopards, sloth bears, elephants and crocodiles, as well as all manner of exquisite bird-life. Dawn and dusk are the best times to go. To try dusk first and, if the animals aren't playing ball, have a contingency dawn tour set up too.
Dine as darkness falls with a notebook and a camera memory card full to the brim, then have an early morning call for either the park or the pool, before heading back to Bandaranaike International Airport – six hours west – and bidding goodbye.
BOOK NOW