Sri Lanka is well-known as an island of contrasts. Thanks to a unique blend of climates, characters and cultures, visitors here can be sunbaked on a sweep of golden sand in the morning and, by afternoon, be pulling on a sweater in the mist-swirled, Scottish Highland-like peaks of Tea Country. But nowhere in Sri Lanka illustrates this island's contrariness like its coasts.
The west needs no introduction. Buoyed by the proximity of the island's main gateway – Bandaranaike International Airport – it forms the backbone to most holiday checklists, featuring some of Sri Lanka's seminal tourist sights. From the beach resorts of Negombo and its hectic capital, Colombo, all the way down to the always-popular historic port and fort of Galle, it is a well-known and deservedly popular honeypot for travelers.
The east coast is the opposite. Requiring a little more travelling to reach, it remains largely untouched with the exception of world-renowned surf Mecca, Arugam Bay. Those searching out a more serene and off-the-tourist-map experience of Sri Lanka should try weaving their way from Jaffna in the north to Okanda in the south, taking in Trincomalee, Passikudah and Pottuvil. It's a stunning ride on roads have been recently improved meaning mostly frictionless flow, a rarity elsewhere on the island. The best way to travel it is by car or van, with drivers and vehicles reasonable to hire and giving you the chance to gape in wonder at the scenery and sea drifting past the window.
Along the way, the east coast's breathtaking array of temples, islands, wildlife parks and beaches reveal themselves to just as impressive as their west coast counterparts. More so, many would say. The difference is that they are wonderfully quiet, retaining that sense of realness and character conducive to any true travel adventure. The differences don't stop with ambience either. Aficionados of Sri Lankan cuisine will also note subtle shifts in spices and style that mean the food here is unlike the rest of the island. There are changes in the dialects of those cooking it too. This is because where the west coast is largely Sinhalese, the towns and villages on the east are mostly populated by Tamil and Muslim communities. Here's our guide to Sri Lanka's ultimate east coast road trip.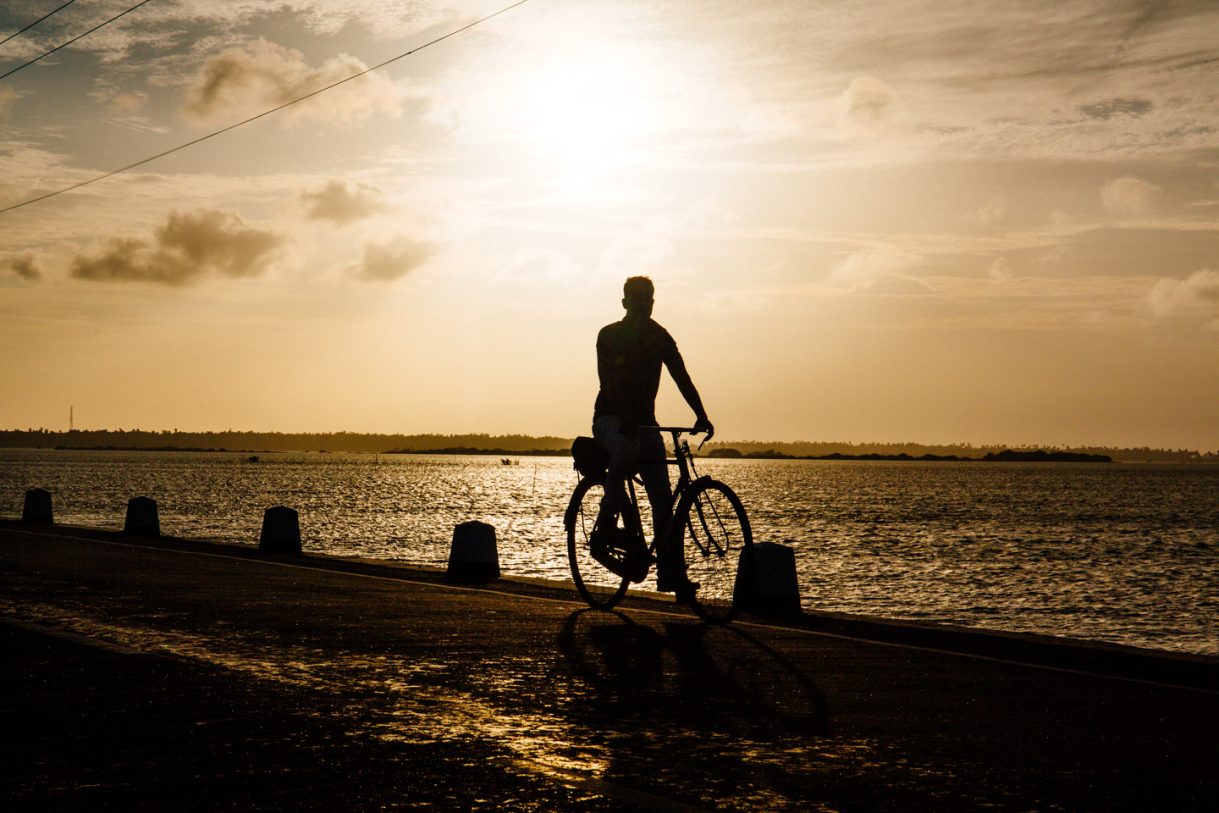 DAY 1 – JAFFNA
Jaffna, in the far north of Sri Lanka is accessible by train (direct from Colombo), plane (flying with Helitours from Ratmalana Airport in Colombo to Palaly in Jaffna) or road, via the A9 and A32 highways from Colombo. Quickest and easiest is to fly which takes just over an hour and gets you on the ground nice and early, which is important. There's a lot to see and do in the capital of the north. Decades of war and an exodus of its population hugely affected this historic town, but today the city is definitely rising again, a feeling echoed in the surprisingly green and leafy, colonial-era suburbs. Down bags and grab a quick breakfast at Jetwing Jaffna, a bold, beautiful new city centre hotel whose white, modernist-Moorish design towers over the largely low-lying city. Then your first stop should be a refreshing dip in the Keermalai Springs and a look around the adjacent Naguleswaram kovil overlooking the ocean, thirty minutes away. This Hindu temple is one of the oldest in the region, but the main draws are its two mineral pools where men and women come to bathe. Rumoured to have healing properties even today, it is the past curative qualities of the waters that have put this place on the map. The story goes that a princess, who had the misfortune of being born with a horse's head, followed the advice of a saint and bathed in the holy tank, resulting in her transformation into a beautiful woman.
On the way back, swing by Kadurugoda Viharaya, a cluster of ancient Buddhist stupas, or half-domed religious buildings dating back to the Anuradhapura Kingdom, from 377 BC to 1017 AD. Then head to the unmissable Nallur Kandaswamy Kovil. This giant Hindu temple with its towering decorative gopuram (gateway) and murals, pillared halls and decorative metalwork, is one of the most significant Hindu sites in Sri Lanka, best experienced during one of its bustling, loud puja celebrations (aim for noon) when people present offerings in the shrines. Within ten minutes you can be back at Jetwing Jaffna for lunch.
Visible from the hotel is Jaffna's old shore fort, originally built by the Portuguese in 1618, and a great place for a post-lunch potter. Amble around its ramparts, vast gateways and walls constructed from coral, stone, brick and mortar, stopping in at the gatehouse for information, exhibitions and information on the local history and restoration work being carried out. Speaking of which, unquestionably the greatest feat of rebuilding in the city is its library, ten minutes stroll to the east. Destroyed by a mob in the run-up to Sri Lanka's civil war, its destruction was seen as a direct attack on Tamil culture and resulted in the loss of some irreplaceable texts. Its reconstruction speaks of how highly it is prized by Jaffna's citizens and they flock into its reading rooms and halls, which echo perfectly the original neo-Mughal design from 1959.
With sunset approaching, make for Casuarina Beach through Jaffna's northern districts where residents dry tobacco leaves on their walls. The 40-minute journey includes crossing the Palk Strait on the Karainagar Causeway to reach what is one of the greatest sunset spots in Asia. Stretched on the northern perimeter of Karaitivu Island, Casuarina's wide, warm shallow waters are fringed with the trees that give the beach its name and, from around 5pm, it's a spectacular sunset show over the water. Head back to Jetwing Jaffna for the finest crab curry you'll find on the island, washed down with a cocktail on the hotel roof, overlooking the city.
DAY 2 – DELFT ISLAND & NAINATIVU
The journey to Delft is a fascinating trip but not for the fainthearted if seas are choppy. Oh, and pack lots of water as there are no cafés or shops. Ferries – or chartered fishing boats – depart from Punkudativu Island which is joined by bridge to the Jaffna peninsula, and it is an hour on the waves and under searing skies before keel touches shore again. Delft itself is an oddly interesting island. In fair weather it is a paradise-like escape complete with historic ruins, wild horses and gentle turquoise seas. In less clement weather, its remoteness and desolation are amplified. Variously claimed by the Portuguese, Dutch and British, its remaining ribbons of walls and buildings – fort, lighthouse and hospital – show the ingenuity of the colonists in using limestone and coral, the only building materials available. Visitors also stop to see its famous elephantine baobab tree, planted in the sixteenth-century and now with a whopping 52-foot hollow trunk, which easily houses three people inside. There's also the 'Giant Footprint' – a metre-long, foot-like depression in the limestone, which the remaining community here believe was created when the 40ft monkey god Hanuman leapt from India to Sri Lanka, with Delft being a natural springboard on the way. Inland, on the dusty plains at the heart of the island, is the stunning sight of wild horses. Their origins can be traced to the Dutch colonists, who bred the horses for trade and who left them here when they abandoned Delft. Today five hundred of them freely roam the plains.
watch the film
On the return to Punkudativu, the boats calls in at another island, Nainativu, noted for its two temples on the waterfront. Unmissable is the multi-coloured decorative splendor of Nainativu Nagapooshani Amman Temple with its four gopurams, the tallest being the eastern Raja Raja Gopuram soaring at 108 feet high and decorative wall of elephant sculpture. The current incarnation of this Hindu temple was built between 1720 to 1790 after the ancient structure was destroyed by the Portuguese and it carries huge significance for the Tamil people, evidenced in the hundreds who visit daily. Likewise, the Buddhist temple Nagadeepa Purana Vihara with its calm gardens and white stupas, is said to be one of the holiest Buddhist sites in all Sri Lanka. It was here that Buddha touched down on his second visit to the country and used his enlightened psychic powers to prevent a war between sparring kings.
DAY 3 – TRINCOMALEE
Four hours south along the coast from Jaffna, Trincomalee (or 'Trinco') is an historic port city sitting on a natural deep water harbour once described as "the finest in all the world" by the British. One of the oldest cities in Asia, it's been a maritime seaport with trading and military strategic importance for many centuries and the town is filled with many distractions for those with an eye for history. Today though, most travellers are drawn to its incredible beaches of Uppuveli and Nilaveli a short tuk-tuk ride from central Trinco and its train station. The turbulence of the civil war set back the tourism industry here meaning the beaches here are about as unspoiled as you'll find in Asia. Palm-fringed and quiet, lapped by a turquoise ocean, there are still just enough scattered shacks selling water and fruit juices to make sure you're hydrated in your Robinson Crusoe moment.
To truly appreciate the vast sweeping sands though, best to trek up to Trinco's other unmissable sight: Kandasamy Kovil, a much-revered temple at the summit of a rocky outcrop that is one of Sri Lanka's most significant Hindu temples, dedicated to Shiva. Parking is 300m down the road up a strip lined with gift and drinks sellers with the odd wild deer wandering through the dappled trees. Although the current temple only dates back to the 1950s, it's a truly ancient place of worship, circled with a track and cave-shrines. One side is known as Swami Rock, a 130m-high cliff nicknamed 'Lovers' Leap' overlooking the ocean where blue whales can be seen with the naked eye between February and November.
Refresh at the hot springs at Kanniya, ten minutes-drive out of town. These historic, naturally heated wells are steeped in history and mystery, but are also a wonderful tonic for the toes after a day's walking around in flip-flops. Then it's back on the road again.
DAY 4 – PASSIKUDAH
Two hours later, arriving at Sunrise by Jetwing at dusk, the evening glow lights up a long, architecturally striking swimming pool leading down to a wide sweep of white sand below. Passikudah is a place to come to revel in the simple joy of beach and ocean, the beach stretches out as far as the eye can see; the waters crystal clear and inviting. This is the long, slow, sandy exhale after the hectic schedule of Jaffna and Trinco.
Wake early to take a fishing boat out into the ocean with one of the hotel's recommended fishermen. The waters here teem with big fish: snapper, barracuda, barramundi and more and if luck is on your side, you can catch your supper. The chefs in Sunrise by Jetwing's restaurant will prepare any fish caught as you want it, or in the local Tamil style. Spend the afternoon on jet skis, paddleboards or just lazing by the vast pool. As evening draws in, feast on local fish and shellfish; served fried, roasted, steamed or even as sushi, this is a seafood lover's heaven. Set your alarm to catch the eponymous sunrise, grab a hearty breakfast and then take the highway further south.
DAY 5 & 6 – POTTUVIL
It's a shade over three hours to Pottuvil, with Batticaloa and its fort and churches providing a handy rest stop along the way. Head first to Whisky Point which immediately reveals why this area is internationally renowned for surfing; the beach is both beautiful and jam-packed with limber bodies vying for space on the perfectly formed break that swirls around a rocky outcrop. The break itself is one of the easier ones here so a good place to pick up a lesson from one of the local surf schools. If all that looks a little too intense, grab a front row seat on the rocks and watch the experts do their thing. When the heat gets the better of you, make for 'Rice & Carry', a modified shack selling improbably hip crafts made from locally recycled fibres and bags. They also do a mean line in organic juice. Stick around until the sun goes down and Whisky Point comes alive as a hedonistic hot spot.
A short drive further down the coast brings you to Pottuvil Point, a truly undiscovered corner of the east coast and one with the longest surf break in Sri Lanka. There are also two of the finest accommodation options found on the east coast. For an intimate and private villa-style experience, Kottukal Beach House is unbeatable. A tranquil house right where ocean meets land, it is fringed with palms and boasts a pool with unadulterated views stretching out to the horizon. Dinner by candlelight on the beach is truly special and must be experienced; property manager, Kenneth, and his team curate delicious feasts by fire-torch for guests. Whole-roasted fish, rice and curry and plenty of good wine. Take cocktails back on the terrace as the moon paints the calm water, before getting some well-earned shut-eye.
Clear the cobwebs with a stroll down the beach to Jetwing Surf, the pioneering boutique luxury resort designed by rising architectural star, John Balmond. The newest element of Jetwing's long heritage of architectural innovation, this welcoming, understated masterpiece fuses element of its setting wonderfully. Each of its cabanas is inspired by the shells found metres away and made by traditional Sri Lankan craftsmen using woven coconut palms and local illuk grass, harnessing the breeze of the ocean to naturally air-condition the luxurious spaces within. Like all Jetwing hotels, design choices are motivated by sustainability and a sense of making a minimal environmental impact; this makes Jetwing Surf less a resort and more an extension of the natural palm beach that it seems to bloom from.
The resident naturalist at Jetwing Surf can arrange boat safaris across Pottuvil Lagoon and the Urani River to get close to the region's flora and fauna; likewise Panama, Rotakulam and Semanikulam lakes are fantastic for birdwatching. Or plan to do little but re-charge batteries, relax and read on this remote patch of perfect sea and sand.
DAY 7 – KUMANA & ARUGAM BAY
Arrange an expert guide through the hotel and head out early for a safari at Kumana National Park, an hour and forty-five minutes away by car. Lying to the north of the more-famous Yala, it is significantly less busy. In fact, you could quite easily go without seeing another person. You'll see plenty of animals though. Everything you'd expect to see in Yala is here: leopard, elephants, crocodiles, sloth bears, boar, all roaming wild and free. Many ornithologists come specifically for smaller sightings though as Kumana is one of the best places for bird watching in Sri Lanka with over 255 species recorded. Specifically, it's noted for having the highest concentration of nesting water birds in the world. A trip up to the observation tower in the central mangrove area is rewarded with a riot of colourful plumage and – timed correctly – a rousing chorus of song.
After a bumpy ride back to Pottuvil, grab a refreshing drink at one of the many bars that line the lively beachfront strip at Arugam Bay. A backpacker's dream, this wide, sandy bay is the best-known spot on the whole of the east coast and a honeypot for wave-riders. The break is challenging, world-famous and rarely without a constant stream of accomplished boarders attempting to master it. Pull up a plastic chair under a palm tree, order a Lion beer from a shoreline shack and mingle. Let the pros do the hard work while you reflect on seven glorious, technicolour days of travel down Sri Lanka's hidden gem of a coast. Stay a while as the sun goes down and the music grows louder. Then make a call on whether to dive-in to one of the many parties unfolding around you or duck out for the tranquility of Kottukal Beach House or Jetwing Surf, where you're lulled to sleep by the sound of the waves.
BOOK NOW