Chances are that eating a "hopper" may sound a strange idea to anyone not already familiar with these incredible Sri Lankan breakfast delicacies. To some the word may bring back memories of space hoppers – those weird, giant, orange bouncy balls that, for a while, became the must-have toy of the 1980s. But rest easy; Sri Lankan hoppers are completely different and – needless to say – far tastier as a breakfast choice. Hence they're becoming something of a craze themselves across the culinary world.
Hoppers are actually part of a family of similar foods from across South India and Sri Lanka called "appam". All appam are essentially types of pancake made with fermented rice batter and coconut milk. They date back at least two thousand years with the first reference to them likely being the ancient Tamil poem, Perumpanarruppatai. Calling them hoppers is the anglicized result of Sri Lanka's British colonial past, a mispronunciation that stuck.
watch the film
So what is a hopper? Well, that much-loved expert in all things edible and from the Indian subcontinent, Madhur Jaffrey, has famously described them as the lovechild of a crepe and a crumpet. And she's absolutely right. It's this unusual blend of textures that really make hoppers a unique and delicious thing for a morning meal. A well-made hopper combines the thin and crispy edges of a great crepe with a slightly more substantial centre that bubbles up with a crumpety intensity and is perfect for soaking up the many possible accompaniments.
There are several kinds of hoppers with the plain probably being the most widespread, but today we're dealing with the classic breakfast egg hopper, an absolute favourite in many Jetwing hotels. These are round and bowl shaped, given that shape by the use of special pans called "appachatti". The batter gives a subtle sourness that balances beautifully with the more rounded flavour and mellow sweetness of coconut milk.
This perfect balance of taste and texture makes hoppers a great base for adding other delicious Sri Lankan dishes to the breakfast mix. Many of which can be leftovers from the night before, such as Sri Lankan chicken curry.
With an egg hopper, an egg is cracked into the pan during the hopper cooking, mixing with the batter and cooking just to the point where it is still runny enough to break during eating, melding with the other fixings. Classic accompaniments are Sri Lankan curries or 'karis' and spicy sambol – a fiery blend of coconut, chilli and spices guaranteed to pep up your morning.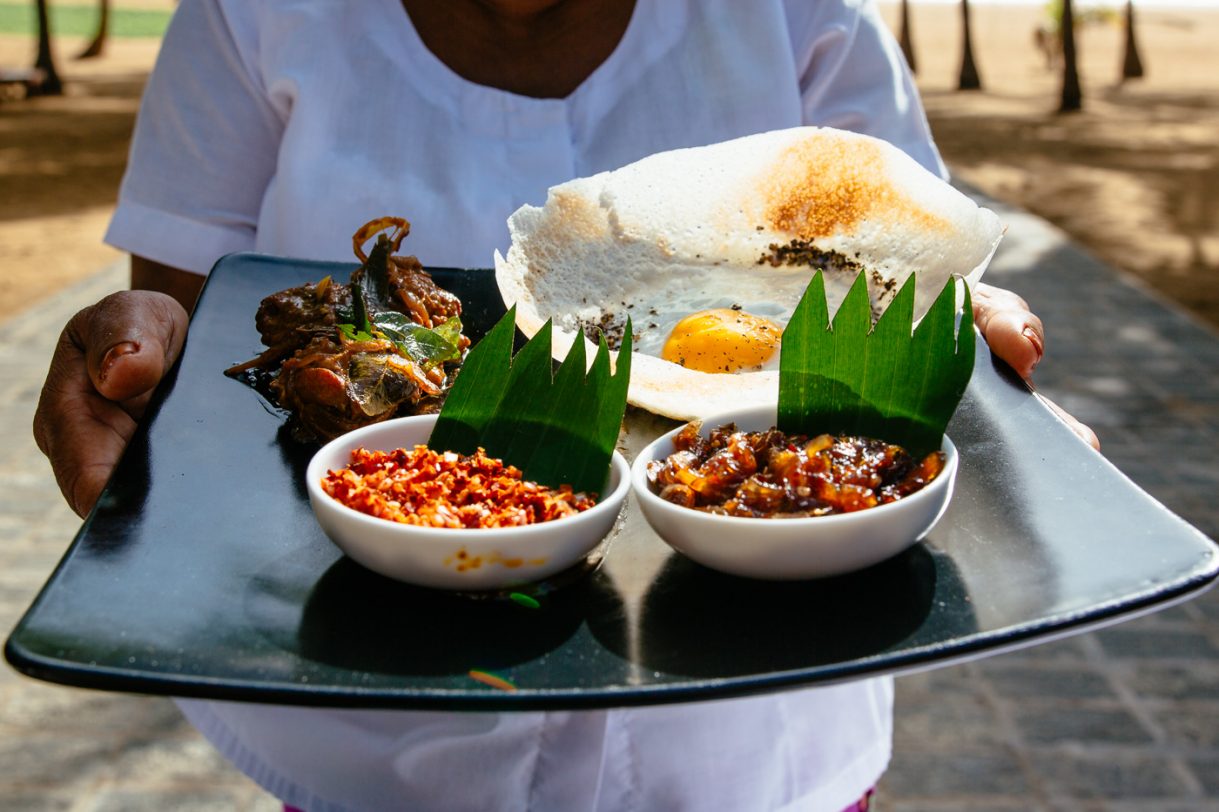 The quick, filling, nutritious, self-contained nature of a hopper and the many flavours and additions you can serve with this dish, have seen the hopper experience spread outside Sri Lanka. London, in particular, has fallen under their spell with many places to try a hopper, ranging from street markets to cafés. Star of the show though is the appropriately named Hoppers restaurant, opened in 2015 and now generating queues out of the door. It's been so successful that its owners recently opened a much larger branch across town with architecture inspired by Geoffrey Bawa and his signature Tropical Modernism style.
This is fitting because Sri Lanka's most famous architect also designed Jetwing Beach, standing proudly on the beautiful golden sands of Negombo's shore. And it's in this spot that we are going to learn an authentic Sri Lankan egg hopper recipe from an absolute master. And be in no doubt: hoppers don't come any better than the ones served right here.
Here we find Teckla, one of Jetwing's longest serving cooks and a world authority on all things hopper-related. Sri Lanka has many excellent chefs, including Jetwing Lighthouse's world-renowned Nihal Senanayake. But even Nihal shakes his head when you ask him whether he can turn his many kitchen skills to creating the perfect hopper. "No," he confides with a grin. "The hopper chef is something else. It takes decades of learning to get it right."
Teckla makes hoppers every morning for guests at Jetwing Beach, just one of the many stars across this brand's beautiful properties that make sure the Sri Lankan breakfast is unforgettably quality and delicious. And Teckla certainly has the pedigree Nihal referred to. She learned how to make hoppers the best way you can: from her mother. But over twenty years of practice later, her hopper skills have been elevated to a fine art. So good in fact, that she can teach even hopper novices like me how to create this amazing breakfast.
EGG HOPPERS
15 (one hopper per person)
Ingredients:
For the hopper batter:
1 kg rice flour
One full coconut – scraped and used only the first milk
10 gm sugar
One egg
Salt 5 to 10 gm
5 grams baking soda
For the hopper:
1 egg
Pepper to taste
Salt to taste
Method:
Ideally prepare the day before required.
Take a mixing bowl. Add plain flour to the rice flour and add the water gradually, mixing with a metal spoon, squeezing out any lumps and achieving a thick, smooth putty consistency. Then leave overnight in the fridge.
On the day you want to cook hoppers, take the mixture and add the coconut milk gradually, stirring with a spoon. Then add the egg, salt, sugar and coconut milk. Stir to get a smooth, slightly thickened but still runny density.
Then heat a hopper pan or a small, high-sided frying pan with a lid. Once hot, add a large spoonful of batter to it and swirl around the sides thinly but evenly. Then add a whole egg, and some salt and pepper to taste. Cook uncovered for a minute, then add the lid and cook for a few minutes more.
Every few seconds swirl the egg around the bottom of the hopper, fusing the white with the batter until it's all cooked but there's still a runny yolk. Once the hoppers thin sides start to turn brown and crispy remove from the heat and serve the hopper on a plate with pickle, and – for an authentic Sri Lankan breakfast – a portion of chicken curry and seeni sambol.
Seeni Sambol - sweet, sour spicy onion relish
Ingredients:
500g red onions, finely sliced
100g Maldive fish pieces / dried anchovy (optional)
30g chili pieces
5g curry leaves
4g rampe (pandan) leaf
4g cinnamon
3 cloves
4 cardamom pods
5 tbsp vegetable oil
3 tbsp tamarind pulp
2 tbsp sugar
Salt to taste
Method:
Mix the first eight ingredients together. Heat in a pan with oil. Add the onion mixture and fry until caramelised. Next add the tamarind pulp, sugar and salt to taste.
Cook for a few minutes.
Serve and / or store.
BOOK NOW