I'm in the kind of setting that would make any hungry traveller think they've arrived in dreamland. All around are king coconut trees, erupting jackfruit, papaya, pineapple, lime and mango; I pick out peppers, waist-high fronds of curry leaf, chilli, ginger, tamarind, cinnamon, manioc, sweet potato, turmeric, and bulbs of banana flowers. Above, squirrels and monkeys tussle in the treetops and there are flashes of brooding, emerald-tipped peaks beyond. It might be some undiscovered tropical forest, days from civilisation, but I'm only a few steps from my bedroom window.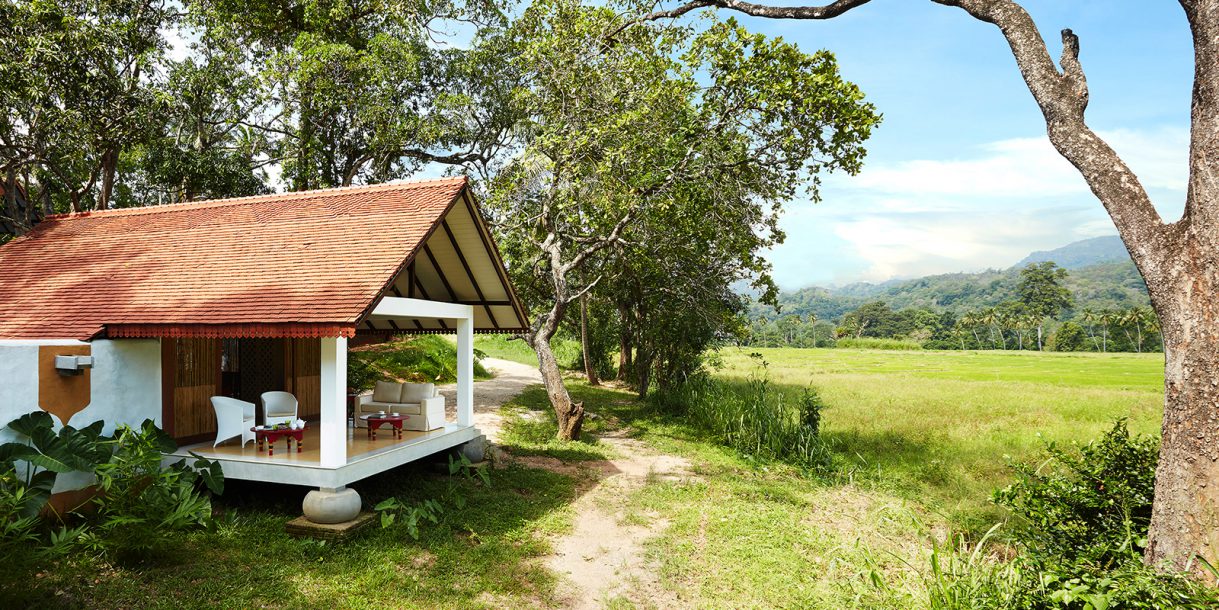 It's an experience you need to get used to. Jetwing Kaduruketha is an escapist's dream of a place at the foot of the Poonagala mountain range, 4km from Wellawaya village. This is a luxurious retreat like no other in Sri Lanka with 25 smart, rustic lodges and a main 'house' space of restaurant, bar and pool. Set in 60-acres of working paddy fields and forest, everything is laid out in the style of a traditional farming village.
With a fresh Ceylon tea in hand and the shutters open, you can watch farmers tending rice, people harvesting the organic kitchen garden and a wealth of spectacular wildlife – flying foxes, Sri Lanka hanging parrots and hornbills – going about their business. It means that as well as being a retreat, you get to soak up something of rural life here. You witness how tourism has brought enormous benefits to the farming communities that call this region home. It's a 'feel good' place, in every sense.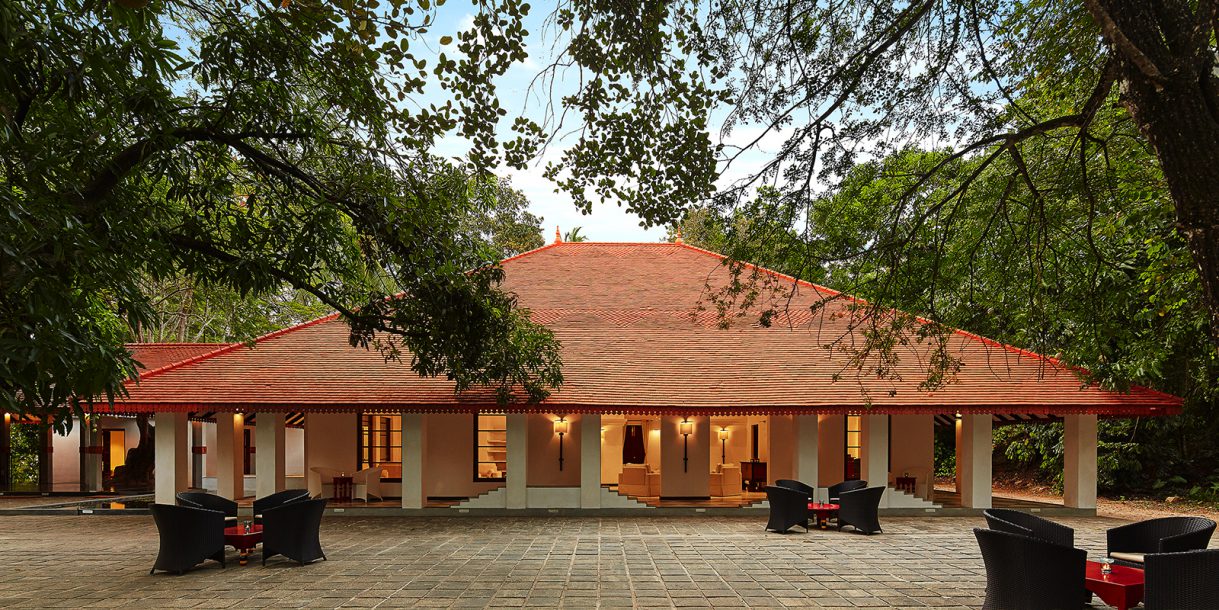 The symbiosis between locals and landscape was at the heart of Jetwing Hotel's thinking from the start. Acclaimed environmental architect Sunela Jayewardene drew the plans. The objective was to create a property from the bones of an old villa in the traditional Kandyan style of bamboo and wood. This would ensure it would naturally blend in with the beauty and peacefulness of its setting. It had to be ecologically friendly too – from waste food being re-used as fertilizer to keeping the rooms the right temperature in a sustainable way.
Wellawaya rests on an inland plateau, which, despite being situated 100km from the coast, is still pleasantly cooled by sea breezes. The natural current of fresh air was harnessed by Jayewardene in his design. It flows through the space, allowing rooms to be cooled without the obtrusive hum of air-conditioning. At the Kaduruketha Jetwing you can lie on your bed and hear nothing but swishing palm leaves, the chirping of crickets, and the occasional calls of the bold-as-brass peacocks that strut around the property.
With Jetwing Hotel's pledge to restore and benefit any environment where it builds a hotel, Kaduruketha also represented a new opportunity: the first agro-tourism offering in Sri Lanka. Rather than importing ingredients for its kitchens, Jetwing invested considerably in the local farming economy, creating a real sense of security.
It's something the naturalist and co-manager of the property, is particularly proud of:
"At Kaduruketha, there are 31 farming families working with us to cultivate 50 acres of paddy." He says. "Jetwing awards a grant of LKR 25,000 per acre for farming per season, and we share the harvest fifty-fifty with the growers."
This rice comes in two types: the famous white variety, as well as a delicious, nutty-tasting 'red' rice, local to this region. The naturalist explains that the initiative sells excess stock to other Jetwing hotels, ensuring clear and sustainable rice sourcing lines across its properties. But walk around and you soon realise that it's not just the food that gets sourced from the local environs. The majority of the team here has graduated from the Jetwing Youth Development Project. A wide-ranging brand endeavour, it provides education and training that can lead to a career in travel and tourism for disadvantaged young people.
Surprisingly for a country known as one of the most fascinating and varied travel destinations in the world, there remains a hospitality skills shortage across Sri Lanka. And many students who might otherwise qualify for hotel work seek to travel and take positions abroad. Being a family run business, Jetwing recognised that there's real value in building the same feeling of closeness in its teams. The bond between Jetwing and its communities has become a powerful and positive force. Training the workforce fosters a real sense of togetherness in the places where hotels are located. Just ask Kaduruketha's resident manager, Naminda Rathnayake, who left a lucrative management role in the Maldives to return to his native Sri Lanka and be a part of it.
This boon for local youth is no better demonstrated than by my host, Prabatha. Hosts are assigned to guests on arrival; they are someone who can help with everything from carrying bags and menu tips to accompanying visits to local archaeological sites. It's a job Prabatha clearly loves. He explains, humbly, his own achievements starting out in the hospitality trade and his pride in what his community now offers tourists who make the journey to this stunning retreat.
Born on a rice farm within a few hundred metres of the hotel, Prabatha's commute to work now is a stroll along a forested footpath, but it wasn't always so. As we talk, we take seats together for lunch in the property's open-sided, elevated restaurant, overlooking fields. In the afternoon calm, we stare out past the swimming pool, across the lush rice paddies to where a farmer is driving a herd of cattle over ochre soil.
Like most of those working the arable land around Jetwing Kaduruketha, Prabatha comes from a farming lineage that stretches back generations. When I ask how far, he gestures with his hand, over and over, and smiles again. "Except for me."
His family had it tougher than most. Shortly after he was born his father was seriously injured in a tractor accident, losing a leg and forcing him to retire early from farming. Prabatha's mother had to take over twin duties of land and household, raising a son and growing fields of rice at the same time. As soon as her son was old enough, he helped his mother on the farm, running home from school to plant, weed, and harvest the rice, before transporting it to the mill. "It wasn't about making money really," he explains. "It was about survival."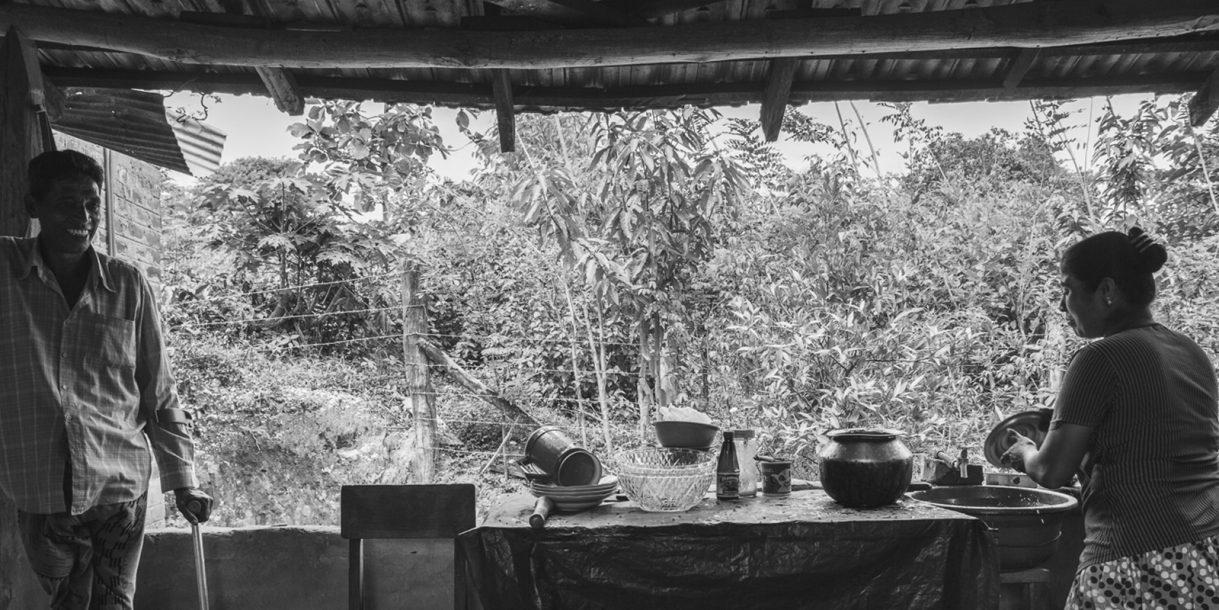 Before the hotel opened, the life of a woman rice farmer with a young son and a debilitated husband must have been a serious test of endurance. So when Prabatha reached 16 and his mother heard that a hotel was opening on their doorstep she encouraged him to apply for the Jetwing Youth Development Project. Of the 40 local interviewees who applied, 25 were signed up, and 14 eventually completed the introductory course. Upon finishing his six-month long studies, Prabatha began work as a concierge in November 2015, a month before the hotel officially opened.
"It is great to work with my friends," he says. "Almost all of us come from this area. We're a big family, and because we all opened this hotel together, we feel responsible for its success." As king coconut juices arrive and Prabatha and the waiter share a smile, it's clear what he means. Just as the white egrets in the paddies work in symbiosis with the cattle, Jetwing and the locals reciprocate each other's efforts.
One of the unique experiences you can organise here is the chance to meet and have lunch with the farmers and their families in their homes. The next day, I'm honoured when Prabatha invites me to visit his. On the way, we wander along the forest edge and I immediately get a new perspective on the area. First there's a quick stop at the local fishing lake, before introductions to all his friendly neighbours. Then we are at the back of his house where there's a stunning vista of paddies and vegetable plantations. In the distance farmers hack at the earth, building up the paddy field's edges with mattocks; around us green pigeons call out in cooing, mellow whistles.
Then there's another whistle, followed by a joyful shout. Prabatha's mother and grandmother have spotted us from their outdoor kitchen. They exude that irrepressible Sri Lankan friendliness and I feel instantly humbled by the care and attention to detail they're clearly putting into our meal. Cooking on an open fire requires skill and timing, but Prabatha's beaming mother is showing exactly how she managed to run a farm, care for a disabled husband and raise a child simultaneously. She multi-tasks with ease, chopping a cornucopia of rainbow-coloured vegetables, fanning the flames, and taking time to laugh and joke with me about her suddenly bashful son.
As one cooking pot is swapped for another over the flames, the cooking smells set my stomach rumbling. Then the table is laid with a feast fit for any hungry farmer. I ask Prabatha to talk me through the dishes. There's homegrown red and white rice, a chicken curry, a 'murunga' or chicken drumstick curry, a 'polos' – tender, young jackfruit – curry, a pumpkin curry, 'ela batu' – Thai aubergine – curry, 'wambatu' – aubergine – red curry and 'Japan batu', a kind of sweet leaf green salad. What's remarkable is that he tells me almost every ingredient came from the family's very own garden or paddy.
I try a little of each on my plate with the red rice, and experience the sheer delight of zingy fresh spice, deep flavours and succulent, perfectly cooked produce. There's variety with each and yet all are beautifully bound together with the warmth (rather than 'heat') of the homegrown, freshly ground and dry-roasted curry powder. And I've never eaten curry in such surroundings before – the smell of woodsmoke from the cooking fire, the birds singing and the laughter of Prabatha's doting family. It's a winning formula and one I'm sorry to leave as we wave goodbye.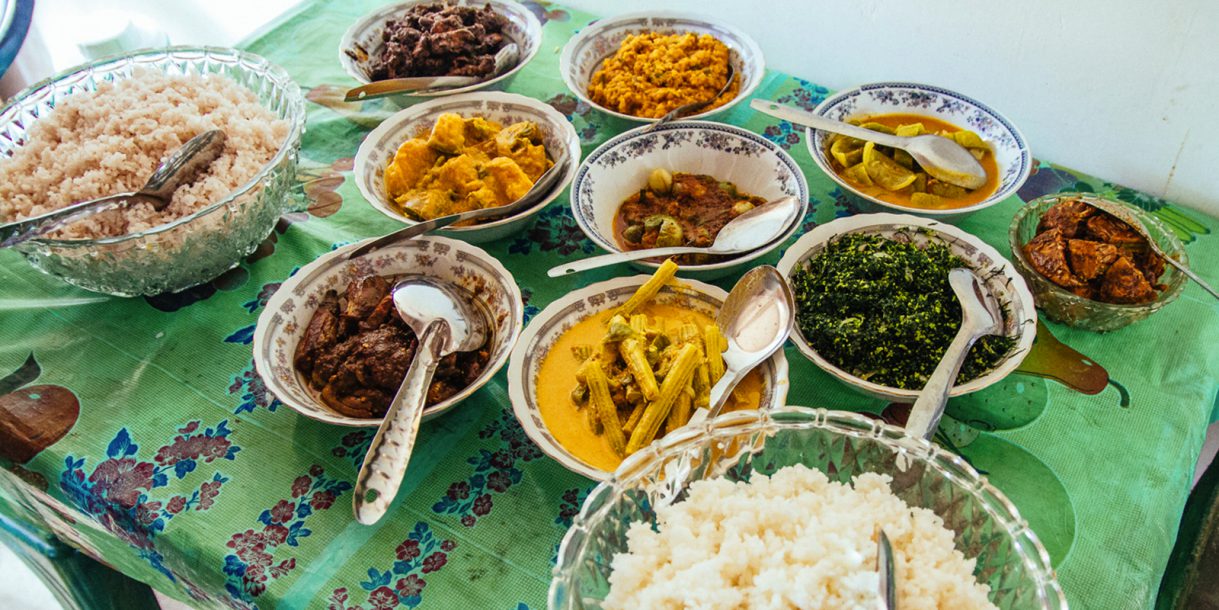 With a full stomach and an urge to wander a little, Prabatha and I re-join the naturalist for a short drive out to Buduruvagala. The Buddhist temple is about 4 miles southeast of Wellawaya. One of the surprises about this area is its rich archaeological history; it might not get much credit in the guidebooks, but such discoveries are one of the many boons of having such local insight on-hand.
Dating back to the tenth-century, Buduruvagala contains seven enormous rock statues of Buddha, including the largest freestanding sculpture on the island. From the car park, we follow a stone path laid out between some colossal trees. In the quiet of the leafy shade, I understand why this must have been an ideal hermitage for monks of the Mahayana 'school of thought'. I sit for a while, eyes closed, and enjoy my own bit of calm reflection. The only disturbance is the langur monkeys skipping through the upper branches high up in the canopy.
The huge trees match the scale of the 16-metre Buddha statue at the end of the trail. It towers over the local pilgrims who've come here to pay their respects. I stand with them as they light incense, imagining the sculptor who must have stood exactly where I do a thousand years ago, hewing this beautiful deity from the solid rock.
A little further along the highway from Wellawaya to Buttala another archaeological site dates even further back. The Yugadanawa temple features one of the largest 'stupas' – or Buddhist religious monuments – in the country. It is said to be a famous battle site from the second-century. We walk through the complex, mixing with more pilgrims and encountering wonderfully detailed door carvings of Sri Lankan golden lions and reliefs of black elephants on the temple walls. Then something a little more modern: an authentic red postbox, a remnant of the British colonial era in Sri Lanka.
On my last evening, back in Jetwing Kaduruketha's restaurant, I watch the farmers returning from the paddies and birds skimming over the trees to roost. With a far deeper understanding than when I arrived, I order local dishes from the Wellawaya area: red and white rice, chicken curry, bean curry, wing-bean tempered salad, dhal curry, and 'mukunuwanna' – a green salad with grated coconut, served with homemade mango chutney. All dazzle on the plate and taste even better, eaten as the sounds of the forest come alive. Seeing where and how this food is grown, as well as the improved lives of the men and women who've worked to create, cook and serve it, adds a profound layer to its flavours, making every mouthful even more special.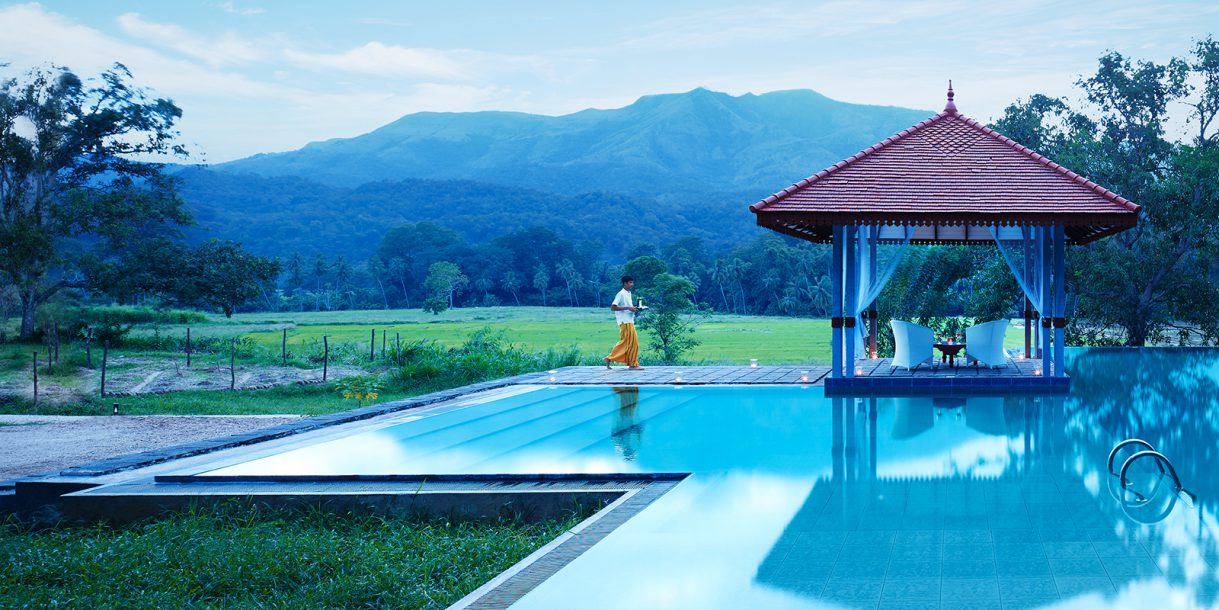 BOOK NOW