We're walking through the breathtaking Poonagala mountain range, following an elevated trail that slips beneath puffs of white cloud and between the rocky outcrops that speckle these green-tipped peaks. As far as hikes to waterfalls and wild swimming spots go, things don't get much better than this: far-reaching views, clear air and the kind of sweat-on-the-brow exertion that makes the promise of a dip even more exciting. Although the path isn't dramatically steep, the sun is up and it is typically hot, so I'm glad of the regular stops that my guide and naturalist, Hasantha, makes to point out the wealth of flora and fauna.
"See that?" He says, this time gesturing to a sturdy tree trunk. I peer ahead, but it doesn't seem that remarkable. "Look again," he says again as we approach. "Above the mud. That's where elephants lean against these trees to sleep."
The sunny dell we've wandered into may not contain a four-poster bed but to the trained eye it has something just as obvious. The grooved bark is smoothed down to the sort of varnished gleam you normally find on an antique table, marking it out as a favourite and presumably comfy resting post for a tired giant. Without a naturalist's superlative observation skills though – and Hasantha, who spent a year in residence at London's Natural History Museum, is undoubtedly a superlative naturalist – I'd have walked right through this al fresco bedroom.
"We may even see some if we're lucky." He says, smiling. "In the trees, above the river."
Welcome to Wellawaya
a surprising and still largely uncelebrated wonderland where every turn seems to reveal a remarkable beast or sweep of beautiful landscape. In fact, Hasantha's words "look again" would be a fitting motto for this region. Wellawaya was once written off as little more than a farming area passed through on the tourist trail to Hill Country. But this is actually a verdant and astonishing place, filled with natural splendour yet retaining a sense of 'real' Sri Lanka – the sort of place where a wild elephant may just wander across your path.
And there are many watery treasures to be discovered here too, including some of the highest waterfalls in Sri Lanka. But Wellawaya's waters aren't just great to look at. Many of the impressive cascades here have natural pools close by that are perfect for taking a dip, making this area a veritable wild swimmer's paradise.
Our day of waterfall exploring had started early with breakfast on the terrace at the Jetwing Kaduruketha hotel. Before us was the kind of scenery that dramatically slows down your eating speed. Having arrived under the cover of darkness the evening before, I hadn't fully appreciated the setting of these 25 luxury lodges, located in 60 acres of natural forest and paddy fields. But with the French doors open and the sun climbing, the views from our terrace contested with some delicious egg hoppers for my attention. In the distance rose a great flank of mountain crumpled into gullies and thick with jungle; between it and our lodge lay lush emerald rice paddies with grazing cows and little egrets, threaded with footpaths and edged with palm trees.
It would've been easy to sit there all day but, with waterfalls on my mind, we'd set off on an hour-long drive up from the hotel, through the small plantation village of Koslanda, to the start of the hike. The wildlife spotting had begun immediately. Zigzagging up switchback roads and swerving through a swathe of forested hillside, we'd glimpsed troops of langur monkeys, black-winged kites circling on thermals and wild bee nests clumped in the branches.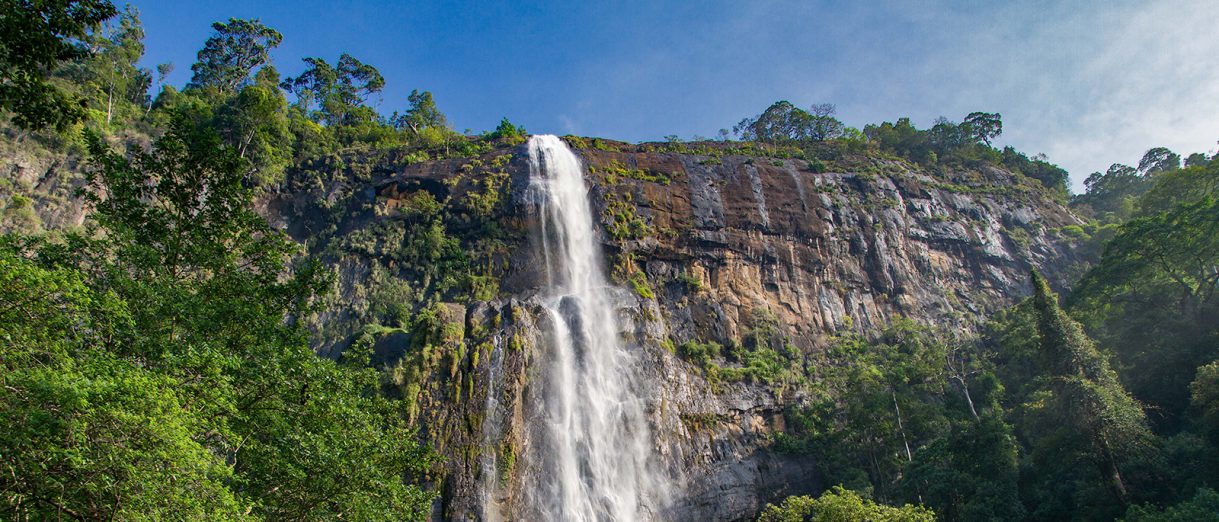 Parking by a bridge at the foot of the mighty 720ft-high Diyaluma Falls, it was easy to see how it got its name – 'liquid light'. I craned my neck searching for the top, as the water above appeared to pour straight from the clouds. Diyaluma Falls is the second highest waterfall in Sri Lanka and a natural bluff carved by the friction of rain, wind and ancient seas, yet it appeared to me almost manmade in its beautiful design with its sculpted, sheer, vine-draped rock, foliage and the cascading, stepped water feature. Another short drive, and we were donning hiking boots for the two-kilometre trail to its source, the Poonagala River, which had brought us here, to the elephant's boudoir.
Leaving the muddy 'resting' tree behind, I follow Hasantha onwards and we immediately walk straight into a herd. Not elephants though, but black and tan cows grazing the slopes, munching their way along a meadow flecked with luminously bright orange and white wildflowers. Lemongrass, that staple herb of so many Sri Lankan curries, also sprouts wild between the rocks. And, as we push on, Hasantha encourages me to pick a handful and take in its sharp citrus aroma.
Then we're suddenly at the top of Diyaluma Falls and drinking in its astounding panoramas: carpets of forest rolling across valleys, vast sweeps of sky and horizon. Heart in mouth, I gingerly creep closer to the edge and look down to see the river tumbling over and vanishing into air. 
Although a lethal location for a dip, there can be few locations in the world better for a picnic spot. So, taking a seat on the rocks, Hasantha unpacks his rucksack and hands me a signature Jetwing Kaduruketha pack-up of 'ambul thiyal' – or tamarind curry – fish, seared tuna, green chilli omelette, and fresh mango. It's as mesmerising as the view and more than enough for the 200-metre amble through the trees upriver to where millennia of swirling currents have formed a perfect swimming hole.
The hollow before us is circular and utterly inviting, fed by the smaller, 30-metre waterfall named Uda Diyaluma behind, which drops like a curtain of white water. Stripping down to my shorts, I dive straight in to what feels like our own private pool and enjoy the welcome rush of a cold, whole-body tonic. Keeping an eye out for any elephants emerging from the forest with their own poolside intentions, I do a few laps and bob there in the water. This is the perfect way to rejuvenate in the heat, especially as our next waterfall, Elle Wala, is a car drive and 8km cycle ride away.
Returning to Jetwing Kaduruketha hotel – where Hasantha is the resident naturalist – we chug down the fresh watermelon juices he orders, and then saddle up on the hotel's free-to-borrow mountain bikes (a pair of which are parked outside every lodge). We pedal out beside the paddy fields, pausing briefly to allow a rat snake to wind its way across the road. These serpents aren't venomous and, as their name suggests, they're the natural way to keep the rodent population under control.
The ride is gentle at first; a road fringed with palms trees meandering through Wellawaya village. We have ample time to stop and chat with two men climbing a tree and cutting down coconuts. Hasantha also points out pepper plantations, cinnamon and mango trees. A fleeting, brown bird skims low above us, and then darts back into the canopy of trees. "Brahminy kite." Hasantha confirms.
Apart from the intermittent buzz of a passing tuk-tuk, the only other traffic is the throng of local women leaving a beautiful Buddhist temple. It'll be a full moon tonight and these ladies have been meditating out of respect. Dazzling in white gowns, bedecked with garlands of flowers, we apply our brakes and watch them drift by with waves and smiles.
Branching off onto a quiet asphalt road that hugs the river, I glimpse between the trees the sparkle of moving freshwater bubbling over pebbles. Once above the main village, the ride requires more effort; the path is stony and rough and my shirt quickly dampens with sweat, but the real Tour de France mountain stage I'd feared never materialises. When the trail does steepen, we just hop off the bikes and walk up between brightly decorated houses painted pink and yellow. They're so square and smart that they almost resemble French Fancy cakes plonked down beside their neat, well-tended gardens. Beyond the village boundary, we pass into trunks of virgin forest growing above the brush. Kumbuk, malabar and almond trees rise like steeples around us, their quietness creating a suitably reverential tone.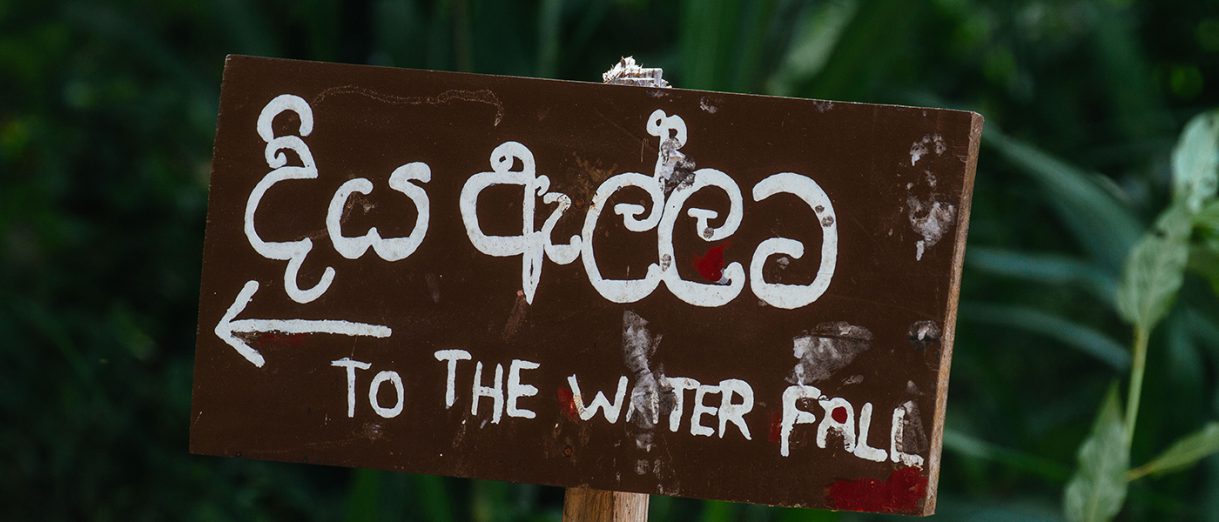 After leaving our bikes moored up a friendly farmer's house, we walk the last few hundred metres, clambering between rocks and vines with two friendly farm dogs in tow. Then Hasantha pauses and raises a finger. "Listen," he says. "That's it. Elle Wala." A bit further on and I can feel the air freshened by the mist of spray, drifting through leaves. We pull back the branches and reveal the source of the thunder, the rush of the river cascading off a ledge into a gorgeous, broad pool.
Elle Wala falls tip into what feels like a natural amphitheatre, surrounded by giant boulders, a stony shore and high trees. Understandably the spot is popular with the locals and few who hike up to see it can resist the urge to paddle out into a swimming spot that has the feel of a natural Jacuzzi in places, aerated by whorls of tumbling river water. I wade in, dip under and swim out to a rock ledge to sit inside the opal screen of the fall, and then watch in amazement as athletic locals climb up higher, before diving or back-flipping into the pool below. I've swum wild in plenty of places, but not many could match this for a setting. Even Hasantha strips off and joins in and the amphitheatre soon echoes with the sound of splashing, laughter and birdsong.
The reward of any climb is the descent. After an hour of swimming, we begin the unfettered joy of coasting back down the hill. Only a few langur monkeys and a mad peacock bursting out into the path in an explosion of blue and turquoise feathers, force me to press the brake levers. By the time I've got the camera out though he's already dragged his flamboyant train back into the dense foliage.
There is a little more cycling to do once the river slows and the land flattens again, but just as I feel my batteries beginning to fade, Hasantha directs us in to a stop at a roadside kiosk manned by a little boy and his mother. King coconuts are cut open and a straw popped into the top. I drain the electrolyte-rich water, before the mother takes the coconut back and splits it open. Fetching a bottle of dark brown palm flower syrup, she tips a little in and mixes it together with the soft, white flesh inside. The sweet, sugary, coconut jelly it creates is not only amazing, but it gives me an immediate rush. Within a minute I'm back on the bike, waving goodbye and covering the last few kilometres back to Jetwing Kaduruketha.
At the hotel, I discover that the bountiful larder of the Sri Lankan landscape isn't only for culinary use. After my ride, hike, and swim in two waterfalls, an ayurvedic treatment using concoctions of the property's own organic herbs sounds pretty dreamy.
Originating in India, ayurveda medicine has had roots in Sri Lanka since the sixth-century when King Pandhukabhya built various early medical 'centres' across the country. Combining medicinal plants, massage, and a focus on balancing mind and body, this holistic approach to health has been practiced for thousands of years. Deciding to give it a go, I head to the calm, quiet rooms at the rear of the hotel, tucked away in a small bamboo-fenced courtyard, and check the menu. After a day gripping handlebars and pedaling up hills I opt for the 'hastha pada abyanga' – a massage of the hands and feet focusing on the body's key reflexology points.
My masseur has been student of ayurverda since he was a boy; his family, he tells me, have been practitioners for generations. His dedication to the art shows. All twinges, aches and pains – many of which existed long before arriving in Sri Lanka – melt away, leaving me relaxed yet energised and ready for my final swim of the day.
Perhaps the most eye-catching area of design in Jetwing Kaduruketha is the pool that sits below the restaurant with views over paddy field and mountain. The conjoined squares of water are lit turquoise in the fading light and flanked by glowing little pagodas. Hasantha had explained that the inspiration for this was Galabadda Biso Kotuwa, a once luxurious sunken bath that was part of a palace constructed by King Parakrama the Great for his queen, Sugala Devi. This historic site – 45 minutes drive away – is still in immaculate condition considering its vintage. Even the original plumbing remains: a thousand-year old lavatory, with raised foot markers for the queen's regal soles.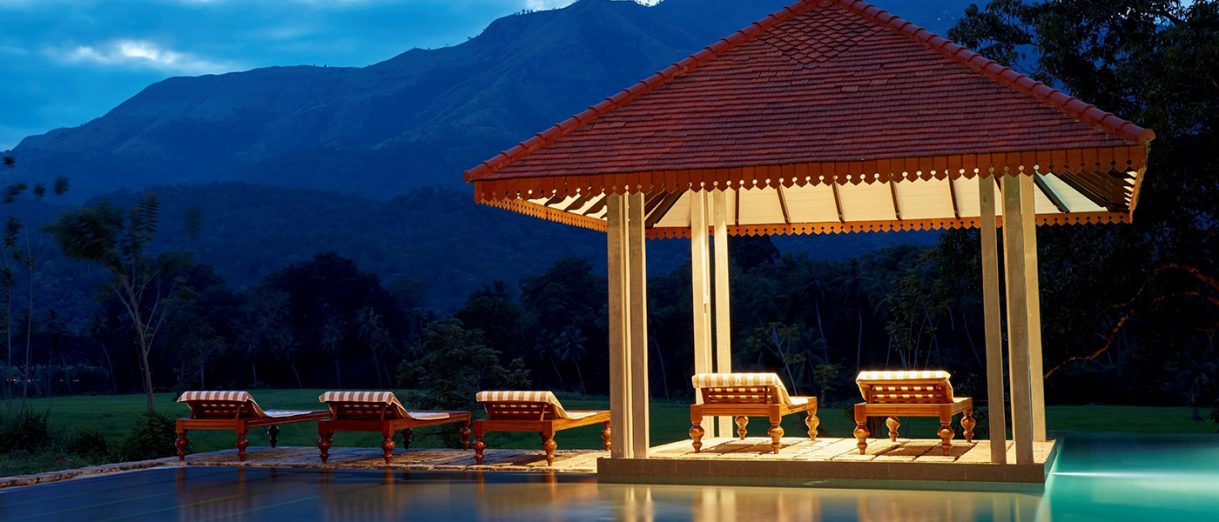 I slip into the mirror-flat blue of the modern version and swim out into its middle, flipping onto my back. Here, with an ice-cold glass of woodapple juice, pressed from fruit picked just metres away, I watch the sunset and float, surrounded by the sounds of the forest and the quiet, brooding black of the mountains.
BOOK NOW