It was getting late. Dusk was approaching and the animals were on the move. Almost time for us to get going, but no one wanted to leave. Even after three hours of the kind of wildlife spotting that'd make any naturalist's head spin, one creature was still proving elusive. We'd seen elephants, buffaloes, sloth bears, crocodiles, monkeys, bee-eaters and crested serpent eagles. We'd snapped more posing peacocks and cute wild boar piglets than you could shake a stick at. But the iconic big cat that Yala National Park is famous for wasn't in the mood for visitors.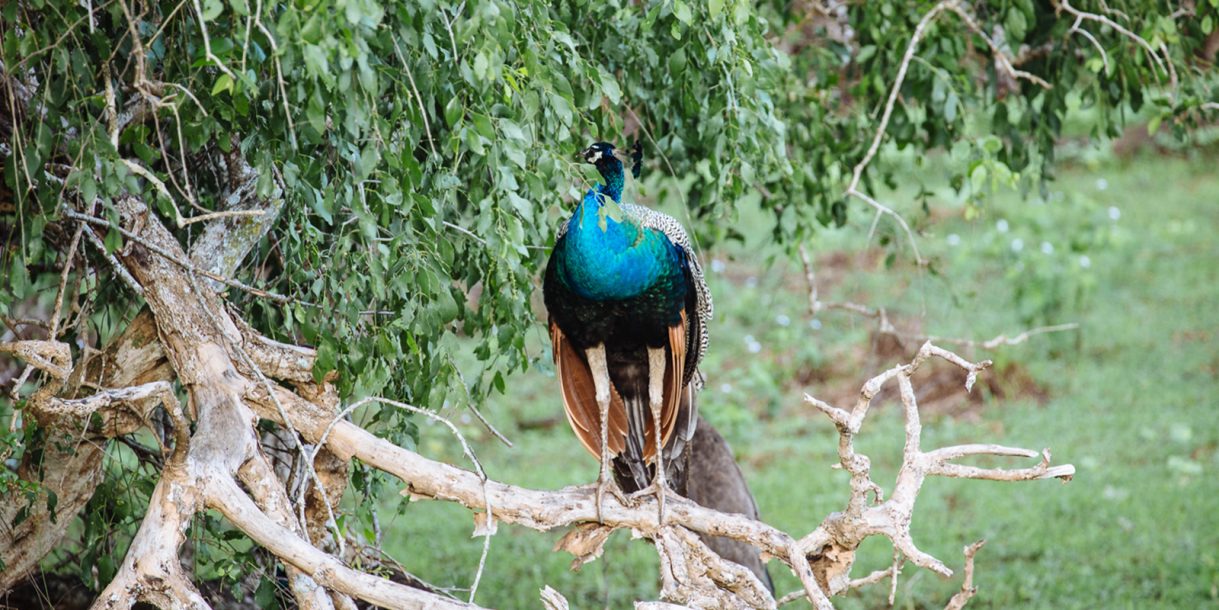 Our jeep driver checked his watch one last time and then spun us around to head back towards the entrance. After another bend in the clay-coloured road, he slammed on the brakes. A sudden stop here is driver shorthand for 'I've seen something interesting'. Sure enough, our guide and resident naturalist at Yala Jetwing hotel – Chamara – was pointing wildly and hissing: "there, look…LEOPARD!"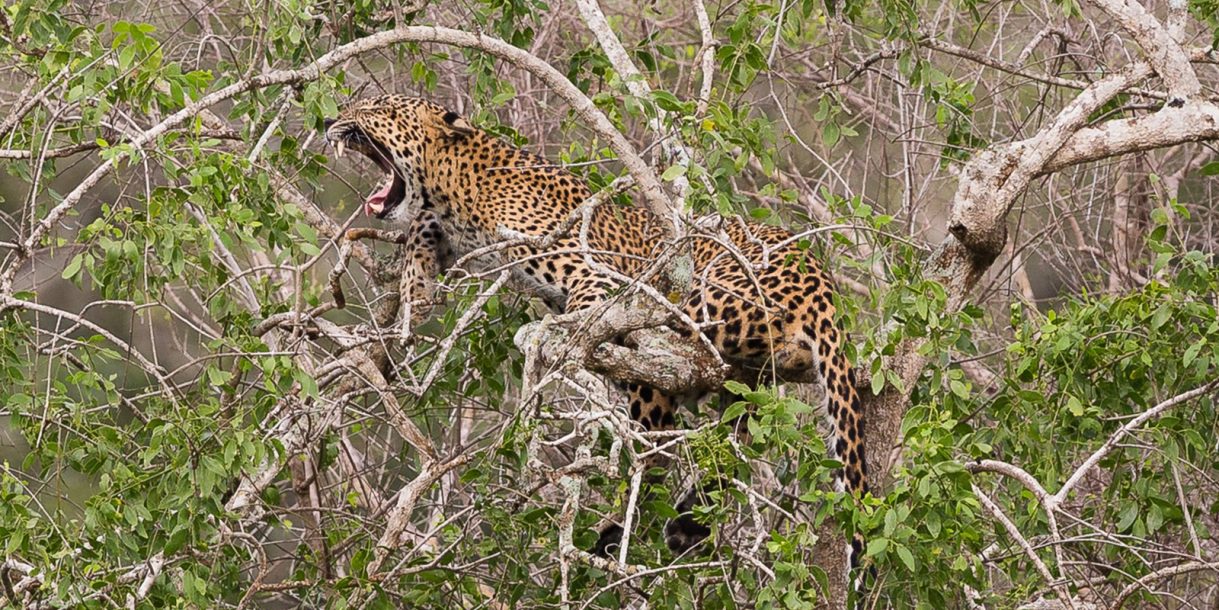 It was close, fifteen, perhaps twenty metres away: a full-size male, lying languidly in the tree, blinking and yawning. In silence, we watched as he stretched and groomed himself for a full twenty minutes. The leopard then dropped to the undergrowth and slunk away, crossing in the front of the jeep, flashing us that full, powerful and handsome face before disappearing into the dappled bushes.
You don't forget moments like that in a hurry.
Yala National Park is the most popular wildlife destination in Sri Lanka because of the high chance of encounter and variety of animals. Its diversity of bird, mammal and reptile life is unrivalled in the country and there are particularly high densities of its two keystone species: elephants and leopards. Current estimates suggest there are around 70 leopards and, as the apex predator in the park, they're top cat here so less fearful than in countries like Africa where lions rule the roost. This means you're more likely to see a leopard here than anywhere else in the world.
But being near the top of 'things to do' in Sri Lanka brings its challenges. Camera-toting crowds are a common sight in busy months. So are jeep jams and jostling vehicles cutting each other up to get the best views of the animals. But arrive armed with a little knowledge, a good guide and some good insider information and a jeep safari in Yala will be an unbelievably rewarding experience, bringing you close to the unique wealth of wildlife that calls this region home.
And the national park is only a part of the Yala story. This area is situated along Sri Lanka's southeastern coast. Still largely unknown and unexplored by travelers, it is a vast and stunning setting beside the Indian Ocean where golden beaches and hump-backed dunes meet warm seas. It offers some of Sri Lanka's best (and safest) surfing, swimming and diving; think reefs, lighthouses and ancient wrecks dotted among shallow, turquoise waters. It was here that Sci-Fi author Arthur C Clark discovered the Great Basses wreck. This Indian ship was lost as it carried a treasure trove of silver rupees to buy the marble to build the Taj Mahal.
With so much to do, the key to getting the best from Yala is asking someone in the know. So we caught up with two local experts to get the insider lowdown on this amazing region.
Chamara Amarasinghe

Naturalist & Guide, Jetwing Yala
What is Yala National Park and why is it special?
Yala national park is Sri Lanka's second largest. It was a hunting ground in colonial times. Today it is 979 square kilometres of protected wildlife reserve and home to an incredible range of animal species. Imagine a beautiful dry-zone landscape with huge rock formations, like the famous Elephant Rock, rising from the thick green shrub. Look on a map and you'll see that the park is divided into 'blocks' numbered 1 to 5 as well as a 'Strict Natural Reserve' that is off-limits to the public. Now all the blocks except for Block 4 are open to visitors.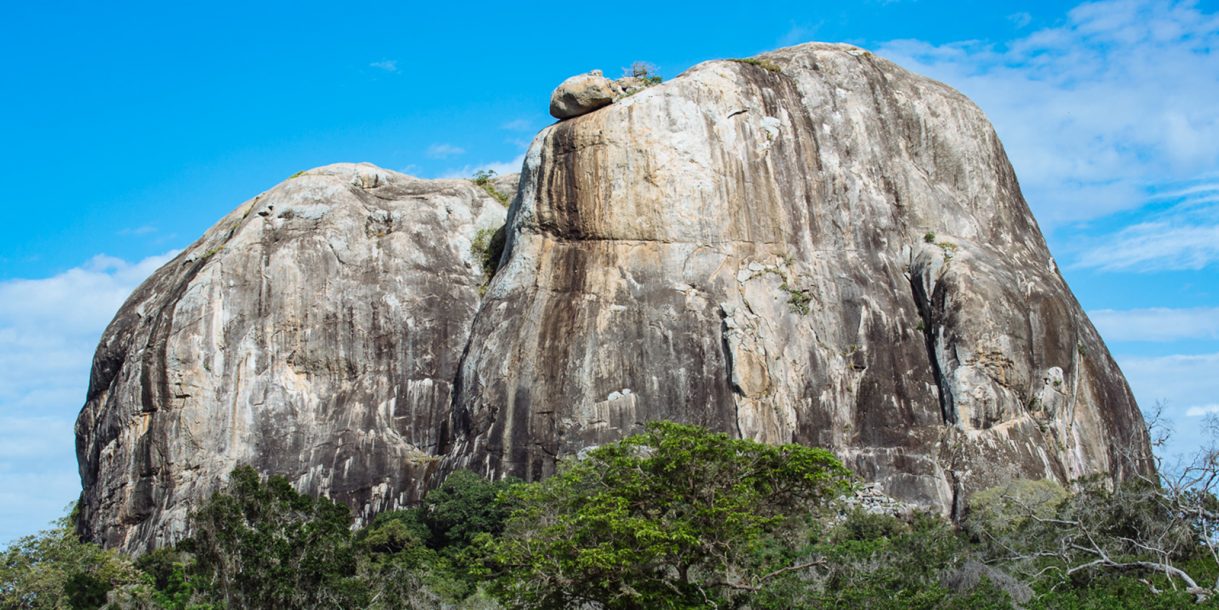 What are the 'blocks'?
They are another word for 'area'. Some have their own names. Block 1 – also known as 'Ruhuna National Park' – is the most visited. It is 146 square kilometres criss-crossed with tracks and, if you're visiting Yala, this is probably where you'll be heading. Because of its popularity, many of the animals in Block 1 are more used to safari jeeps, meaning that they are less scared and don't run away. This makes it easier to spot the elephants and leopards here. Blocks 3 and 5 are quieter and have less traffic, which gives a more 'private safari' feel. However, the animals are more wary of vehicles.
Does each block have different environments or species?
Not really. The blocks with either of Yala's two rivers flowing through them have taller riverine forest but all the blocks feature mixed habitats like grasslands, brackish lagoons, 'tanks' – another word for a lake – open range, brush scrub, thorn forest and watering holes. In terms of species, there's not much difference. But to the east, Yala conjoins Kumana National Park, which used to be known as 'Yala East' and is best accessed from Pottuvil and Arugum Bay. Yala East is as a real birdwatcher's paradise with large areas of swampy wetland that attracts many amazing migratory waterfowl and birds from April to July. Rare and spectacular birds include the yellow-footed green pigeon, greater racket-tailed drongo, Malabar trogon and red-faced malkoha.
What kind of wildlife will I see in Yala?
Wow. So much! Jackals, lizards, snakes, crocodiles, deer, many types of monkey, wild water buffaloes, sloth bears (especially in the palu season from May to July when they gorge on the fruit in the day), fishing cat, mongoose, boar, red slender loris, the Sri Lankan elephant and Panthera pardus kotiya – the Sri Lankan leopard. We have 44 species of mammal but over 200 species of bird, seven of which are endemic to the park: Sri Lanka grey hornbill, Sri Lanka jungle fowl, Sri Lanka wood pigeon, crimson-fronted barbet, black-capped bulbul, blue-tailed bee-eater and brown-capped babbler. You'll also see waders, egrets, herons, hundreds of peacocks, kingfishers and three types of eagle.
How do I get to Yala National Park?
We're on the southeast coast, 280km from Colombo. It takes around five hours in a car to get here from the capital, and three and half from Galle. Most travelers arrive via a hired car and driver and those staying at the Yala Jetwing hotel usually come for a minimum of a few days. We're the best-placed accommodation in the region, located in the sand dunes right by the ocean and less than ten minutes from Palatupama, one of two main entrance gates to Block 1. The other entrance to Block 1 is to the north, called Katarugama. For Block 5 and 3 you have to go get permits and enter from a gate called Galge, close to the Buttala-Kataragama Road.
What is the best way to visit?
You have to access the park via a safari jeep and the best way to organise this is through the team at the hotel. There are more than 100 safari services around the Yala National Park, some of which are OK; some of which you definitely wouldn't want to use. Yala can bring out the worst examples of mass tourism where some locals run jeep tours that aren't insured, can't communicate with the passengers and drive recklessly. It's always best to go through Jetwing Yala because it's part of our job to constantly manage the vehicles and drivers we use. We check their licenses are valid and up to date and that they have insurance. We also make sure they abide by the park rules and respect the animals. But whoever you go with, make sure your driver is knowledgeable, experienced and has good communication skills, as well as an understanding about what they're seeing.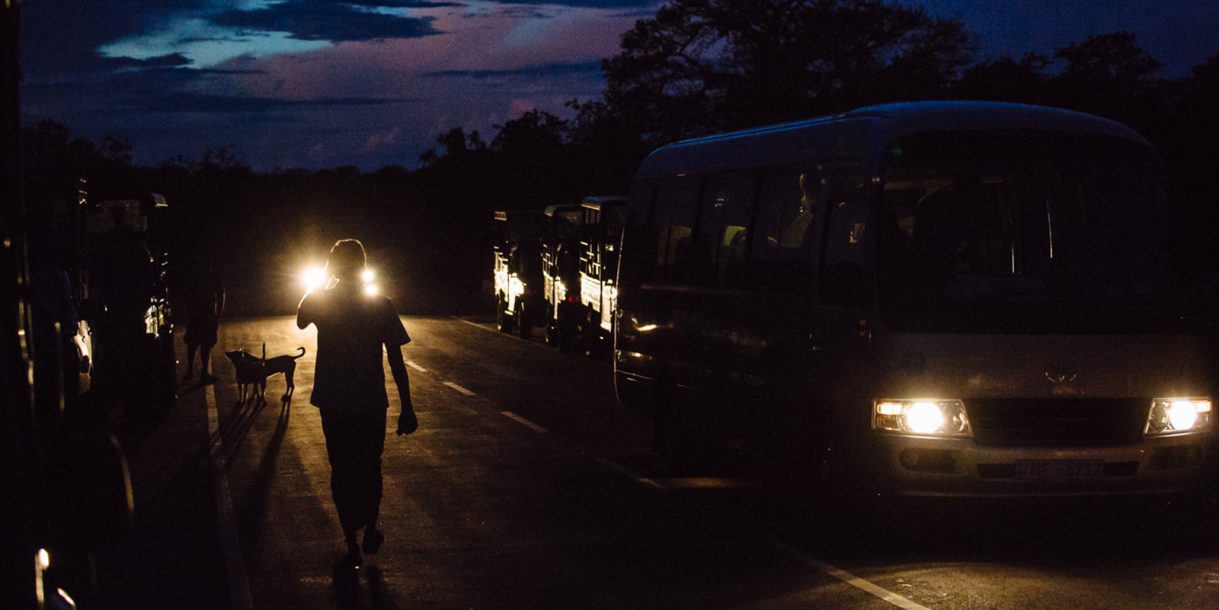 What are the safari jeeps like?
There are two types of jeep – 'luxury' and 'super-luxury'. Both of which are a bit of an exaggeration! Super luxury jeeps just means Toyotas or Mitsubishis; luxury means Indian-made vehicles, like Tata. At Jetwing Yala we always go for the best experience and make sure there's the best visibility, least noise and more comfort, so we only use the super-luxury vehicles.
How much does it cost?
A half-day safari through Jetwing Yala is $148 for the first couple then $45 per head for up to 6 people. Spread over a full vehicle it's great value because it includes everything – insurance, driver, fuel, entrance tickets, bottles of water and a fully trained naturalist. We know the animals and where they tend to be depending on time of year. We also arrange everything and direct the driver, leaving you to enjoy the safari.
When is the best time to visit?
June to September is always good.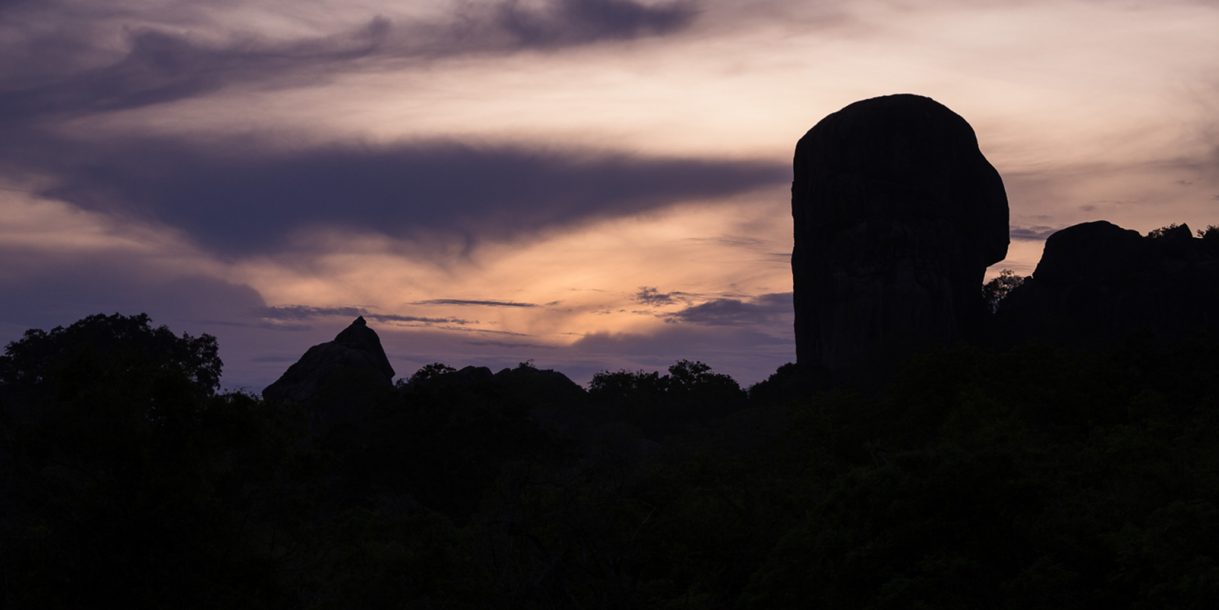 What times are the safaris?
The park is open 6am to 6pm and there are two safaris a day – in the morning and the afternoon. Each catches one of two prime times to see the animals: dawn and just before dusk. During the rainy season (May to August) the early morning safari is better for leopards and bears. Later in the day they can get soaking wet so when the sun rises they always find the places to dry up and get warm up. During the dry season (December to March), the afternoon safari is best. During the day animas tire with the sun and go under bushes for shade and to hide. When sun goes down they always go to the waterholes to drink.
Do you have any other tips?
Don't shout or leave the vehicle. Don't climb out of the vehicle or break its shape – these are wild animals and they can get scared and dangerous, especially the elephants when they have babies. Don't wear bright colours; go instead for earth tones or camouflage. It will be hot in the park so take water with you and wear a hat. Also pack insect repellent and sun cream. Oh, and the thing I've seen happen so many times is a camera running out of battery at the vital moment. Make sure you charge your camera batteries and clear memory cards the night before.
Hiran Ukwatte

Former Water Safety Manager & Lifeguard, Jetwing Yala
What makes Yala's coast so special?
The beaches, the wildlife and the sea. The dunes are a big draw for nesting turtles and excited children – although we keep the two apart! The kids love rolling down the sand hills. We have ball games, volleyball nets. And it's unbelievable at Jetwing Yala for sunset and sunrise. Because we are at a curve, we get to see both over the sea.
The water itself is amazing for sports, swimming and drinking cocktails by! And it's very safe as we have the best-trained lifeguard service and water management team in Sri Lanka. There are two reefs and lighthouses located 12-13 kilometres off the shore: Great Basses and Little Basses or 'Maha Ravana' and 'Kuda Ravana'.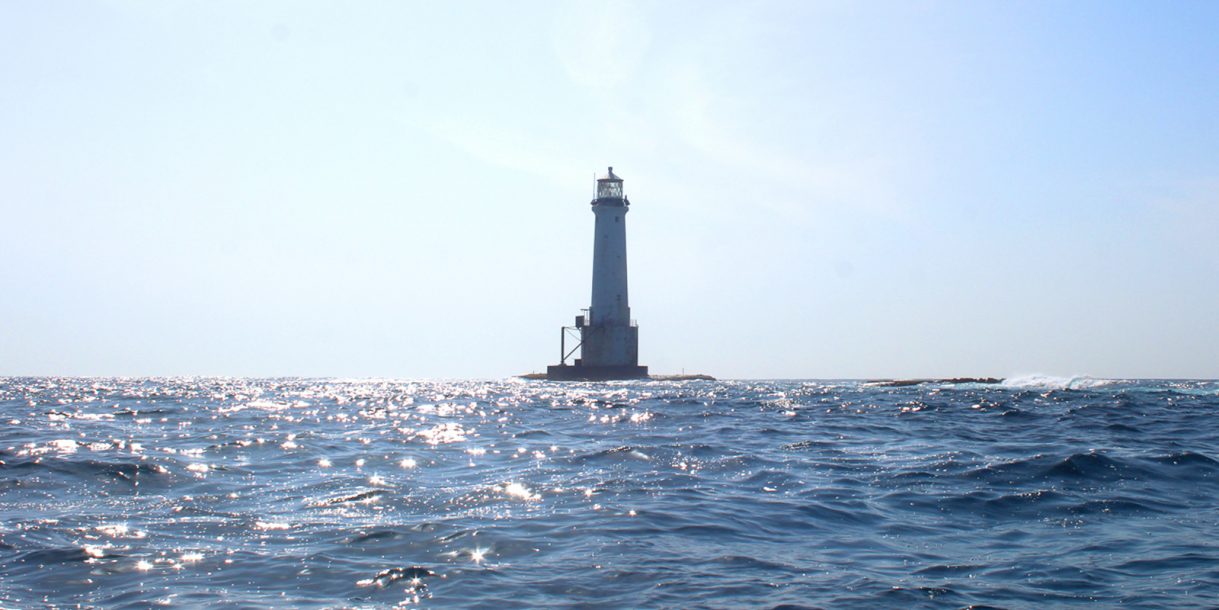 Maha Ravana gets its name from the caves in the seabed. That whole reef used to be of the Sri Lanka's landmass and the caves were a hideout for the ancient king, Ravana. After sea levels rose, it was covered. Now there are lighthouses on top of both Great and Little Basses reefs. Great Basses Lighthouse is visible from the hotel and has three shipwrecks around it. Little Basses Lighthouse is about 30km away and is a special biodiversity site with various and beautiful fish and coral. You get to them both from Kirinda, close to Jetwing Yala.
What is the story of the shipwrecks?
The whole southeastern coast of Sri Lanka was on the shipping route to China and India. Navigating these reefs was tricky. Many ships were wrecked and at Great Basses we have a 24-gun Indian treasure ship, a British bottle wreck and a Portuguese ship. We've found many things diving there – from ancient bullets to British beer bottles to bits of decoration from the ships. And lots of old coins.
And there was treasure on the Indian ship?
Yes. It belonged to the Moghul Emperor Aurangzeb who sent it laden with silver rupees to buy the marble that would build the Taj Mahal in the early seventeenth-century. Arthur C Clarke searched for it and found in 1961 and brought much of the treasure to the surface.
Is it easy to dive the wrecks?
You need to be quite experienced because currents can sometimes be strong. But there's lots to see with many canyons and gullies carved out of the reef. These are thick with corals, sea sponges and many types of fish: snapper, different types of trevally, angelfish, wrasses, tunas and groupers. And beautiful rays and porpoises.
When is the best time to dive?
There's a 50-day window between March and April. Outside that time, visitors can travel out to see the historic lighthouses on top of the reefs by boat. The shipwrecks are only 15 to 20m deep below you and on clear days, you can even see them from the surface.
What's the story of the lighthouses? Who built them?
Both were designed and built by the British Imperial Lighthouse Service. Great Basses is 34m high and it was made in 1873 using huge stones shipped all the way from Scotland and England. Little Basses was built in 1878. They are old but solid, strong designs and both survived the tsunami of 2004 with only small damages to the base. These were repaired with help from the UK government and are still working.
How long is a boat trip to Great Basses reef?
It's about 45-minutes from Kirinda. You often see dolphins, porpoises, humpback whales and some big-game fish.
How much does a trip like that cost?
Around 12,000 SLR for the boat trip to Great Basses reef.
Tell us a little more about your safety program.
Of course the sea is nature and in any ocean you can get different types of waves and conditions. Yala Jetwing is very safe because we advise on capabilities and conditions before guests even get into the water. All our lifeguards have been trained by Surf Life Saving in Australia. Lifeguards are internationally certified and get re-trained and tested every year.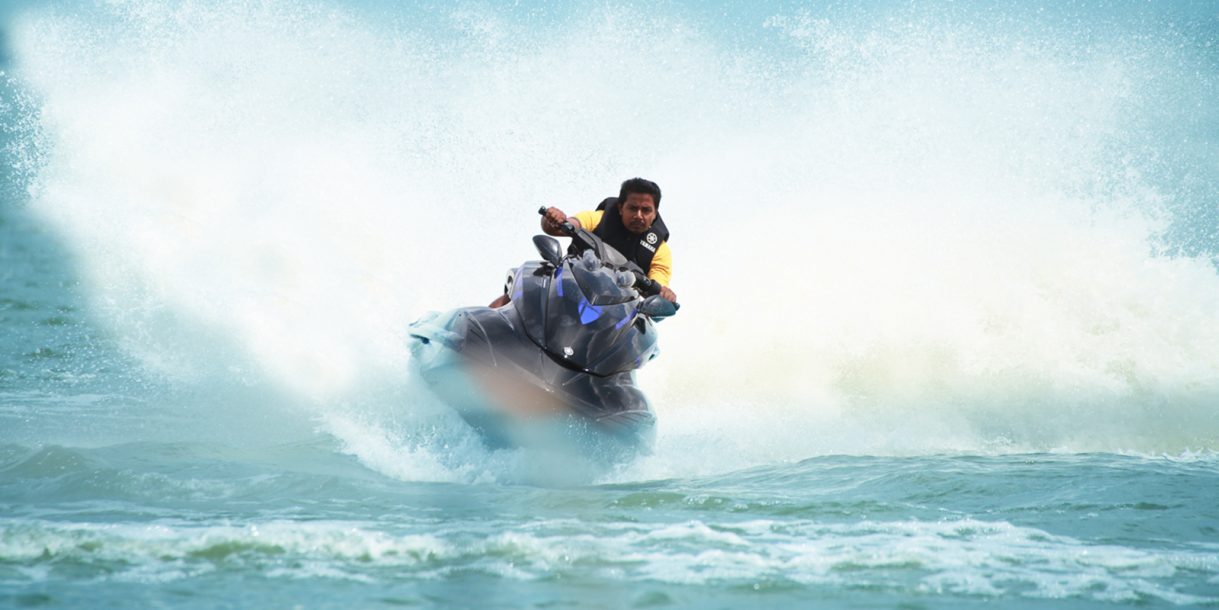 What are your tips for a perfect day on Yala's coast?
Start with a swim before breakfast. Then maybe try body boarding or Jet Skiing. We have Jet Ski hire here and, when calm, the water is perfect for it. Dry off with some ball games or dune rolling, or maybe just a long stroll through the dunes before a boat ride out to the Basses for snorkeling or diving after lunch. Have a sundowner at our beach bar before dinner then return for a bit of stargazing after dessert.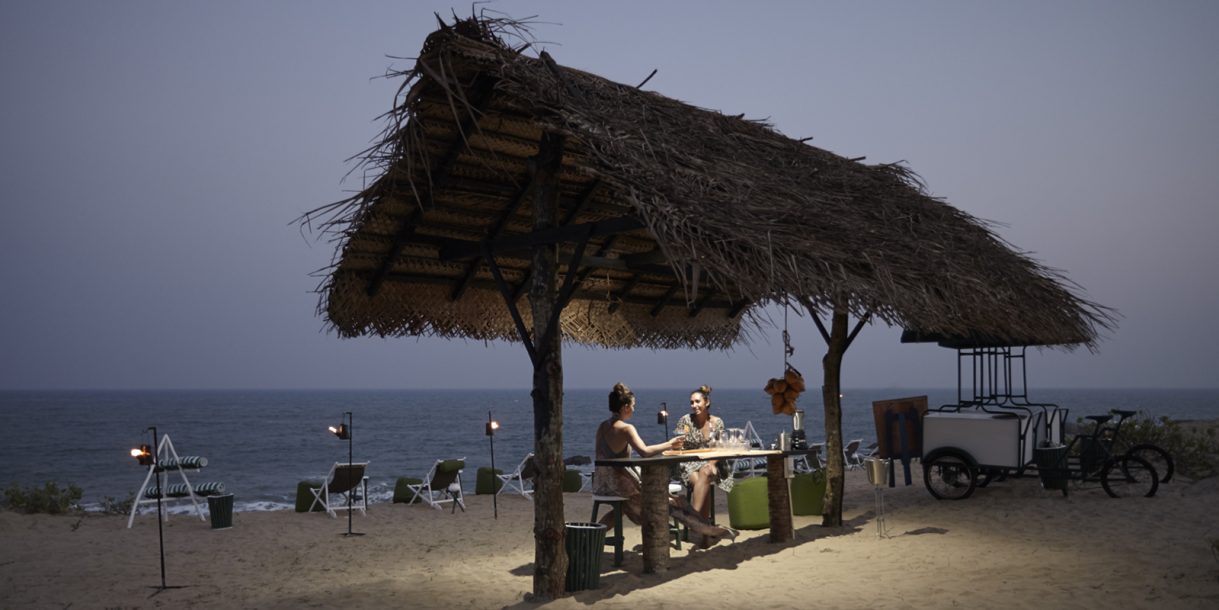 BOOK NOW