"Hospitality? I used to think it had something to do with going to hospital!" Selvarasa laughs as he finds my reservation on screen. A fresh-faced receptionist at Jetwing Jaffna hotel, he is wearing a black kurta – a traditional shirt, long and edged with silver and gold – and a warm smile. "Luckily," he says, handing the key-card over, "I know exactly what it means now."
I've traveled up to Jaffna in Sri Lanka's northernmost peninsula to meet people just like Selvarasa: graduates of a pioneering initiative that is bringing skills and hope to many young people on this island. The Jetwing Youth Development Programme (JYDP) is an initiative providing many of Sri Lanka's disadvantaged youth with award-winning training in the hospitality industry, preparing them for work as well as supplying the jobs they need.
It was created to address the growing concern of youth unemployment in Sri Lanka's rural areas and to involve the local community in the burgeoning tourism market. Training includes six months of practical spoken English language classes, life skills and crucial on-the-job training in a Jetwing hotel. The aim is to set young people up for life but – importantly – it comes with no obligation to stick with the company once graduates are done. And, best of all, it's completely free.
The hotel I'm standing in is an amazing example of its effectiveness. Jetwing Jaffna opened in early 2016 with over 60 percent of its team made up of JYDP graduates. Many had little idea about working in the hotel industry before enrolling, but all recognised that the programme was a rare and real opportunity to carve out a future.
This is nothing new for Jetwing. The brand's founder, the late Herbert Cooray, was all about giving opportunities to the disadvantaged; he was a man who valued enthusiasm and a positive attitude as much as formal qualifications.
"You can't teach someone to smile." He was fond of pointing out. "You can't teach them to want to serve others well; you can't teach personality; you can't teach someone to be passionate about what they are doing. But you can find people with those qualities and teach them what to do."
It's out of respect to the man that, even today, a smile is almost all that's required to enroll in the programme.
This is my second trip up to Jaffna. This time instead of motoring nine hours from Colombo up the A9 road, I'd flown from Colombo's small airport Ratmalana to Jaffna's Palaly airport – a teeny terminal within an air base. In fact, the only airline that serves it, Helitours, is actually run by the Sri Lanka Airforce.
From the airport, the Jaffna peninsula appeared green, fertile and a pleasure to drive through. In the 30-minute taxi ride to the hotel I passed plots of tobacco, carrots, bananas, manioc and corn; low bungalow houses sat in the shade of tree boughs laden with karuthakolamban mangos, Jaffna's most-prized fruit.
I last visited in 2010, a year after the culmination of Sri Lanka's 26-year civil war. Then the town itself felt quiet, trapped in time, with a flurry of cyclists and a line of Morris Minor taxis parked in the tree-lined centre aisle of Hospital Road. Today these vintage cars are nowhere to be seen. The khaki-clad army officers that once patrolled every corner and crossroads have also vanished. In their place are traffic lights and shiny modern buildings housing banks and electronics superstores.
But not everything has changed. Many of Jaffna's traditional timber shop fronts are still here. So too the bustling market, a traffic-thick road lined with shops brandishing life-sized sari-clad mannequins and stalls selling hunks of dried fish and knitted Palmyra products. It's heartening to see that also around is the long-standing Malayan Café, serving delicious waddi (deep-fried lentil patties) and goat's milk tea to Jaffna's community since 1951.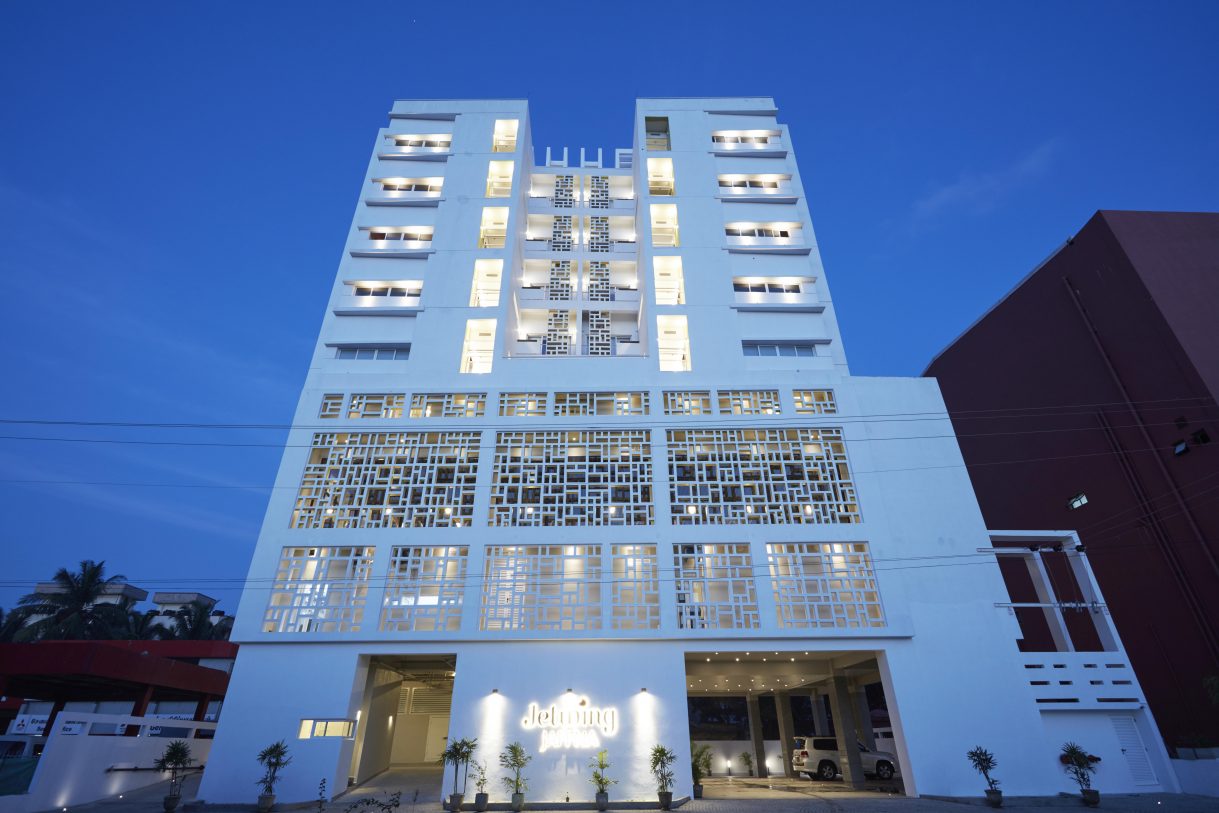 The Jetwing Jaffna hotel is this town's newest structure. At eight floors it's the tallest building, and its impressive modern white design is an unmistakable beacon. I'd stepped out of the taxi to be greeted by staff in the traditional Jaffna way, with a colourful flower garland and a powder pothu – or third eye – pressed onto my forehead. Immaculately presented girls from the front desk sashayed around the cool lobby in shiny saris, attending to guests.
After checking in, one of them – Anojah, a slight 24-year-old – greets me with a radiant smile. She shows me to my fifth-floor room and as we take the lift I learn that she's one of 42 Jetwing Youth Development Programme (JYDP) graduates from Jaffna employed at the property.
Back in 2006, when the programme first began and the island's civil war raged in the north and the east, the idea of building a hotel in Jaffna was unthinkable. Five years later, in a new era of peace, Jetwing was handed a partnership opportunity too good to turn down. Jaffna had been liberated from the Tamil Tigers in 1995, 14 years earlier than areas further south like Kilinochichi (the capital of the LTTE) and Mullativi, on the north east coast.
However, over half a million residents of this peninsula had by then fled the violence. Those that remained were virtually cut off from the rest of the island. There was no functioning train line to Jaffna (the railway was resurrected in 2012) and no road (the A9 was closed from 1984 to 2013). Hardly any new cars were registered during this period, which explains the vintage Ambassador cars, abundance of bicycles and quiet roads from my first visit.
As we head upstairs Anojah explains that the JYDP is open to any school leavers between 18 and 24. It strikes me that this means that all of Jaffna's graduates must have been born during Sri Lanka's civil war. This is something Jetwing's chairman, Hiran Cooray, is acutely sensitive of: "These people have gone through terrible hardships." He says. "When you talk to them and see them prospering, you realise what a waste this war was. They are so cheerful and happy. Suddenly the world has opened up for them."
Anojah and her younger brother Harris, another graduate working at the hotel, remember the war well. Thanks to her father's job as an English teacher, they spent much of their formative years in schools in Kandy, well away from hostilities. But in 2002 a ceasefire was signed, and, owing to her father being promoted, the family moved up to Kilinochichi, 100-kilometres south of Jaffna. There they became trapped when hostilities resumed.
Traveling out of LTTE-held areas was near impossible. When Kilinochichi became a battleground, the family fled the violence with whatever they could carry. They finally ended up in an internment camp in Vavuniya, where Anojah sat her English A-Level exam.
I meet Anojah's father the following day on the veranda of their small rented house. It's hard to believe that war was here until he begins to share how he laments the loss of his children's educational opportunities. He tells me that during the final years of the war his eldest son lived alone for two years after escaping from an LTTE camp. The LTTE expected at least one member of every family to be sacrificed for the 'Tamil cause', and he was forcibly taken from his home to be trained as an LTTE cadre.
After he returned home the family had no choice but to make him disappear, hiding him in locations well away from their family home to avoid any suspicion. Even then, rebels would visit their house often at night to question them and search.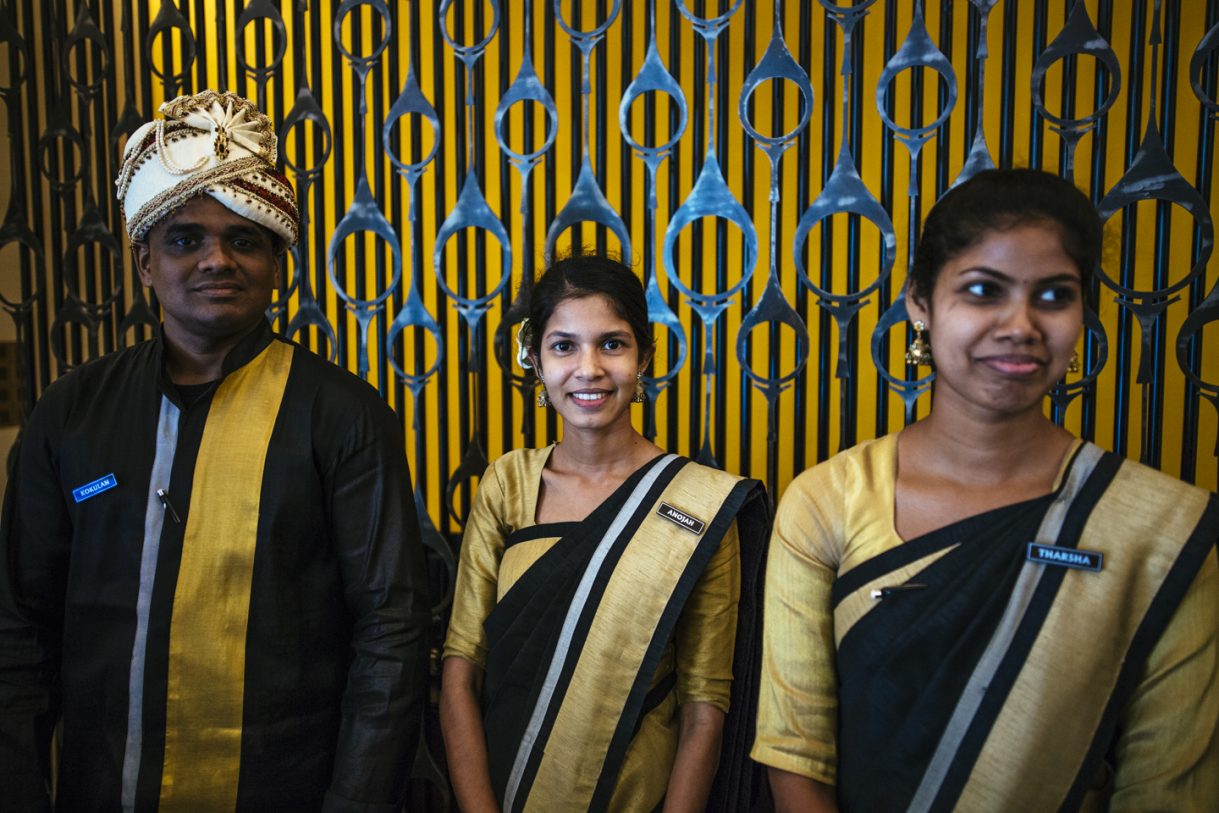 It was Anojah's father who saw the advertisement for the Jaffna JYDP in the newspaper. He encouraged his two youngest children to enroll. But here it was jobs such as doctors and engineers that were prized; the hospitality industry was not seen as a lucrative prospect. For cultural reasons women in particular were reluctant to sign up. But incentives like free transport for female staff, a company-wide equal opportunities policy and a role model in assistant manager, Nilanthi Wejesooriya, helped. Today Anojah's father is fiercely proud that his daughter is one of 13 female graduates employed at the hotel.
For Anojah, who aspires to become front office manager, the opportunity has been truly life changing. "At first I didn't know how to face people." She confesses while taking me through her time training at Jetwing Lagoon in Negombo. "Today it's very different. I know how to provide service, interact with guests, and handle problems. Now I can dream of my future."
Later I travel with Anojah to meet her extended family, back in her mother's village. It was here that the family stayed after being released from the internment camp. She also takes me to see the Karainaigar Vocational Training Centre (VTA), a rural campus where she completed her JYDP training. We peer into a smart central two-floored training block complete with a 'model' restaurant to practice service.
The VTA is a good 45-minutes from Jaffna, on Karativu Island, but the journey is a reminder of the many riches and things to do in the north of Sri Lanka. We drive through emerald fields of leafy vegetables and a long causeway that cuts through the sea. Close by is Casuarina Beach, a stunning stretch of ivory-coloured sand, backed by shaggy, green-grey casuarina trees. Today, being a weekday, the beach is empty, save for a languid herd of cattle. I roll up my trousers and wade into the gentle, bath-warm ocean.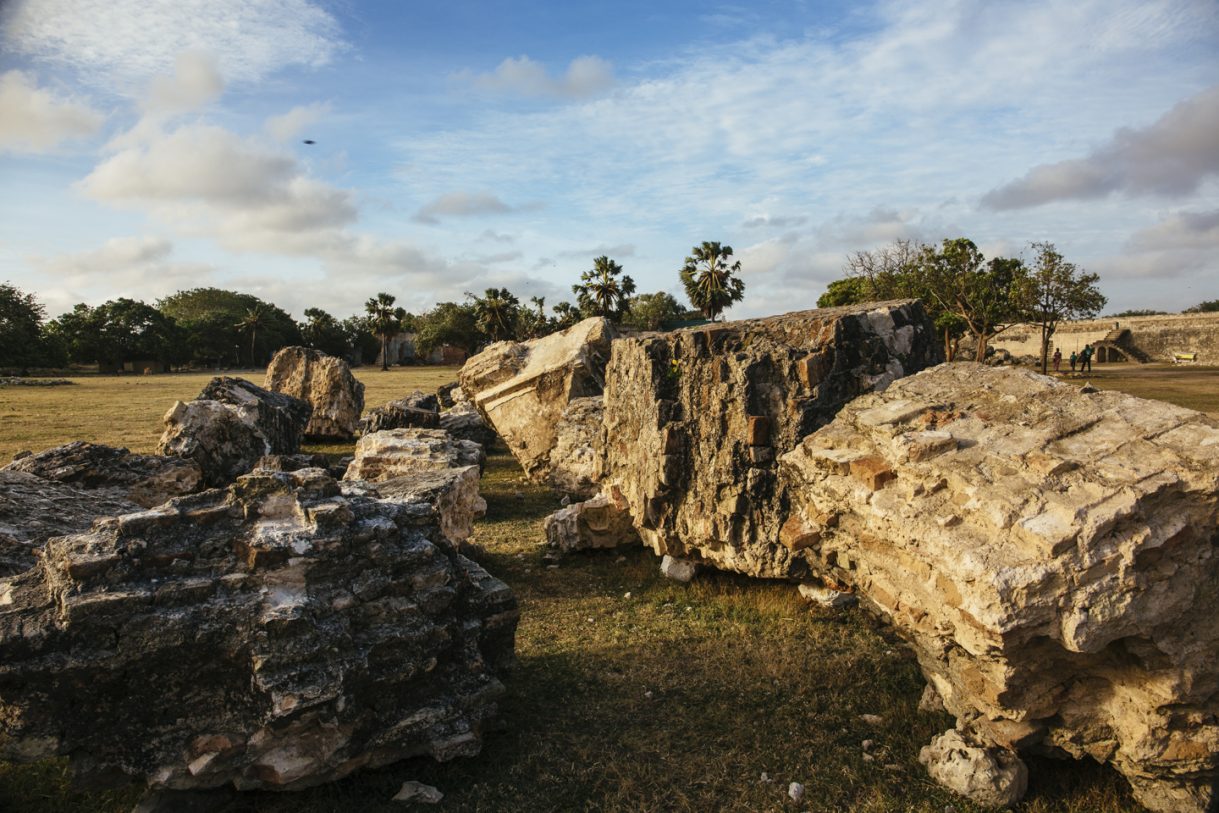 Jaffna's various islands are home to many more exquisite beaches and cultural sights. One of the most famous is Nainativu Island, accessed via a timber ferry from neighbouring Punkadutivu Island. This is home to the Nagadeepa Vihara, a Buddhist shrine, and the vibrant Hindu Shree Nagapooshani Amman. Both are barely 100-metres apart.
Unlike southern Sri Lanka, Buddhist shrines are rare in Jaffna given that the majority of residents are Hindu or Christian Tamils, along with a Muslim minority. The 'kovils' – a local word for Hindu temples – are red and white with candy-striped walls and a familiar sight. None is more magnificent than Kandaswamy Kovil, three-kilometres from Jaffna town in Nallur.
We stop by to explore on our way back. I watch as bare-chested men chime long bells, whirl incense and chant to Hindu gods. The kovil's sweeping arched passageways, flanked by murals and curtained shrines, are as wide as a road, and for good reason. Huge crowds descend here for Nallur's 25-day annual August pageant, Sri Lanka's spectacular summer festival.
I return to the coolness of the hotel for a superb biriyani lunch and a well-earned rest. All of the 55 rooms here boast mystical wall murals, seriously comfy beds and all the amenities you'd expect of a luxury hotel. My room is orientated west, looking towards Kayts Island. From its balcony I can spy two of Jaffna's prominent landmarks: Jaffna's iconic Public Library – a white, classically styled three-domed building – and behind it, Jaffna Fort. Too tempting to ignore for long, I head out again into the heat to explore.
From the hotel I head south along Mahatma Gandhi Road, towards the library – a reincarnation of a former colonial building that was famously burned to the ground in 1981. Past an upgraded sports ground and a new police station, is Jaffna's crumbling Dutch-built fort. This is Sri Lanka's second largest fort, but there are no houses here or cosmopolitan boutiques, cafés and gelato stalls like you see in south coast Galle. Instead, you ramble atop partly reconstructed ramparts alongside freely grazing goats and cows, for sunset views across the peninsula. Its moat is still largely intact. This was one of the few places in Jaffna I heard conversations in Sinhala, proving that Jaffna's sights are not only of interest to foreign travelers, but curious locals too.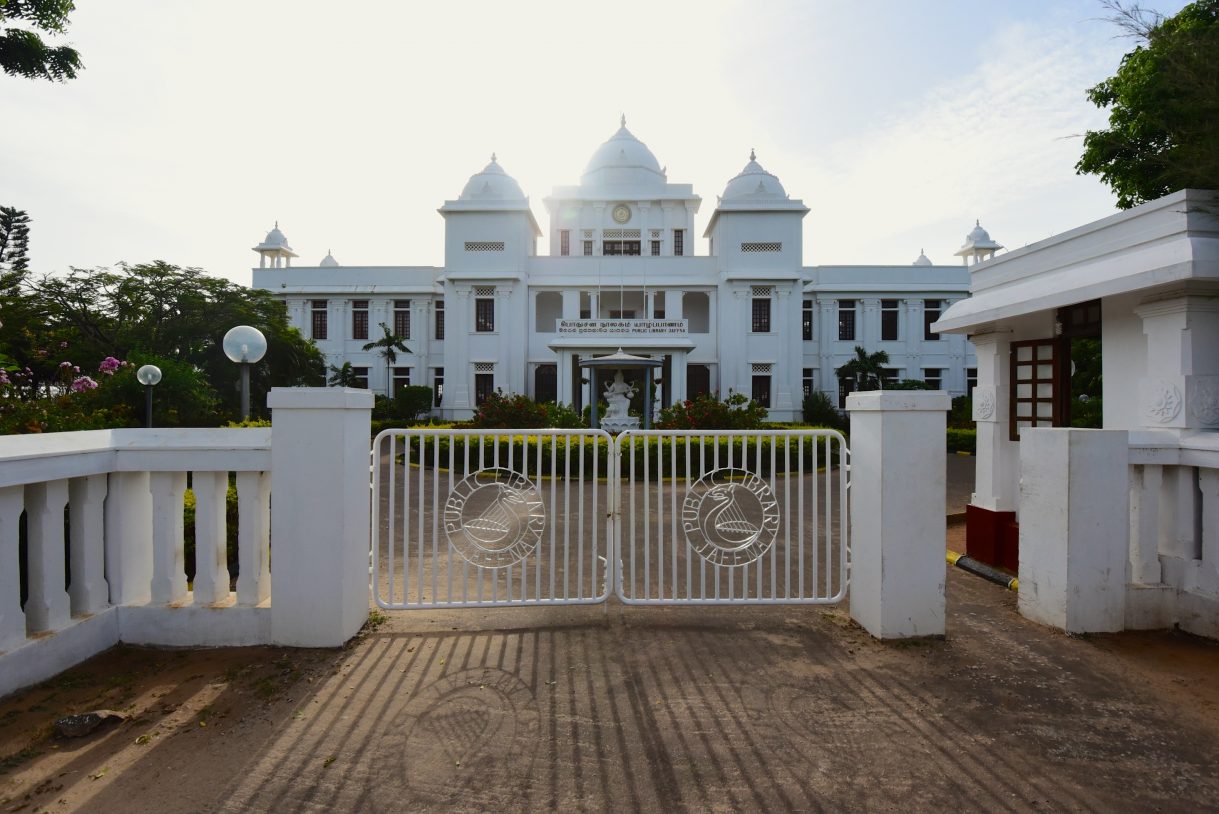 Having seen its effectiveness, I'm keen to find out more about future JYDP projects. A few days later, after returning to Colombo, I catch up with Hiran Cooray. To date, there are 477 JYDP graduates working in Jetwing's hotels across the island, and the programmes run continually in regions across the country such as Negombo, Galle, Hambantota, Sigiriya and Batticaloa. He tells me that the JYDP programme will soon reach its twentieth cycle.
"We are quite excited about doing one with the kids from Mullaitivu," he says, "as this was the worst of Sri Lanka's war zones. These kids have no opportunities so we will train them at Jaffna or Batticaloa, and give them the opportunity to work in our hotels."
After experiencing the 'world outside', Cooray tells me that some of their Jaffna graduates were reluctant to return home following their on-the-job training; they relished their new-found freedom. One couple, he says, met during their JYDP training in Sigiriya, even got married.
I can think of no better way to sum up the Jetwing Youth Development Project's ethos, success and future promise. It creates much-needed opportunities, brilliant local teams for the hotels and helps young people realise their ambitions whatever they may be.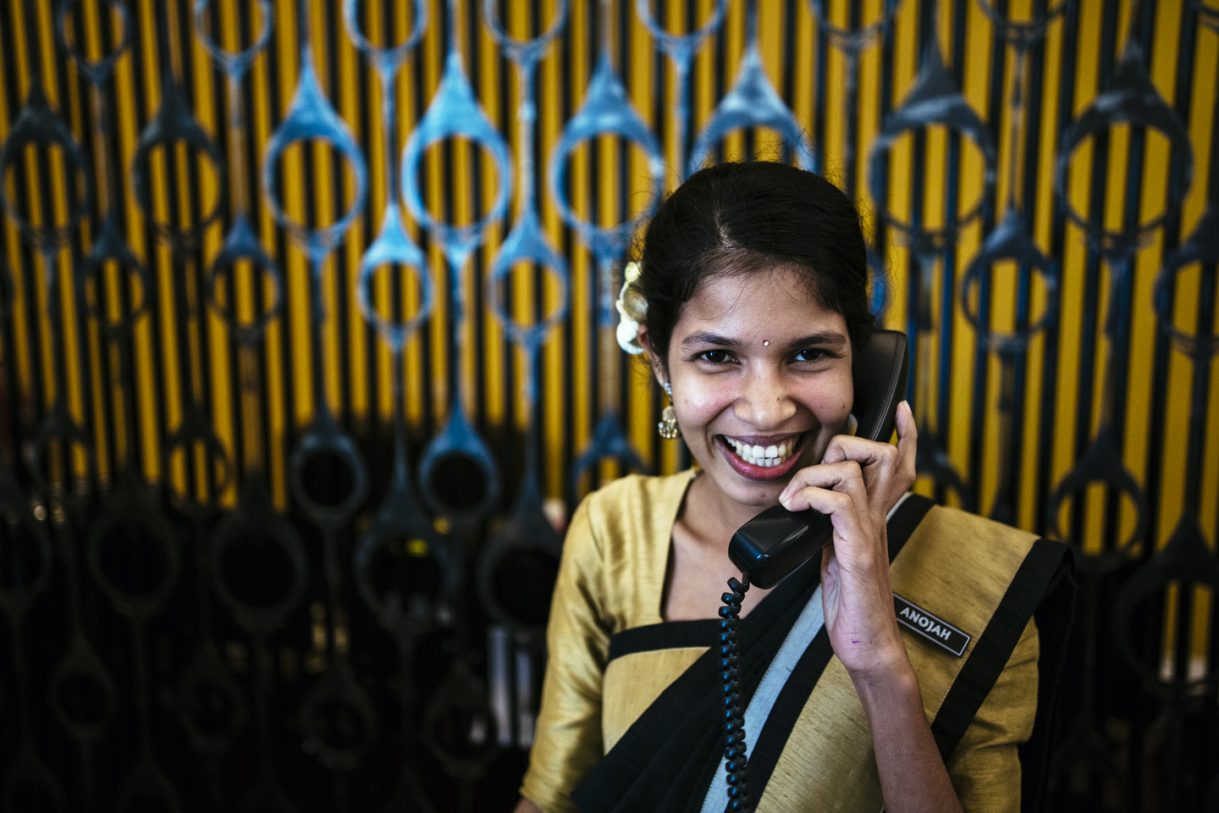 BOOK NOW