There's no messing about. I'm standing on the threshold of my first Bawa hotel, just 30-minutes after whizzing through Colombo's Bandaranaike International Airport. Sri Lanka's international gateway is, handily, just a few kilometres inland from Jetwing Beach's seaside location in Negombo. My flight, like most arriving from the west, had already given me some prime views over this town's beautiful turquoise lagoon. But it is more the man-made imprints on this island that I'm on the lookout for.
I'm joining a 12-day architectural tour put together by Jetwing Hotels, the family-run brand that houses a trio of properties designed by the late, great Geoffrey Bawa. Sri Lanka's undisputed architectural genius, Bawa is recognised the world over for his revolutionary use of space, light and materials that work in symbiosis with their environment. It was Bawa who gave the world 'tropical modernism', seamlessly blurring inside and out and creating buildings that embody social, cultural and environmental sensitivities. Since his death, aged 83 in 2003, his acclaim has only increased. Today his work on this island draws design and architecture-lovers from across the world, but the best thing about this tour is that you don't just visit some of his masterpieces. You get to stay in them too.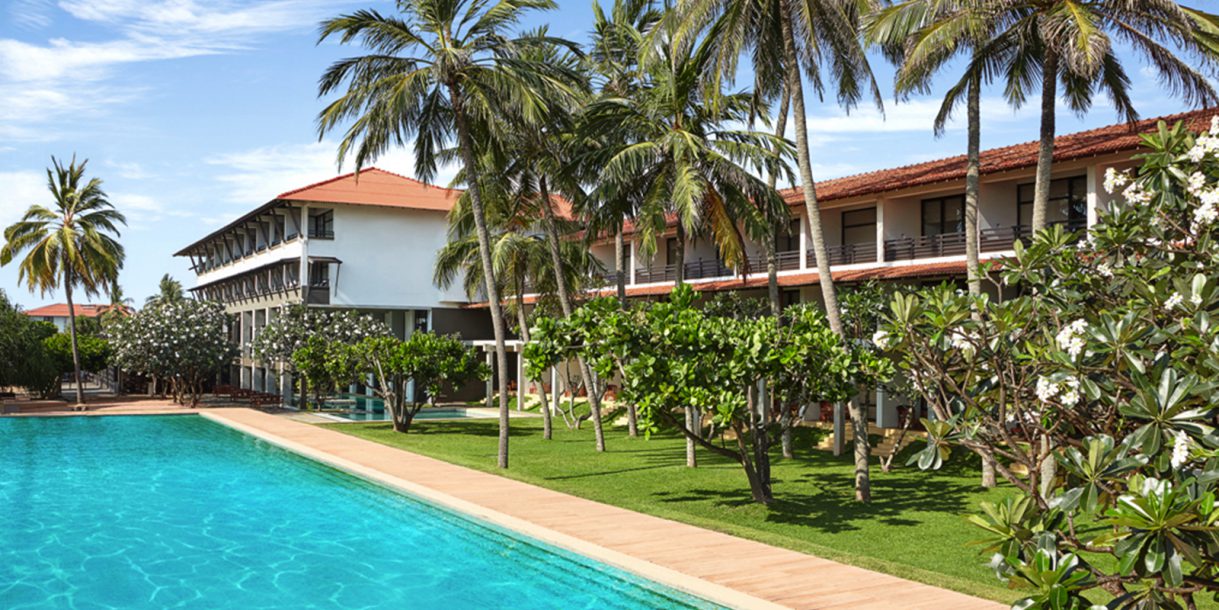 Rising before me, Jetwing Beach is the perfect starting point. Thanks to its proximity to Colombo and a golden swathe of sandy seaside as wide as a football field, Negombo was one of Sri Lanka's first beach resorts. It was also here, among the scattering of candy coloured Catholic churches and fishing boats, that both Jetwing was born and Geoffrey Bawa's collaboration with the brand first began.
Jetwing's founder, Herbert Cooray, knew Bawa from working at his father's construction company. Thanks to a shared love of design, their friendship flourished, so when Herbert needed an architect for his first steps into hospitality, it was only natural that he should turn to Bawa. It was the beginning of a working relationship that would last their lives. As Shiromal Cooray – Herbert's daughter and managing director of Jetwing – writes in her book A man in his time: "In the genius of Bawa, Herbert saw one of the unique differences that would set Jetwing Hotels apart from other Sri Lankan competitors. Though the architect had built hotels for others, and would do so in the future, Herbert saw to it that the name Geoffrey Bawa would forever be associated with Jetwing".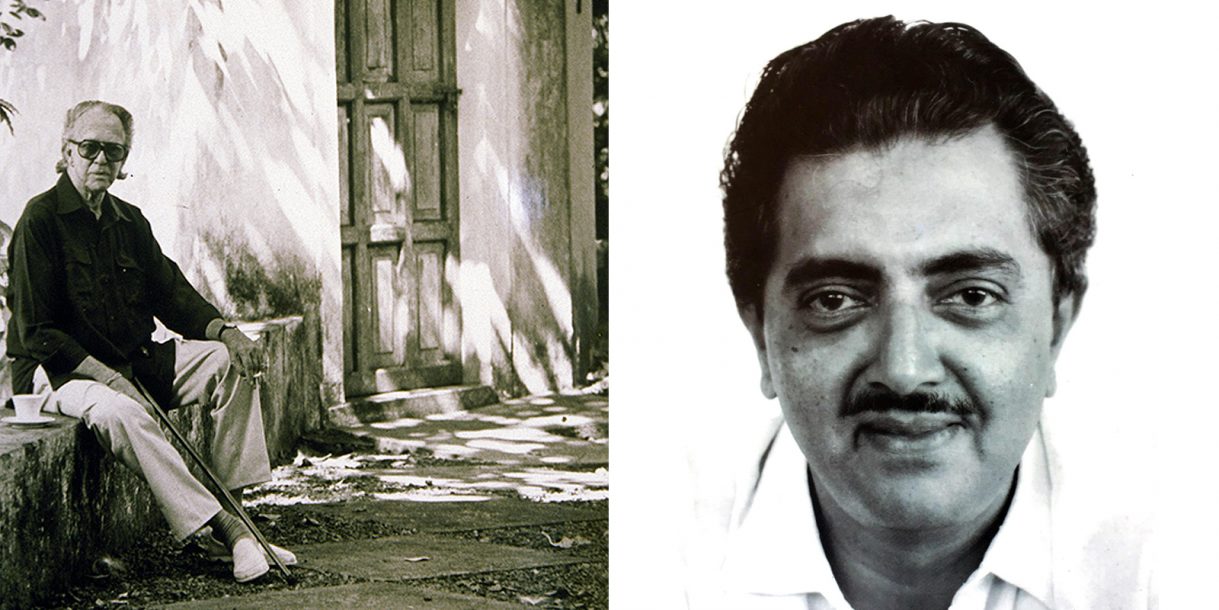 Bawa came from a mix of ethnic and colonial heritage. His father's lineage was Arab and British and his mother's Sinhalese and Dutch Burgher. Much of the distinctiveness of his style is recognised as reflecting a similar blend of influences. When Bawa's 'Royal Oceanic', as the Jetwing Beach hotel was originally known, opened its doors in 1987 this range of styles was could be seen in features like the open-fronted façade, with echoes of an Arab loggia. But its final design wasn't fixed even then.
Hyacinth Gunawardena has worked at the hotel since its inception and remembers the "aristocratic" Bawa at work. "He would return often to change this or that," she says. "He sat quietly, mulling things over, always looking to see what he could improve."
Herbert's son Hiran Cooray, now Jetwing Hotel's chairman, also remembers him as obsessive, but a fantastic listener too. "He'd always hear what you said and absorb it without saying a word. Then, two days later, he would respond in full, demonstrating that he'd taken onboard everything you'd talked about."
The hotel's design evolved further in 2004 when the hotel was refurbished and renamed Jetwing Beach hotel. Some of Sri Lanka's best modern architects had learned their craft under Bawa, and Hiran ensured the brand remained true to his imitable style by employing his best students. Retaining the master-architect's original profile, Vinod Jayasinghe made a few crucial changes, increasing the size of the rooms, removing the bridge around the pool, and modifying the dining space. He also extended the lobby roof to stop the reception area flooding. This was a 'practical nightmare' that had repeatedly been brought up with Bawa, but his response had been typical of the man: "Guests should experience the monsoon."
No such worries today. My upper floor room is calm and fantastically comfortable, rich in caramel and ochre hues and spacious. Views stretch out beyond the coconut palms to the Indian Ocean; at dawn, brown-sailed catamarans bob on the horizon. Bawa's original bathrooms were open in the rooms, but Jayasinghe glassed these in and added blinds for privacy. He also fashioned luxurious suites here with lounges, sun decks and completely open-to-the-skies bathrooms.
Entering the restaurant at dusk is a real pleasure. Awash with light, open to the elements and inches from the sand, we eat stunning crab curry in a room that stretches out from beneath the hotel. Close by is the hotel's newer 50-metre swimming pool, but Bawa's original is still down here too; an indoor-outdoor space that seems so architecturally intrinsic to the building that, at first, I wonder whether it's just a water feature. Then, as kids jump in and swim about, floating inside to out, I realise how perfect it is. Parents can watch their children at all times, and any sun-shy swimmer is able to just drift inside for shade.
The next day we travel south to Sri Lanka's capital Colombo. Just off Bagatelle Road in a peaceful corner of Colombo 3 stands Number 11, Bawa's former home. Here he conjoined four terraced houses over a number of years and, following his death, the Geoffrey Bawa Trust preserved the property as a museum. The interior brims with books and belongings, to the extent that it feels like he's just nipped out and could return at any moment. And where Jetwing Beach is large-scale, here you see his mastery – and life – on an intimate scale. Bawa's labyrinth of corridors, water features, enclosed courtyards and open-plan designs amalgamate the houses to create an unexpected sense of spaciousness.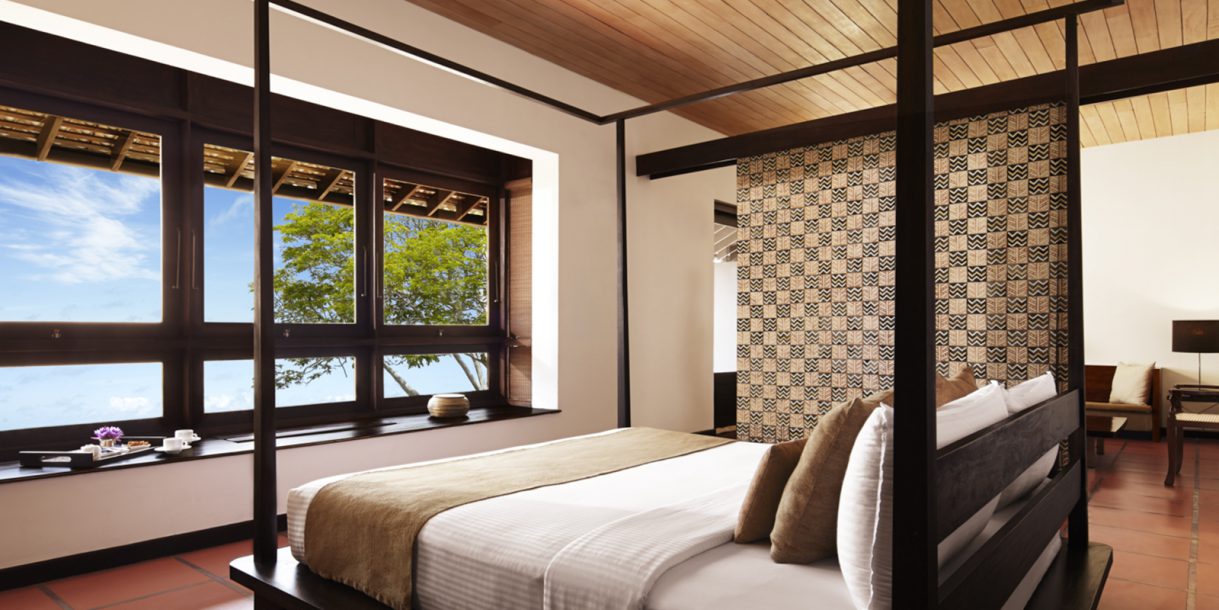 The following morning we set off for Sri Lanka's Cultural Triangle, three-hours drive away, home of ancient cities and many sacred sights. Leaving Negombo, our northeasterly route takes us through coconut plantations, bustling towns and a kilometre-long corridor of trees near Kurunegala where vendors sit by vast steaming vats of corn.
"Thirsty?" Our driver asks, pulling over. Two minutes later he's back with king coconuts, their tops having been lopped off with scary precision by a machete-wielding hawker. Instantly refreshed, we carry on to arrive at Jetwing Lake, near the crossroads town of Dambulla.
The stylish, open-fronted structure of Jetwing Lake hotel stands amidst mature trees. A staircase leads to a linear, minimalist lobby with views of the forest, but there's more to this place than the first impression. As I head to my room, this building begins to reveal secrets: paths and long passageways link three contemporary buildings that rise before a huge pool and lawn edged by trees. Each is angled perfectly to drink-in the Siyambalawewa tank – the vast lake beyond – and its mountain backdrop.
Opened in 2016, Jetwing Lake is Jayasinghe's own spectacular baby. Given free rein by Hiran, his creation puts the setting first and has shades of Bawa everywhere. Rooms are light-filled with balconies and open-air bathrooms designed to bring the views inside, and you out. With white pillars, enclosed but open-air gardens, a monochrome colour scheme and its low-pitched roof, the ground floor restaurant is a study in tropical modernism, and a wonderful space to sit. And I defy anyone not to fall in love with the open-air bar – a 'bridge' from the first floor that reaches out into the trees with stairs leading to a secreted-in-woodland spa. It all feels splendidly isolated, yet for a couple of days it provides a breathtaking place to relax after excursions to Dambulla's Buddhist cave temples (five-minutes drive away) and the ruined rock fortress of Sigiriya (30-minutes by car); two of this region's utterly unmissable World Heritage Sites.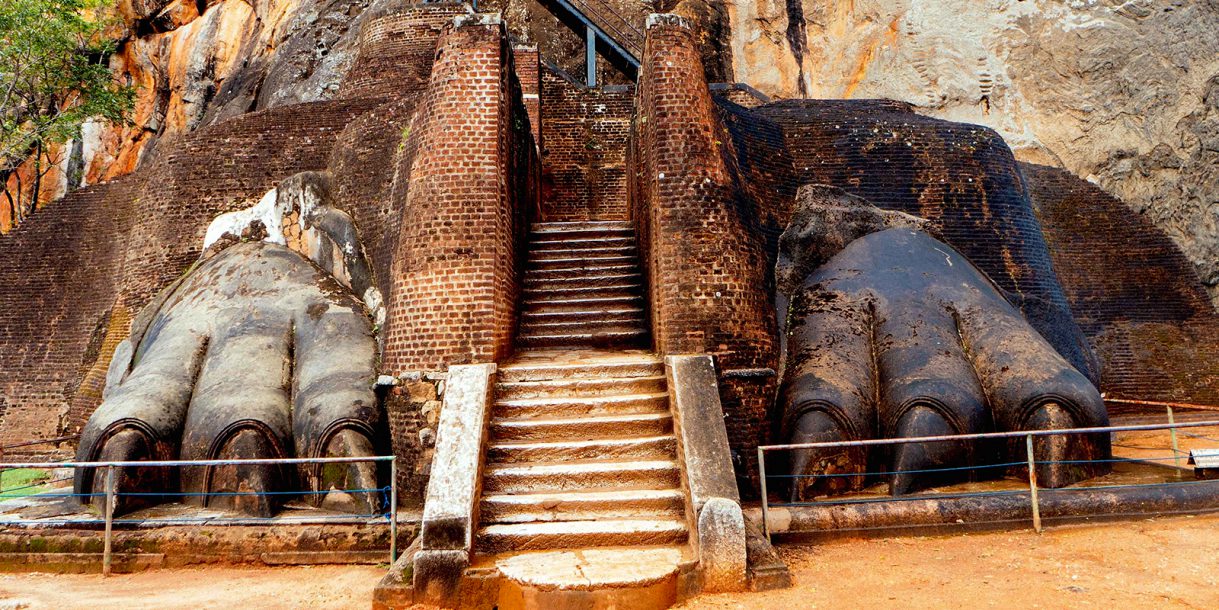 Next we're heading back to Negombo and arriving at another outstanding Bawa original. Jetwing Lagoon is located beside the gorgeous lagoon I'd flown in over on arrival. Built in 1965, the 'Blue Lagoon', as it was then called, was Sri Lanka's first modern resort and one of Bawa's inaugural hotel projects. Bawa worked on the Jetwing Lagoon Hotel with one of his contemporaries, the sculptor and artist Laki Senanayake (whose sketches of twisted trees and vines adorn the hotel walls). He created this low-rise resort with space in mind, setting it out like a set of villas in grounds. When Jetwing bought it and took possession in 2009, it needed some love. Jayasinghe was again drafted in to renovate and repair, before it re-opened in 2012.
The work saw the addition of an ayurveda spa, a bold entrance pavilion and the incredible 100-metre outdoor pool that reflects the vast lagoon across the road. Yet Jayasinghe retained Bawa's intent, keeping the buildings low and with the feel of traditional pavilions. My 'Bawa Room', re-modeled on Bawa's original footprint, features a spacious semi-outdoor area with rain shower and tub, suite-like lounges and a front garden. Bawa and Jayasinghe's success here is evident as I slip into the pool. Sunset over the buildings lights them pink; the space has the impression of utter modernity yet the buildings retain the feel of ancient rest houses located in this place for a thousand years.
Jetwing Yala – our next stop, the following day – is in Sri Lanka's 'deep south', six hours drive along the coast. It was designed by another Bawa protégé: Murad Ismail, a celebrated architect known for his simplicity and functional form. The setting couldn't be better; the Jetwing Yala hotel is practically on the beach dunes, metres from the sea, and three kilometres from Yala National Park. After arriving to cooling drinks in its minimalist reception, I join a dusk safari with the resident naturalist to get up close with free-roaming leopards, Asian elephants and sloth bears.
Back at the hotel, I wander along cool, perfectly geometric corridors with open sides for sea- and stargazing. Then I'm into a huge, three-storey block of rooms, roofed with leaves and overlooking a long, lamp-lit swimming pool. Down there, swimming between dunes you can hear the surf break; monkeys play in the trees and wild pigs trot with their young. It all embodies two of Jetwing's trademarks – luxury and sustainability. Indeed, Yala was specifically designed to conserve energy and resources and is powered by a huge solar panel farm on-site; its air-con – somewhat unexpectedly – is driven by a biomass boiler that runs on cinnamon logs left over from the spice industry. In true Bawa spirit it's all about symbiosis.
The design also echoes Bawa's minimalist style, though minimalism is the hallmark of the talented Ismail too. Jetwing Yala's rooms, characterised by ebony lacquer, and red or turquoise hues, are elegant, luxurious and distinctly Asian. Mine, a top-floor superior room, was glass-walled to the front, and from our sea-gazing deck we contemplated the vast reaches of ocean south (the next landmass is Antarctica). Perhaps on purpose, this hotel is nothing like the low-rise safari hotel that once stood near here, which was tragically destroyed in the 2004 Indian Ocean tsunami. It may work in synchronicity with nature, but this reincarnation is a proud, firm and resolute statement too.
Our final port of call is Jetwing Lighthouse, three scenic hours' drive back along the south coast. This was one of the last major projects Bawa worked on, and remains one of his most admired. It's not hard to see why. The Lighthouse hotel perches on a scenic rocky promontory just west of Galle. The hotel opened in 1997 at a time when Galle barely featured on island itineraries. Jetwing's resilience paid off though; today this coastal region and its beaches, surf breaks, ancient temples, and low country tea plantations is one of the most visited parts of Sri Lanka. Being the visionary that he was, Bawa designed the hotel's granite walled entrance to mirror what is now Galle's prime attraction: a splendidly preserved seventeenth-century Dutch fort, home to eclectic and bustling streets of art galleries, cafés, boutiques and restaurants.
Channa Daswatta, another protégé of Bawa and perhaps the architect most closely associated with him, assisted Bawa on the Lighthouse project. The property was designed to command superb views of the ocean from its rock-top perch and – as such – it comprises a series of interlinked open spaces that make the most of this unique landscape. It is a love affair with light; sunbeams filter through linear pergolas transforming pathways into zebra crossings with the precision of a painter, while ochre and saffron walls contrast with the cornflower sky. The public areas of the hotel rise up tall, so you drink in the sea vistas as you drink and dine, giving a feeling rather like being on the hull of a luxury ship. The deluxe rooms, with their uninterrupted ocean views, are vast and come with lovely little private balconies.
Jetwing Lighthouse lives with its environment too. Rocks might have been a challenge to the design yet they are incorporated and celebrated into the space, emerging boldly from steps and corridors. Bawa even transformed one of these into a statement entrance staircase. Created by Bawa's friend, Laki Senanayake, the intricately carved copper and brass balustrade depicting a clash between Portuguese and Sinhalese armies, is fiercely expressive, and playfully illuminated by a ball of light filtering in through an oculus in the Romanesque domed ceiling.
"Laki gifted his friend Bawa a sketch of two opposing armies years before the Lighthouse hotel project came about," recalls Hiran. "And only when Bawa contemplated this rock did he remember his friend's artistry, and commissioned Laki to bring it to life."
The wave-smashed rocks below the hotel also play a role – as a backdrop to dining. And as we sit looking back at the hotel, I doubt there's anywhere more fitting for our final supper.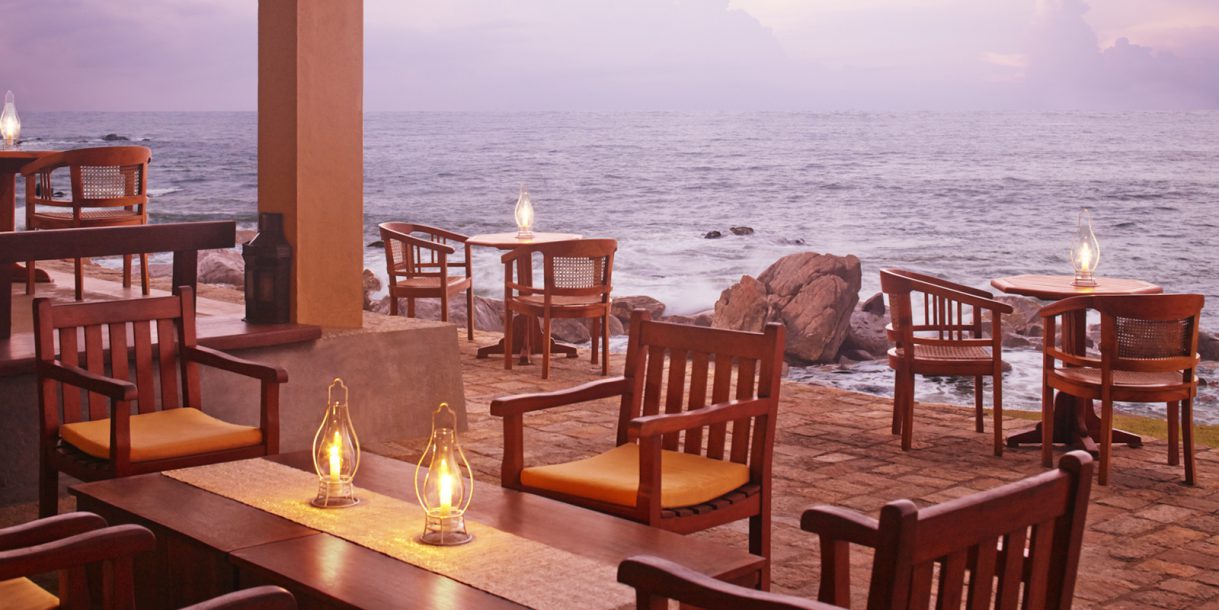 BOOK NOW